How to Download Music on Android (in 3 Steps)
---
I can't remember how many times I searched "How to download music on Android" on Google.
The search results always disappointed me.
I don't bother to transfer music from computer to phone via online music download site or desktop music downloader.
I just want to download music to my phone straightly.
Finally, the problem is solved when I find the app – AnyMusic. It takes only 3 steps to download music on Android.
Quick Summary
1. Search
2. Play
3. Download

Before getting started, download the app and install it on your device.
Now, let's get down to the details.
Step 1. Search Any Music You Want
---
Type keywords like song name, artists, albums into the search bar, or paste a song link in it. Click the search button, here you go!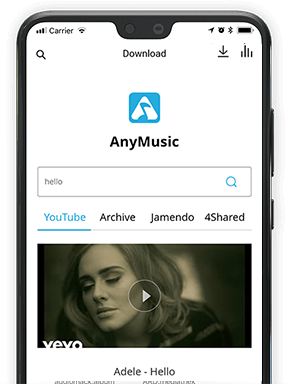 Step 2. Play Music before Downloading
---
A searching result shown below, choose the music you want and play it for enjoying online or just make sure you got the right songs.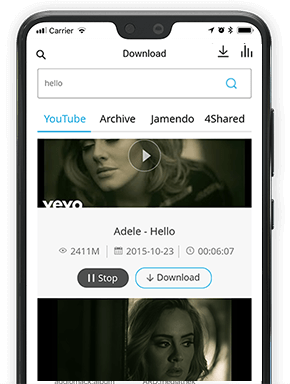 Step 3. Choose File Formats and Download
---
If you want to download music then click the options on "Download Audio" column. Once you tap the formats then the music download begins.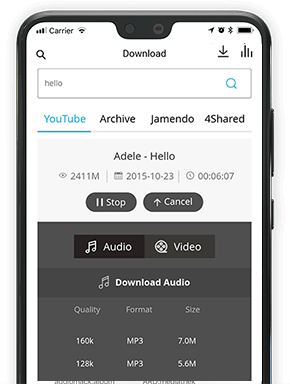 After a while, you can enjoy the offline music with AnyMusic, so easy and fast.
At the beginning, I was attracted by the simple interface of this music app. Then I found that that there are more powerful features to explore.
1. AnyMusic supports 1000+ sites.
You can search any music from popular sites like YouTube, Facebook, Dailymotion, Vevo, Vimeo and so on.
2. Stream music online without ads.
You can enjoy YouTube music videos without ads. If you are bothered by ads when you explore video on YouTube, then I think AnyMusic is the best YouTube alternative!
3. Download MP4 music video.
Don't just download MP3 music otherwise you will miss this amazing function - download MP4 video in high quality.
With these features, AnyMusic is not just a music downloader, it can be a music player, music search app, and even video downloader.
Conclusion
---
AnyMusic is my ultimate way to download music for its powerful functions:
Easy to search, download fast
Supports over 1000 websites
Stream music video without ads
Download high quality MP3 music and video
If you try it by yourself, you will know how amazing it is!
Don't wait! Download AnyMusic right now!
Ella Wilson is a music writer and reviewer from Washington, DC. She loves sharing everything about music, such as music apps, popular songs, and music culture.