Top 10 Hindi Romantic Songs Free Download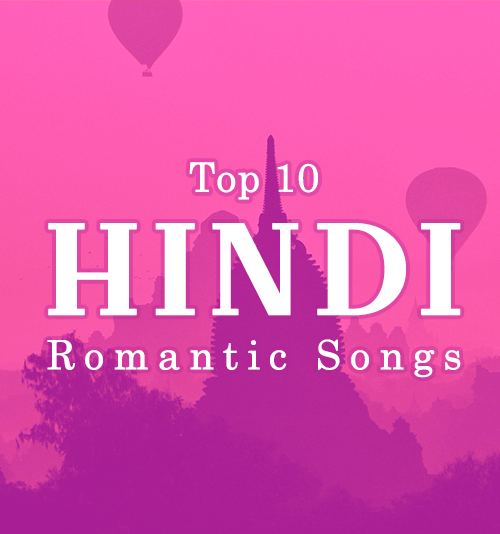 Love always shows up in songs, romance, too.
No matter how old we are we won't stop chasing love and romance.
Everyone wants to be romantic with their lovers.
Besides, woman will not get tired of romance, so does man.
Romantic songs help people to say what they want, create romantic atmosphere or keep a memory.
Have you ever impressed your beloved one with a song?
Is there any Hindi romantic song that once moved you?
What's your favorite Hindi love song?
This time, I'm sharing top 10 Hindi romantic songs with you.
I do hope you will like them!
1. Tum Hi Ho
"Ab tum hi ho
Zindagi, ab tum hi ho
Chain bhi, meraa dard bhi
Meri aashiqui ab tum hi ho"
English lyrics:
"Now you only are
Life, you're my life
My peace, and my pain
You alone are my love"
Tum Hi Ho (English: You are the one) is a song from the Indian film Aashiqui 2, sung by Arijit Singh. The audio song was released on 16th, March, 2013. It remained in the top 10 of Planet Bollywood for 8 weeks and reached No.1 on the Top 20 of MTV India for 7 weeks.
Planet Bollywood commented "The song has all the hallmarks of a Mithoon creation. It's soulful, extremely touching and of course it's dripping with melody." The strings, beats and piano create a romantic atmosphere for Arijit to transform the song. Let's enjoy it!
2. Baarish
"Yeh mausam ki baarish
Yeh baarish ka paani
Yeh paani ki boondein
Tujhe hi toh dhoondhe"
English lyrics:
"This seasonal rain
The water of this rain
And the drops of water
Search only for you"
Baarish (English: Rain) is a Hindi song from the film Half Girlfriend. The song was wrote by Arafat Mehmood and Tanishk Bagchi, and sung by Ash King. This very song was released on 11th, April, 2016. It was ranked No.1 on the Pinkvilla chart.
Times of India reviewed the song as the monsoon song of the year for all those romantic at heart. Santoor was used by the composers and brought me the feeling of nature and happiness. It made me want to dance with it. Also, the lyrics are very catchy.
3. Phir Bhi Tumko Chahunga
"main phir bhi tumko chahunga
main phir bhi tumko chahoonga
is chaahat mein marr jaaoonga
main phir bhi tumko chahoongaa"
English lyrics:
"And I'll still love you
I'll still love you
I'll die for this love
But I'll still love you"
Phir Bhi Tumko Chaahunga (English: I will still love you) is a song from a Indian film, Half Girlfriend. The music of this song was composed by Mithoon and the lyrics were penned by Manoj Muntashir. This track got more than 4 million views with unofficial versions and remixes even before the song's official release.
Writer of the song, Manoj Muntashir said, "I would like to mention, Mithoon has done what I always thought was impossible. Without changing one word from the original poetry, he made a tune India is shedding tears and spilling cans of beer over. It's a craze because of Mithoon's genius."
4. Pani Da Rang
"Kamli ho gayi tere bina aaja ranjhan mere
Baarish barkha sab kuch beh gayi, aaya nahi jind mere
Akhaan da noor vekh ke
Akhiyaan cho anju rul de"
English lyrics:
"I went mad without you, come on my love
All the rain flowed away, nothing stayed in my heart
Seeing the glow of eyes
Tears roll down my eyes"
Pani Da Rang (English: The Colour Of Water) is a song written and composed by Ayushmann Khurrana and Rochak Kohli for the Indian film, Vicky Donor. This song was a high critical and commercial success. It was listed No.8 in Radio Mirchi Top 100 Songs of 2012.
It was released in two versions. The male version sung by Ayushmann is a romantic song that he sings for Yami Gautam in Vicky Donor. The female version, sung by Sukanya Purkayastha, is a sad version picturised on Ayushmann and Yami Gautam while they get separated from each other in the film.
5. Jag Ghoomya
"Bane Barkha Ka Paani Kahin
Kabhi Mann Jaana Chupke Se
Yun Hi Apni Chaalani Kahin
Jaisi Tu Hai Waisi Rehna"
English lyrics:
"You fall like rainwater someplace
Always remain as You are
Sometimes You do only what You desire
Sometimes You agree with (heed to) me without a word"
Jag Ghoomeya (English: Toured the world) is a song from the soundtrack of the Indian movie, Sultan. This song was written by Irshad Kamil and sung by Rahat Fateh Ali Khan. It also has an audio version by Salman Khan and a female version by Neha Bhasin.
Zee News in its review wrote, "Soothing like a spring breeze, the lilting track will immerse deep down in you. A romantic and gripping number, expresses the on-screen character 'Sultan Ali Khan' (Salman's) feelings for 'Aarfa'." Let's feel it together!
6. Tere Sang Yara
"O tere sang yaara
Khush rang bahara
Main tera ho jaaun
Jo tu karde ishara"
English lyrics:
"Friend with you
It is spring of happy colors
I will be yours
If you indicate once"
Tere Sang Yaara (English: Friend with you), a love song written by Manoj Muntashir. It was sung by Atif Aslam. This song was released by the Zee Music Company on 6th, July 2016. It topped the chart of Bollywood Life and was placed at No.1.
"Pakistani singer Atif Aslam has lent his voice to the soulful track, which creates magic with the heartfelt lyrics penned by Manoj Muntashir and soulful composition of music director Arko", Indian Express in its review wrote. I'm sure you will be moved by the lyrics.
7. Soch Na Sake
"ke tere bina jeena mumkin nahin
na dena kabhi mujhko tu faasley
main tujhko kitna chaahati hoon
ye tu kabhi soch na sake"
English lyrics:
"It's not possible to live without you
Don't ever keep me distant from you
How much I love you
You can't even think"
Soch Na Sake (English: Can't think of) is a song from the 2016 Indian movie, Airlift. The song is a melodious mixture of Hindi and Punjabi lyrics. It won 2017 Mirchi Music Award for Listeners' Choice Song of The Year.
This song is picturized upon Akshay Kumar and Nimrat Kaur and it lead cast of the film. The song expressed the anguish the couples felt when they were apart and the deep bond they share. If we love someone deeply, we will just love them more.
8. Zaalima
"le ke jaan hi jaayega meri
qaatil har tera bahaana hua
tujhse hi shuru, tujhpe hi khatam
mere pyaar ka fasaana hua"
English lyrics:
"it's take my life only
Every excuse of yours has become a killer for me
The story of my love
Starts with you and ends at you only"
Zaalima (English: Oppressor) is a song from the Indian film, Raees. It is written by Amitabh Bhattacharya. As of August, 2017, the official music video of this song has 130 million views, which makes it one of the most streamed Hindi songs on YouTube.
Times of India, in its review of this song, wrote "JAM8's 'Zaalima', showcases Shah Rukh Khan at his romantic best. The melody is striking, and Arijit Singh and Harshdeep Kaur stand out in the number, which gives the word zaalima (oppressor) a poetic twist".
9. Sawan Aaya Hai
"Mohabbat Barsa Dena Tu, Sawan Aaya Hai
Tere Aur Mere Milne Ka, Mausam Aaya Hai
Mohabbat Barsa Dena Tu, Sawan Aaya Hai
Tere Aur Mere Milne Ka, Mausam Aaya Hai"
English lyrics:
"Shower (Your) love (on me) as monsoon has arrived
The season for us to meet has arrived
Shower love as monsoon has arrived
The season for us to meet has arrived"
Sawan Aaya Hai (English: Monsoon Has Arrived) is a romantic song from the 2014 Bollywood film, Creature 3D. It was composed and written by Tony Kakkar and sung by Arijit Singh. The music video of the song features actors Bipasha Basu and Imran Abbas Naqvi.
Kasmin Fernandes of The Times of India felt that "Singh does a commendable job" in the vocals. Besides, Joginder Tuteja from Rediff.com, thought its "melody, lovelorn lyrics" and "quintessential" vocals by Singh make it an instantly catchy song. Share your opinions with me after listening, will you?
10. Kaun Tujhe
"Meri nazar ka safar
Tujhpe hi aake ruke
Kehne ko baaqi hai kya
Kehna tha jo keh chuke"
English lyrics:
"Journey of my eyes
Stops at you
Nothing left to say
I already said I wanted to say"
Kaun Tujhe (English: Who Would) is a song from the soundtrack of the Hindi Film, M.S. Dhoni: The Untold Story. It was composed by Amaal Mallik and sung by Palak Muchhal. This song was released on 14th, August, 2015. Box Office Collection India rated this song 4.3 out of 5 stars.
"The song has been picturized very beautifully, portraying Sushant and Disha's light hearted romantic moments while the lyrics aptly form the backdrop of their love story", Daily News and Analysis wrote. Hope you'll enjoy this nice song.
Conclusion
That's all 10 romantic Hindi songs I would like to introduce.
These songs are really different from songs we usually listen, aren't they?
Which one did impress you most?
To get the song you love downloaded, you can click the links below every song.
I'm looking forward to your comments.
Leave them below and I will reply as soon as possible.
Enjoy your day!
Download Hindi romantic songs free: