Guns N' Roses Songs | 10 Must-Have Songs for Your Rock Playlist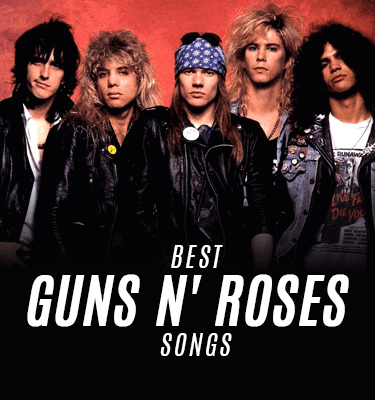 In terms of rock music, Guns N' Roses, should be mentioned.
GNR was established in 1985, with 6 talented members;
And the lead vocals Axl Rose is the only one who still be there from start
Anyway, until now, GNR has issued six studio albums;
And they have set up the record of selling more than 100 million across the world.
Here is big news that rock music-lovers have to know.
Guns N' Roses 2017 tour has embarked on journey recently.
More details about the tour can be found here.
All right, today, I am gonna share top 10 Guns N' Roses songs with you.
Let's get it!
1. November Rain
"Cause nothing lasts forever
And we both know hearts can change
And it's hard to hold a candle
In the cold November rain"
"November Rain", from the album Use Your Illusion, got the Best Cinematography in a Video awarded by MTV Video Music, 9 minutes or so, with more than 800 million views on YouTube.
We can see something depressed from the song title. Put another way, "rain" always severs as a tool to express sadness, so does this song. Its perfect lyrics, moving melody and harmonious vocal will definitely speak to your heart.
Honestly, lovers or couples sometimes should be alone so as to recover from pain.
2. Sweet Child O' Mine
"She's got a smile that it seems to me
Reminds me of childhood memories
Where everything was as fresh as the bright blue sky"
"Sweet Child O' Mine" was one of the most successful songs by Guns N' Roses debuting at No.1 on the Billboard Hot 100. And, it has attracted more than 500 million viewers to have a visit on YouTube.
I have to say, it is a sweet song. Believe me! It can help you melt away a bad mood to a large extent. Therefore, why not put on your earphones and unwind yourself with this perfect masterpiece.
3. Don't Cry
"Give me a whisper
And give me a sigh
Give me a kiss before you tell me goodbye
Don't you take it so hard now
And please don't take it so bad
I'll still be thinking of you
And the times we had, baby"
"Don't Cry" has attracted more than 400 million viewers on YouTube. The song was written by Axl and Lzzy, describing "a woman leaving a man". Actually, there was a sorrowful story behind the song. That is, Alex had a thing for a girl that Lzzy once dated. But things did not go well as expected, which pushed Alx to write it down.
Honestly, I believe it is the best Guns N' Roses songs in my heart. The first time that I got to know this song was in the early of 2017. At that moment, I was in deep sadness because of poor academic performance. The song impressed me a lot due to its moving lyrics and touching tune, which, in fact, made me cry.
4. Paradise City
"Take me down to the Paradise City
Where the grass is green
And the girls are pretty
Oh, won't you please take me home"
"Paradise City" was released in 1988, climbing to No. 5 in the U.S. and No. 6 in the U.K. The song manages to depict a man, hoping to head back home, who is frustrated with the big city life.
What really catches my eyes of this single is its content. You know, from its description, it is easy for me to gain access to the fabulous scenery or environment.
5. Welcome to the Jungle
"Welcome to the jungle, we got fun and games
We got everything you want, honey we know the names
We are the people that can find whatever you may need
If you got the money honey, we got your disease"
"Welcome to the Jungle" won the Best New Artist in a Video in 1988. In an interview, Alx said the song derived from one of his experience. He went to a small town to have a visit to his long-time friend. And what he felt there motivated him to create this song.
You will totally intoxicate with its dynamic beats and then dance to music. It drives you to be in that scene, in a real jungle.
6. Patience
"Shed a tear cause I'm missing you
I'm still alright to smile
Girl I think about you every day now"
"Patience" was a major single from the second album, G N' R Lies, with more than 200 million viewers on YouTube. It has earned fame from its beautiful melody. "Patience" tell us how a man misses his ex-girlfriend. What he wants convey to her is that everything will be fine with patience.
As the lyrics "take it slow, and things will be fine", sometimes we need to be patient. Occasionally, things will not turn out to be good results. In this regard, all you can do is to be patient and be ready for the good.
7. Estranged
"Young at heart
Ain' it gets so hard to wait
When no one I know
Can seem to help me now"
"Estranged" was considered as the third song in the unofficial "Del James trilogy", following "Don't Cry" and "November Rain". By the way, it has drawn the attention from more than 100 M viewers on YouTube.
Man is created alone, which is an inspiration I obtain whenever I touch the "Estranged". There is a way we have to undergo when we suffer the pain. Also, being alone serves as a good method to recover from the bad things.
8. Knock in on Heavens Door
"Mama, take this badge from me
I can't use it anymore
It's getting dark, too dark to see
Feels like I'm knockin' on heaven's door"
"Knock in on Heavens Door" was performed by Bob Dylan for the film Pat Garrett & Billy the Kid in 1973. Gun N' Rose's version for this song turned up in 1990, which indeed hit the music world then, with more than 58 million viewers on YouTube.
The main lyrics in this song is "knock-knock-knocking on heaven's door", whose dynamic beats make you feel that you are in front of the paradise. Believe me! It can incredibly smooth and reduce your anxiety.
9. Since I Don't Have You
"I don't have plans and schemes
And I don't have hopes and dreams
I, I, I don't have anything
Since I don't have you"
The song once became the top 10 song in the UK. You know, it was regarded as the best heartbreak ballads ever recorded in the music world. Additionally, it has got the attention from more than 53 million viewers on YouTube.
Honestly, it pushes you to be in a meditative state, and nothing you will ponder on, but to think about what things gonna to be when you broke up with your sweetheart. So, let's have a try for that feeling.
10. Street of Dreams
"And though as long as this road seems
I know it's called the street of dreams
But that's not stardust on my feet
It leaves a taste that's bittersweet
That's called the blues"
"Sweet of Dreams" comes from the album, Chinese Democracy released in 2008. Till now, its click volume on YouTube is only 1 million or so, a small amount compared with other famous songs, but it has become an indispensable song performed in the concert since 2001.
It's hard for me to describe what my feelings are for this song, fantastic or some stuff like that. But, one last word, I have to say, is touching. Put on your earphones and enjoy it with me.
Conclusion
If you guys have crush on any Guns N' Roses songs we share above, please go and download it without hesitation.
I know that everyone has his own taste.
Would you mind to share your Guns and Roses YouTube playlist?
Please feel free to leave a comment below.
Looking forward to receiving a message from you!
Have a wonderful day!