Batch download a full YouTube playlist
Discover song from embedded sites
Built-in song player
Daily lyrics quote
Free Download MP3 Downloader Pro
Windows
macOS 10.13+
Android
Video Tutorial - Free MP3 Finder Guide for Free MP3 Download (2021)
By
Ivy Ross
| Last updated: Jul 07, 2021
---
AmoyShare Free MP3 Finder is an online free MP3 download tool.
It is powerful, yet very easy to use.
I will show you the ultimate guide & tips for how to get free MP3 download with the Free MP3 Finder.
Let's get started.
Where Can I Download Free MP3?
---
AmoyShare Free MP3 Finder is the best place for you to download free MP3. The website link (URL) of the Free MP3 Finder: https://www.amoyshare.com/free-mp3-finder/
Free MP3 Finder helps you download free MP3 from YouTube, 4Shared, Jamendo, and Archive, etc. It works on the Android browser on your mobile phone or tablet, and a web browser on your computer.
Try the Free MP3 Finder for a free MP3 download now:
Video Tutorial – Complete Guide of Free MP3 Finder
---
Let's begin with a video for warming-up:
Did you get the point from the video?
For more detailed tips on free MP3 download, just keep reading.
The following is the step-by-step Free MP3 Finder tutorial.
How to Download Free MP3 with Free MP3 Finder?
---
Unlike most free MP3 download services on the Internet, which only allow you to search by URL. Free MP3 Finder provides two ways to download free MP3 – keywords or URLs.
Free MP3 Download by Keywords (MP3 Name, Artist, etc.)
The keyword search is one of the biggest features and advantages of the Free MP3 Finder.
So let me do the show-how for you!
Step 1: Search for songs by keywords. Keywords include the song name, artist, album, and even lyrics. Just type in any keywords related to your target song. Then click the Search button, and you will get a list of matched results.

For example, if you use "jingle bells" as a query, you will see different versions listed below. I call the keyword search a rough search.

Step 2: Download free MP3 with 2 clicks. Click on the "Download" button of the song you want. Select an MP3 option for the free MP3 download.
Free MP3 Download from Link (Video URL, MP3 URL)
Copy the URL of the song. The URL can be a video URL or MP3 URL.
Then, paste the URL into the search box of Free MP3 Finder. The exact result will come out in seconds.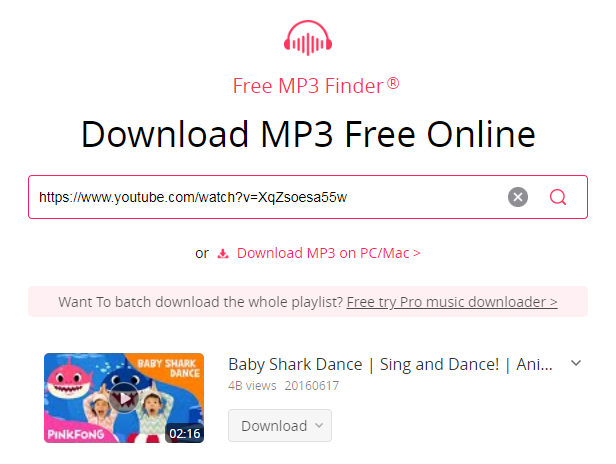 What's left to do is to repeat the steps mentioned above – Play the song before downloading, click on the Download button, and choose a file format.
Anything missed out?
Free MP3 Finder Tips to Download Free MP3
---
Apart from the tips I mentioned above, like video previews and keyword researches, Free MP3 Finder has some other tips.
One tip is the YouTube playlist download. YouTube playlist URLs are also supported on Free MP3 Finder. Simply find the YouTube playlist, and copy the URL containing "list=" to the search box, and all the songs in the playlist will be listed in the search results. It's convenient.
Another surprise is that you can download song videos on Free MP3 Finder. Yes, MP4 options are also available. This is uncommon among the online free MP3 download tools.
The last one is the M4A audio format. MP3 is not the only audio format, but M4A is also available for audio download. The quality is 128k, the same as the MP3 option.
Conclusion
---
That's all for the free mp3 download guide of Free MP3 Finder!
Did you get it all?
Get a free MP3 download successfully?
Do you have any questions and suggestions about the usage of Free MP3 Finder? Or, is there any function you hope to add to Free MP3 Finder?
Please feel free to leave a comment below.
Looking forward to receiving a message from you!
Have a good day!
Ivy Ross is a blogger and music hunter for 5 years. She is dedicated to discover popular music all over the world, and she has made 100+ playlist which is spread among 1 million users.
You May Also Be Interested in These Topics