Best Elvis Presley Songs - Top 10 Songs Free Download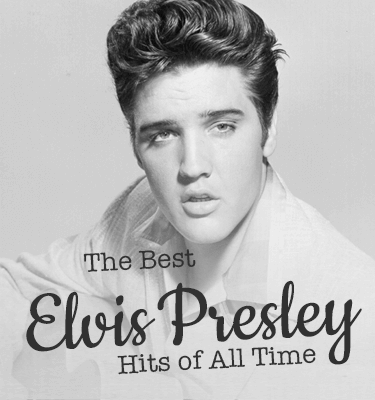 If you are passionate about Rock and Roll, you must know about him.
Cuz he is known as the King of Rock and Roll.
If you don't know him, but know something about western pop songs, you must have heard of him.
Cuz he is known as The Hillbilly Cat and King of the Western Pop.
Elvis Aaron Presley may be a strange name to some of you.
But he is known as Elvis or the King to the world.
He is definitely one of the most influential musicians of the 20th century, even remains the most awarded artist today.
On 16 August each year, Elvis Presley is commemorated by his fans around the world.
And it has been the 40th anniversary this year.
So we pick up top 10 Elvis Presley songs in commemoration of him and his achievement.
1. Can't Help Falling In Love
"Take my hand
Take my whole life too
For I can't help falling in love with you"
Can't Help Falling in Love was firstly sung by Elvis Presley in his film Blue Hawaii in 1962. And also many films later featured this song, including Honeymoon in Vegas, Happily Ever After and so on. Its video on YouTube has reached 66.8 million views.
Most notably, I think, Elvis Presley always sang the song as finale during his late 1960s and 1970s' live performances. Even though we have no chance any more to be in his show, we can enjoy this song to remember him.
Actually, when I listened to it for the first second, I was touched. His voice is unique. Every time I listen to it, it brings me peace, leading me to my wonderful future. I can't help sharing this, one of the most popular Elvis Presley songs on YouTube with you.
Can't Help Falling In Love Elvis Presley song download free >>
2. Jailhouse Rock
"Let's rock, everybody, let's rock
Everybody in the whole cell block
Was dancing to the Jailhouse Rock"
Speaking of Jailhouse Rock, there is a film of the same name to be mentioned. Elvis Presley stared in this film, also his third film. And the song became a hit with the film's releasing. In the year of its releasing, 1957, it was a US No.1 hit for 7 weeks, and the next year, it topped No.1 in UK for 3 weeks.
There is an image of western bar in the 20th century in my mind when I listen to Jailhouse Rock. And I just want to dance to it. As Elvis Presley song lyrics shows, "Let's rock, everybody, let's rock". Love this song forever. Come on. You will definitely love it!
3. Suspicious Minds
"We can't go on together
With suspicious minds
And we can't build our dreams
On suspicious minds"
Suspicious Minds is one of Elvis Presley's most remarkable hits. Actually, this song was first recorded by Mark James. But due to some reasons, the song was later recorded by Elvis Presley in 1969. And it also became a success, peaking No.1 songs the year.
Unlike Rock and Roll, Elvis Presley's voice in this song is so tender as to soften all listeners' hearts, I think. And this song is about how to deal with a mistrusting relationship and remain it. Put on your earphone, and maybe you will also get some resonance.
4. Always On My Mind
"Girl, I'm so sorry I was blind
You were always on my mind
You were always on my mind"
Elvis Presley recorded Always on My Mind on 29 March, 1972. And it is thought to be one of the outstanding songs of his 70's. Its official audio on YouTube has been over 4.6 million views.
I have to say that Elvis is absolutely king of love songs. Via his voice, I can feel the regrets of the character in this song. We meet so many people in our life time. Maybe not always the right one, but treat him or her rightly.
Now, follow me to enjoy Elvis Presley song on YouTube, Always on My Mind.
5. My Way
"I've lived a life that's full
I've traveled each and every highway
And more, much more than this
I did it my way"
Still, this song, My Way, has been performed by many artists before or after Elvis Presley. And after his death, his live recorded of the song was released as a single. It then became successful for selling over 1 million copies, and also earned gold, silver and platinum certifications.
This song is a sad melody. So it is always played as an elegy. Elvis's voice of sincere affection makes this song more beautiful and touching. I have found the live performance video on YouTube for you guys. Let's enjoy the video together to commemorate
6. Burning Love
"Cause your kisses lift me higher
Like a sweet song of a choir
And you light my morning sky
With burning love"
Elvis Presley version of Burning Love was released on 1 August, 1972. And it became a great hit, even far more famous and successful than its original version by Arthur Alexander. But it was also the last Top 10 hit of Elvis Presley. Its audio version on YouTube has reached 11.9 million views to date.
I think every girl will feel in love while listening to this song of Elvis. His singing is so affectionate. I would like to put it on a loop for a whole day. Come on to check the video, you will be touched too.
7. In the Ghetto
"As the snow flies
On a cold and gray Chicago morning
A poor little baby child is born
In the ghetto"
In the Ghetto was recorded by Elvis Presley in 1969. And then it became a major international hit for Elvis, peaking at NO.1 in many countries. So far his live performance video on YouTube has been over 48 million views. You can watch it below.
In the Ghetto is about generational poverty which still exists today. When I listen to it, the only thing in my mind is that I am the happy and lucky one, and I should cherish what I have, and if I have any chance, I should do what I can do to help those people in need. Maybe this is the magic of music to pass on positive energy.
8. Hound Dog
"You ain't nothing but a hound dog
Crying all the time
You ain't nothing but a hound dog
Crying all the time"
Hound Dog was recorded by Elvis Presley in 1956, and it later became the best known one among its more than 250 versions. In 1956, Elvis Presley's version of Hound Dog peaked at No.1 on the US pop, country, and R&B charts at the same time. And Rolling Stone also ranked it No.19 on its list of the 500 Greatest Songs of All Time.
I love this lively tune regardless of the lyrics. Every time I listen to it, it makes me in a good mood. There are a thousand Hamlets in a thousand people's eyes. And in my opinion, music shares the same principle. How about sharing your feeling with us after listening?
9. Heartbreak Hotel
"Well, since my baby left me
Well I've found a new place to dwell
Oh it's down at the end of lonely street
At heartbreak hotel"
Heartbreak Hotel was released on 27 January, 1956. And at that year, it topped No.1 for several charts, such as Country and Western chart, and it's also Elvis's first million-seller.
And most notable, Elvis's first performance of Heartbreak Hotel was ranked as the most important cultural event of the rock and roll era by UNCUT magazine in 2005.
I can remember that it was a rainy day the first time I heard the song. And I was totally touched. Whether you are into Rock and Roll or not, it must be the song you cannot miss. Just enjoy it.
10. All Shook up
"I'm in love
I'm all shook up
Mm mm oh, oh, yeah, yeah!"
All Shook up was released on 22 March, 1957. Like Elvis Presley's other songs, it made great achievement. All Shook Up was the first song of Elvis to peak at No.1 on the UK Singles Chart.
There are many other versions of this song, recorded by other artists. But what I have to say is that Elvis Presley version is my favorite one. Just feel that I am "All Shook Up" every time I listen to it. I believe that you will love it too. Why not watch the video and download free Elvis songs.
Conclusion
That's all about the top 10 Elvis Presley songs.
For me, all his songs are classic. I would like to share all with you if it's possible.
You can leave messages for us to talk about your feelings after listening to these songs.
Any suggestions or ideas are welcome.
Hope you like our recommendation and have a good day!
Top 10 Elvis songs free download: