How to Download Best Ed Sheeran Songs on Billboard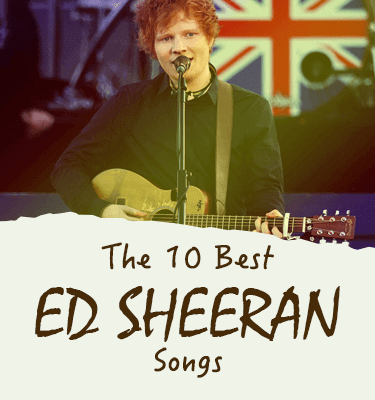 Ed Sheeran appeared on Debrett's 2017 list of the most influential people in the UK.
He released his third new album "÷" (read as "divide") in March 2017.
If you would look at the title carefully, then you might notice two keywords immediately – "download" and "best".
So, today I am going to share the best 10 Ed Sheeran songs on Billboard with you.
Besides, I will also teach you how to download
Besides, you can download them with the method mentioned.
Now, let's get down to the business.
#1 What are the Best Ed Sheeran Songs?
"Castle on the Hill"
This song may not be a club banger like its sister single, but it tells the story of Sheeran's upbringing. Besides, the lyrics of it are full of meaning. Will you check it out again, Joanna?
"Shape of you"
Obviously, it is one of the most popular songs of Ed Sheeran. By the way, do you have the same feeling that it making you groove and tap your feet with its beats while listening?
"Thinking out Loud"
This song is the most-used wedding songs of Ed Sheeran. Just like the lyrics, "Me, I fall in love with you every single day/ And I just wanna tell you I am." It is romantic, right?
"Give Me Love"
'Give Me Love' is about missing something from a relationship but being unable to talk about it. Do you remind of something special after listening?
"Kiss Me"
This song makes me want to just lay down on the ground and look up at the sky surrounded by the beautiful colors of fall. What about you?
"One"
"Just promise me you'll always be a friend, 'cause you're the only one.". What this song impressed me the most is the meaningful lyrics and beautiful melody.
"Sing"
This song practically brought out a new Ed, bringing in more pop production and combining just about everything he's good at, rapping, singing falsetto, guitar playing.
"Eraser"
There is no doubt that it wasn't the first Sheeran song to highlight his rapping skills… But it may be the best one. Will you agree with me?
"Dive"
Taylor Weatherby of Billboard described the song as the one with the "most passionate vocal strains" of the album.
"Happier"
The saddest song on the album is called Happier… Just like the lyrics, "I can try to smile and hide the truth", making your heartbreak.
#2 How to Get Ed Sheeran Songs Download?
When it comes to the best singer, our answer is Ed Sheeran.
While as for best music downloader, my answer is AnyMusic.
It is enjoyable to listen to all above Ed Sheeran songs right?
While how to make it more perfect?
The answer is definitely to download all of them for free.
Now, it is AnyMusic's show time.
Just follow my introduction.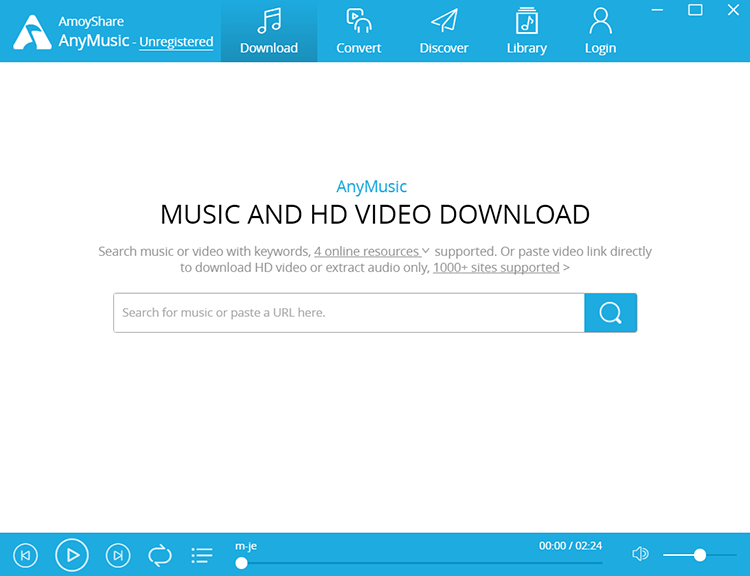 Step 1. Search.
With a mighty search algorithm, you can search Ed Sheeran songs simply by the keywords or URL. For me, searching by keywords is more convenient. After that, AnyMusic will show you a flood of results.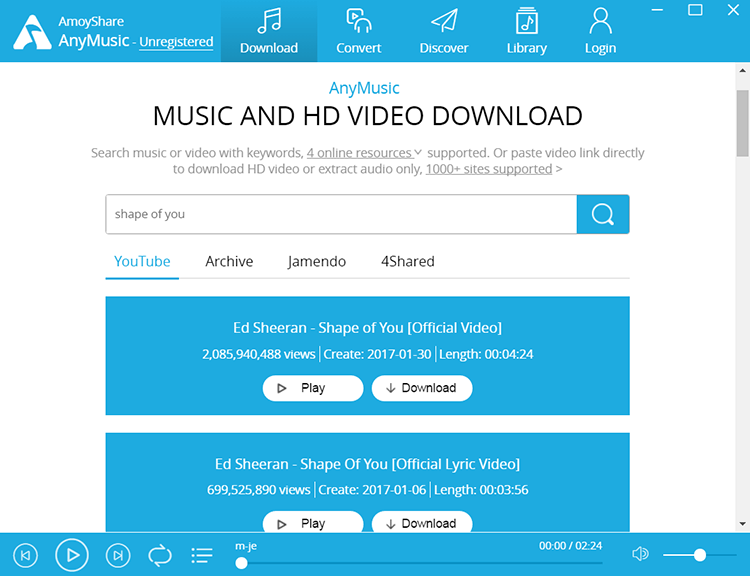 Step 2. Preview.
Click on "Play" and you can preview the songs before downloading due to the built-in music player. Just imagine that a wrong one is playing when you want to share your favorite songs with a girl. Then, you will know how great this function it is!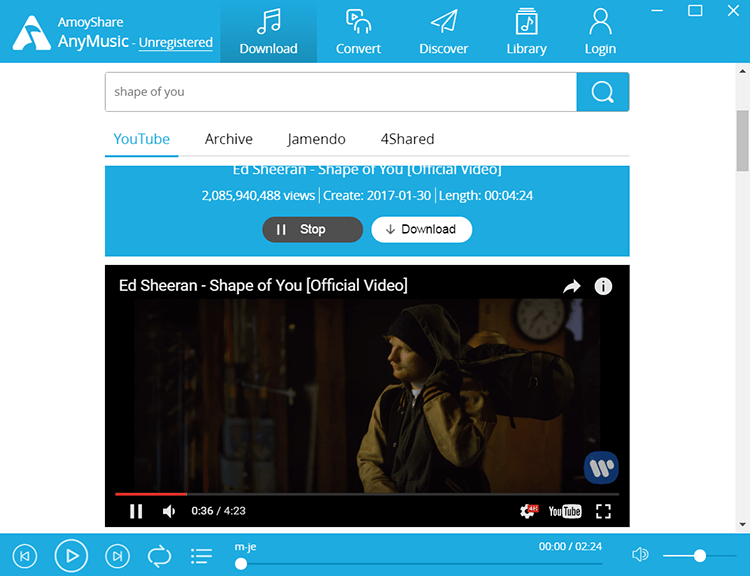 Step 3. Download.
Since you have found the desired one, it is time to get it. Just click on "Download". You will see various formats, and both audio and video are offered.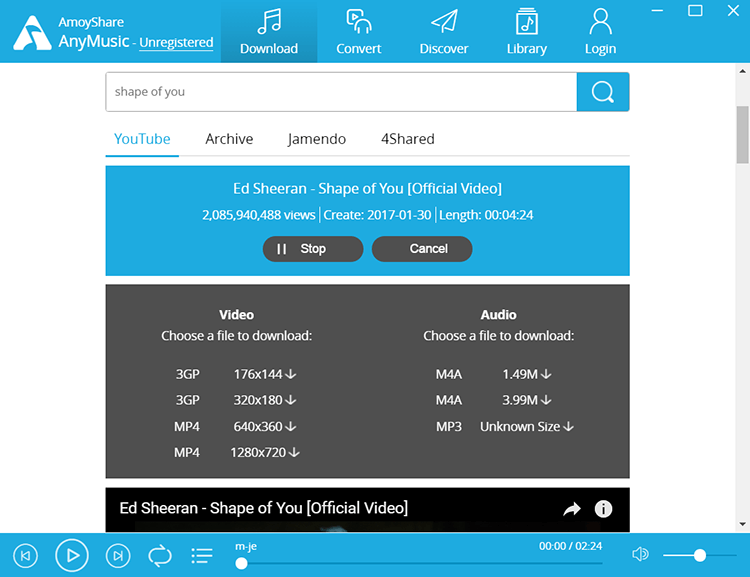 Now, you have finished the process of downloading an Ed Sheeran song.
With only 3 steps!
By the way, have you found any ads in AnyMusic?
None!
It's exactly what I love the most about AnyMusic.
Tips: If you want to manage your playlist, please go to Library. Also, you can transfer all the songs to your mobile phone there.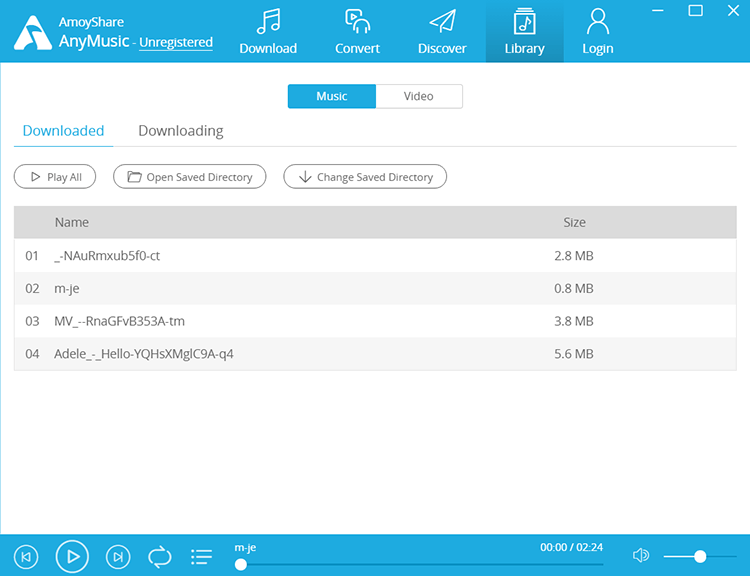 Conclusion
I should congratulate you because you have just mastered a new skill!
All about today's free download Ed Sheeran songs is finished
If you have different opinions about best songs of Ed Sheeran, just let me know in the comments below.
While if you want to know more about AnyMusic, please click the articles below. See ya!