Dua Lipa Songs Free Download | Top 10 List Update (2017)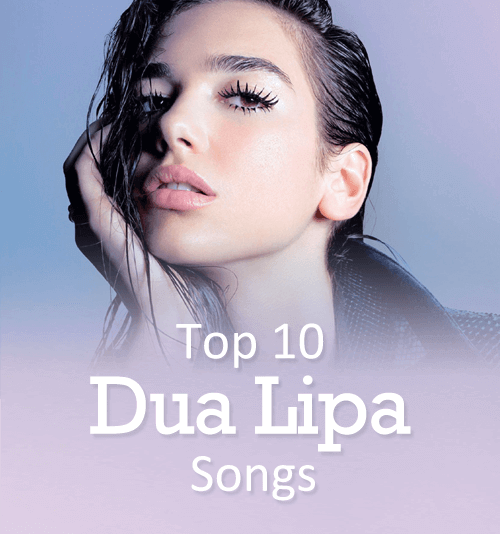 At the age of 14, Dua began to cover songs by artists like P!nk on YouTube.
Later she signed with Warner Music Group and released the first single when she was 20.
Dua's won the EBBA Public Choice Award.
The self-titled debut studio album of Dua Lipa was released on 2, June, 2017.
She is only 22.
Now she's not only a singer, but also a songwriter and model.
Have you ever listened to one song of this amazing girl?
Today, we are going to share the top 10 Dua Lipa songs with you.
Let's start!
1. New Rules
"One, don't pick up the phone
You know he's only calling
Cause he's drunk and alone
Two, don't let him in"
"New Rules" was released to Contemporary Hit Radio in the United Kingdom on 21th, July, 2017. The song reached No.1 in the UK and the top 10 in Australia, Canada, Finland and some other countries. What's more, this song has entered the US Billboard Hot 100.
Will you pick up the phone if your ex calls you? Will you be friend with him or her again? Will you let your ex get in your home one more time? If you want to move on, you should follow the new rules like Lipa sang.
2. Scared To Be Lonely
"Is it just our bodies
Are we both losing our minds
Is the only reason you're holding me tonight
Cause we're scared to be lonely"
"Scared To Be Lonely" was written by Garrix along with Giorgio Tuinfort, Nathaniel Campany, Kyle Shearer and Georgia Ku, featured by the vocals from Dua Lipa. The very first volumes of the official remix EP for it was released on 17th, March, 2017. It peaked at No.1 in Netherlands on Dutch Dance Top 30. This song reached No.2 in UK and Norway.
There are always fights between couples. Most of time they choose to hold each other tightly even the problem was not solved. Are you afraid of being lonely? Listen to it and share your feeling with me!
3. No Lie
"Feel your eyes, they're all over me
Don't be shy, take control of me
Get the vibe, it's gonna be lit tonight
No li-i-i-ie"
This song released as a single on 18th, November 2016. It was recorded by Jamaican rapper Sean Paul, featured by the vocal collaboration of Dua Lipa. The song reached No.2 both in Hungary on Rádiós Top 40 and in Czech Republic on Rádio Top 100. Besides, it reached No.10 in the UK.
The song was written by Sean and two of Lipa's friends, Emily and Andrew Jackson. She was just having lunch with Emily and she played her this song. Lipa just fell in love with this song immediately. Do you like the song?
4. Be The One
"Just another chance so that I can show
That I won't let you down, oh no
No, I won't let you down, oh no
'Cause I could be the one"
After being sent to Contemporary Hit Radiostations in the United Kingdom, the song entered the UK Singles Chart for the 1st time, peaking at No.9. Also, it became Dua Lipa's second No.1 on the Billboard Dance Club Songs chart in the US.
Lipa said "For me, 'Be The One' is about self-belief, perseverance, and fighting for what you want." She thought this is an attitude she tries to bring into everything in her life. How about you? Do you think the same way?
5. Blow Your Mind
"We fight and we argue, you'll still love me blind
If we don't fuck this whole thing up
Guaranteed, I can blow your mind"
"Blow Your Mind" debuted at No.50 and peaked at No.30 on the UK Singles Chart. In the US, it reached No.72 on the Billboard Hot 100, which was Lipa's first song to chart in the country. The song topped the Billboard Dance Club Songs chart, becoming Dua's 1st No.1 single on that chart.
Dua was a model once. People wanted her to lose a lot of weight, which made her very unhappy in the end. The song was also inspired a bit by the idea that when you're in a relationship with someone and do not forget who you are.
6. Hotter Than Hell
"I'm giving you that pleasure heaven
And I'll give it to you
Hotter than hell
Hotter than hell"
"Hotter Than Hell" was released on 6th, May, 2016, as the album's third single. The song peaked at No.15 on the UK Singles Chart. It also reached the top 20 in Australia, Belgium and the Netherlands.
Dua Lipa spoke to the BBC News that this song was inspired by a "really horrible relationship. It was really bruising my ego and making me feels like I wasn't worth it." What would you do if you were in a bad relationship?
7. Last Dance
"We could burn and crash
We could take a chance
Holdin' nothin' back
Like it's our last dance"
Dua Lipa wrote this song with Stephen Kozmeniuk and Talay Riley. It was released on 9th, February, 2016, as the album's second single. The song peaked at No.4 on the Billboard Twitter Emerging Artists chart and spent 7 weeks on it.
The music video was filmed in California's rainforests. Lipa dances like she owns the forest in video while the color of her clothes kept changing. This is really a special MV that you should have a look!
8. Lost In Your Light
"Lost in your light, baby
I wanna stay right here all night, baby
Let's get lost in the light, baby
I wanna stay right here all night, baby"
"Lost In Your Light" was written by Dua Lipa, Miguel and Rick Nowels when the production was handled by Miguel and Stephen Kozmeniuk. The music video was directed by Henry Schofield and being filmed in Los Angeles and premiered on 26th, May, 2017.
This song is about being in love with someone and not caring about anything else. I feel she just wants to get rid of all the worries and fall deeply in love with her lover. The voices of Lipa and Miguel goes so nice together, listen to it!
9. Thinking 'Bout You
"I can't stop thinking 'bout you
I can't stop thinking 'bout you
I can't get high, I can't get by, I can't get through
I can't stop thinking 'bout you"
This song was written by Adam Argyle and Dua Lipa. It was released as a promotional song on 6th, January, 2017. The demo of the song was released by Dua Lipa when she began her music career on the 10th, July, 2015.
When you are missing someone, waiting is a cruel thing. So, don't hesitate to show your love. Go tell the one that you can't stop thinking about him. Love won't wait. You need to act to let him know it.
10. Homesick
"It's a bittersweet feeling
Longing, and I'm leaving
I go, I go, I go
But I wish I was there with you"
"Homesick" was co-written and features vocals by Chris Martin, Coldplay frontman. It is a piano ballad from Lipa's debut self-titled studio album. The song was released on 2nd, June, 2017.
I can feel the bittersweet feeling in this moving song. When you are in love with someone, you will become dependent. Things change when you two weren't together anymore. Did you have the same experience in your relationship?
Conclusion
How do you think of these top 10 Dua Lipa songs?
She's really excellent even she's young, isn't she?
If you like one of them you can get it download freely by clicking the links below the songs.
For any suggestion, just leave your comments below, I will reply soon.
See you!