How to Download Free Music on iPhone without Using iTunes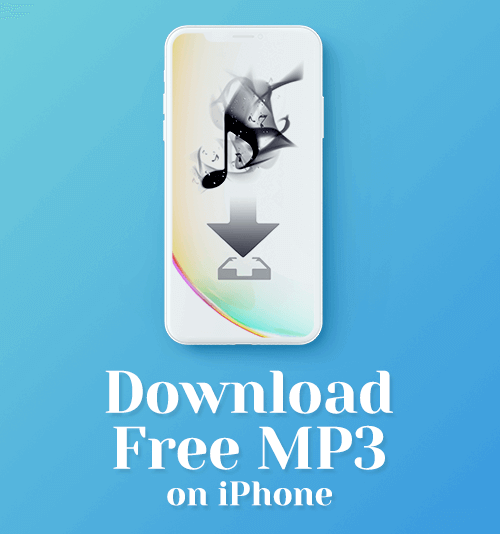 Yes, you heard me right.
I gonna show you how to download free music ON iPhone rather than TO iPhone.
So what's the difference?
Well, it's relatively easy to get free music downloads for iPhone by using iTunes.
Due to Apple's ecosystem, for most people, it's impossible to directly download music for free on iPhone.
But I don't buy it.
I think the problem is most people never got the right tool.
Well, all you need is simply a downloadable browser.
In today's post, I'd like to recommend Cheetah to you. I won't tell you how powerful it is, just let me show you how it makes free music download on iPhone possible.
To begin with…
Let's have a look at Cheetah (or CM browser).
You can easily get it from App Store.
Download the official app of Cheetah on your iPhone, open it, and the interface will be like this.

I'd like to take my favorite online mp3 downloader FMF (Free MP3 Finder) as an example.
Type the URL of FMF, and then you can go to a page as follows.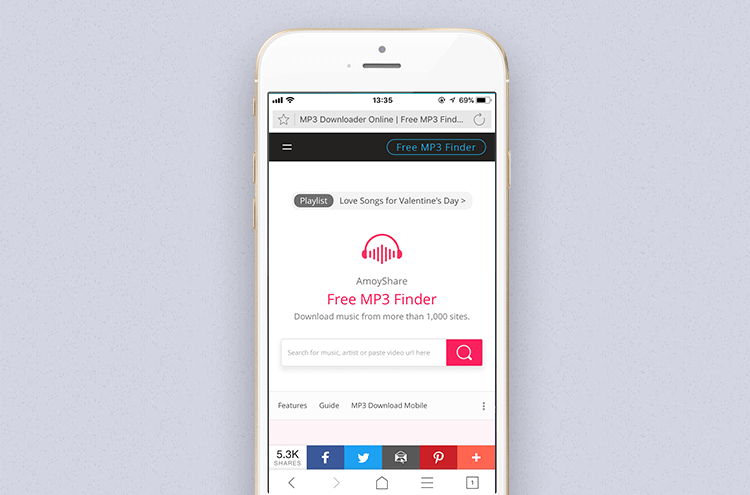 Now, I'll to walk you through free music download on iPhone step by step.
Simply with 3 steps, you can get it done.
Let's see!
Step 1: Search the Music
Enter the song, artist, or anything else related to the music that you're looking for, and you can get a bunch of results.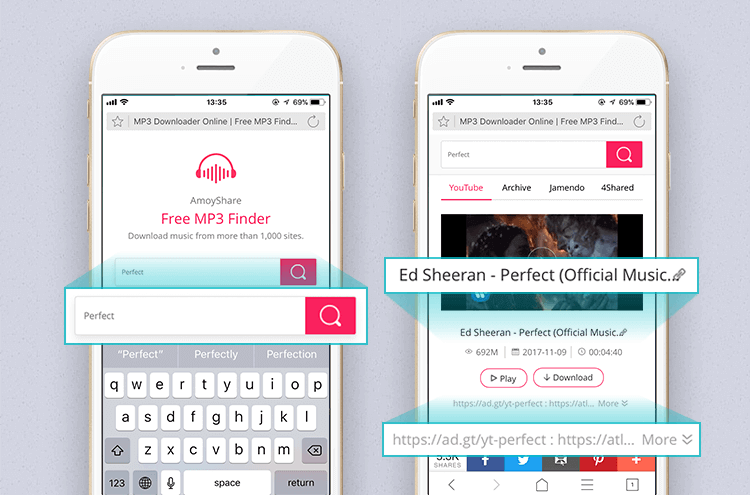 Step 2: Play the Song
In order to make sure it's the exactly the music you want, hit the "Play" button, then you can preview the music video.
Perhaps you've notice that there's a small link icon beside the song name, what is it?
Well, it's the link of the video. Once you tap on it, you'll go to the original webpage of the video.
If you want to know more about the music video, you can hit on "More" to get detailed information.
Step 3: Choose a Format
As you can see, you're able to download music either in audio or video format. Both file formats have many options, MP3, M4A, WEBM, MP$, 3GP, etc.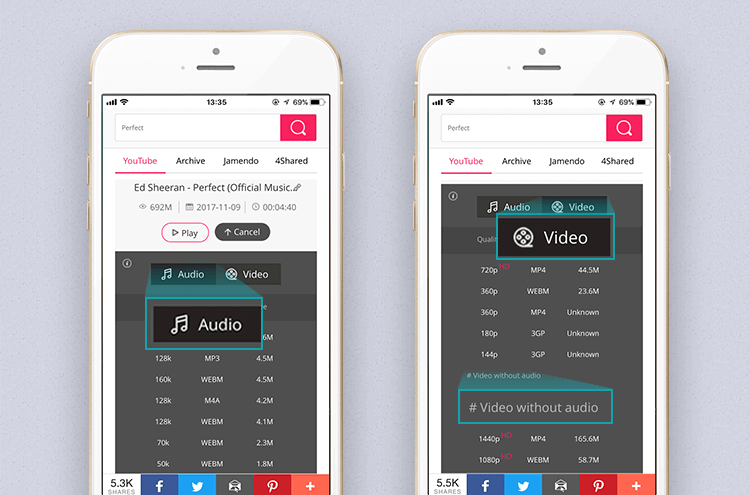 More than this, you can also download video without sound, which also provides lots of formats and qualities for choice.
Tap on any of the format, the downloading will begin within seconds.
Moreover, you can share the download link with your friends from the pop-up below.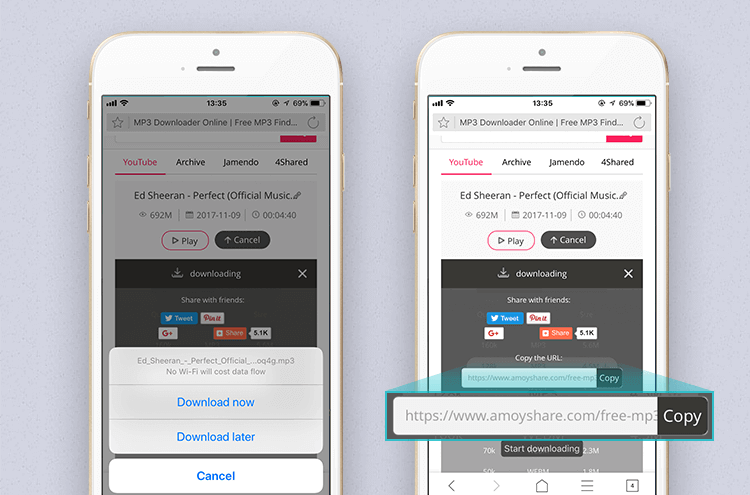 Now you may ask where's the downloaded music?
Hit on the Homepage button, and then tap the "Downloads" icon on the popup menu. Then you can find out the mp3 song that you just downloaded.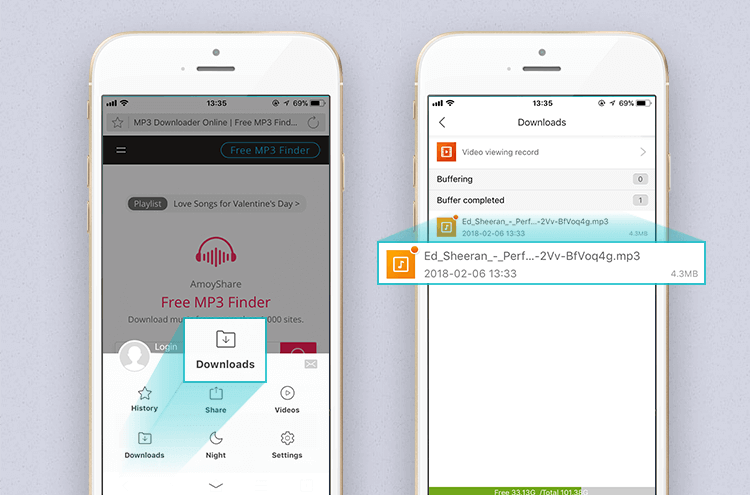 So easy, right?
Following are some tips you may need.
Quick Tips:
1. There're 4 search sources on Free MP3 Finder, which are YouTube, Archive, Jamendo and 4Shared. You can switch these option as needed to find your desired music. Furthermore, you can copy and paste video link to the search bar. There're more than 1000 supported sites, and you can find all of them by scrolling down the page.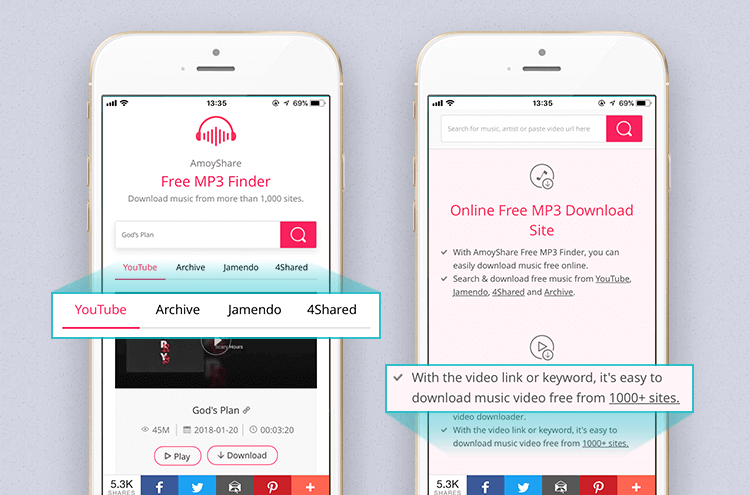 2. If you want to know more about music download, you can learn a lot from the Guide below.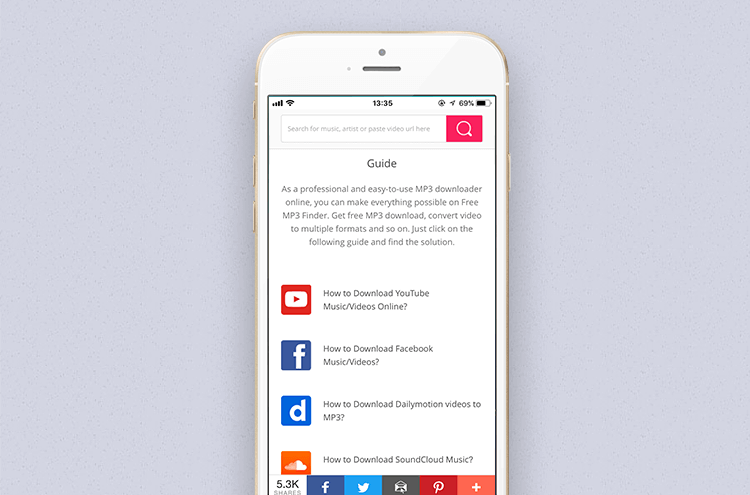 3. Still on the same page, keep scrolling down and you'll find out more surprises. For example, if you're struggling to choose the right audio format for your devices, you can get the perfect solution. Besides, if you want to know how well you can hear different audio quality, here's an audio test right for you.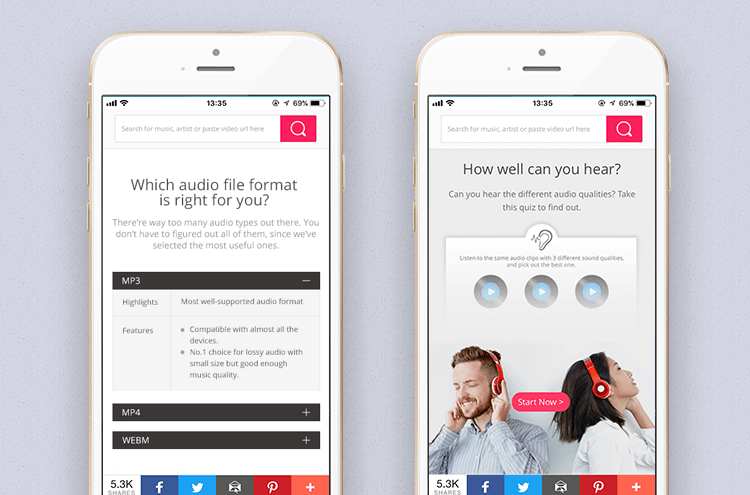 In the end…
There you have it!
Let alone iTunes, now you're able to get free music on iPhone without a computer.
With the right browser and the right free music download site, you can effortlessly download free music on iPhone.
In the meantime, please don't hesitate to ask questions if there's any confusion.
Now it's your turn - if you've got your own tips for downloading free mp3 songs on iPhone, I'd love to hear them.
Please share your tips and tricks in the comments!
Download free music iPhone: