Top 10 Best DJ Khaled Songs (with Download Links)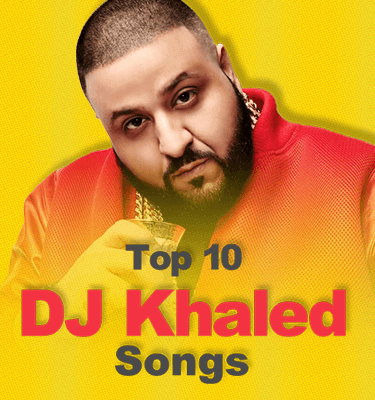 If you have a crush on hip hop, you must know DJ Khaled to some extent.
Before we go to the theme, I'd like to talk a bit more about the versatile rapper.
His debut album, Listennn...the Album, was released in 2006.
Later, he starts to hit the music world by a bunch of excellent singles and albums.
Until now, he has already issued 10 albums, any one of which has sparked the public concern.
2017 is a big year for him of being the winner of Billboard Hot 100.
It is attributed to the perfect single, I'm the One, which is included in his latest album, Grateful.
Guess you're looking for this single right now, huh?
All right, let's get down to the business.
Today, I'm gonna share top 10 DJ Khaled songs with you.
If you are a big fan of hip-hop music, please follow my step to appreciate the following list.
#1 DJ Khaled - I'm the One ft. Justin Bieber
Admittedly, I'm the one is unquestionably one of the DJ Khaled greatest hits released in April this year, for its catchy tune and marvelous beat. It's going viral also due to the collaboration with Justin Bieber, Chance The Rapper, Lil Wayne, and Quavo.
Can't wait to see the unparalleled team, huh?
Regarding the music videos, you can see singers boast to those gorgeous ladies that they are "the only one", or "Mr. Right" for them. In terms of this song itself, you will definitely loosen up and ease your mind after being exhausted by a heavy workload.
#2 DJ Khaled - Wild Thoughts ft. Rihanna, Bryson Tiller
"Wild Thoughts" is the fourth single released on 16th of June, 2017, from the latest album, Grateful. It debuted at No. 4 on the Billboard Hot 100 list and climbed to the Top 10 in other countries of Europe.
It serves as a cup of poisonous wine that penetrates into the human body, or even into the human spirit.
In other words, its lyrics speak to the heart. "Wild, wild, wild..." is likely to arouse people's inner desire for love, so why not have a try to lift you up when depressed.
#3 DJ Khaled - Hold You Down
Actually, this perfect summer song is for girls. There're a bunch of words as, "Girl I swear to God, you the real one and you know it," or "And now you say you dream about it anyway, oh yeah, just tell me..." speak to mind. The lyrics sound like lover's prattle which drives ladies insane.
Believe me!
You will be totally intoxicated with it if you are into someone right now.
#4 Do You Mind – DJ Khaled
"Do you Mind" features all of the same superstars who made a contribution to Khaled's 2014 single "Hold You Down", released on July 28, 2016, which is also his seventh top 40 hit.
I really enjoy its piano-driven tune that resonates all the time once I touch it.
#5 DJ Khaled - We Takin' Over
You cannot miss such a finger-popping song which inspires you to some extent. It tells us that we should never be afraid of anything, and instead we must be brave enough to confront with any obstacle in daily life and also be optimistic to face life joyfully.
#6 DJ Khaled - I'm on One
"I'm on One" peaked at No. 10 on the Billboard Hot 100, becoming the first top 10 hit in the United States for both DJ Khaled and Rick Ross. It pushes you to move on, drives you to be brave, and lifts you up a lot.
Anyway, it tells us that never cares what others think about you.
#7 DJ Khaled - I Got the Keys ft. Jay-Z, Future
Another one you should not miss out. As of yesterday, the track has peaked at No.30 on the Billboard Hot 100.
"I Got the Keys" is an anthem for success. He makes great use of his powerful voice to make the world know how to lead to success. By the way, the video posted on YouTube is amazing and worth watching.
#8 All I Do is Win - DJ Khaled
As for the song name, All I Do is Win, we can easily gain access to its main point, which is about victory.
Speaking of the video, it is, I have to say, motivational and uplifting. You know, during my time off, it is a cool song to wind down.
#9 Gold Slugs - DJ Khaled
"Gold Slugs" depicts how girls love his gold grills. To be honest, I personally deem that his gold grills shining in the video makes him a little bit cute and fascinated.
#10 Welcome to My Hood - DJ Khaled
The single from his album We the Best. Like the title of the album, it conveys a message that they are the best, they are unbeatable and they are fearless. Sometimes, we are young generation require such spirits to support us and to trust ourselves that we are outstanding.
Now…
We have finished the introduction of top 10 DJ Khaled songs.
If you have a fancy for any one of them, please go for it without any hesitation. The download link is just under each music video.
DJ Khaled's charming voice and fantastic creation won't let you down.
By the way, would you like to share your favorite DJ Khaled songs to us?
Please feel free to leave a comment below. Thank you!