Top 10 Country Love Songs Free Download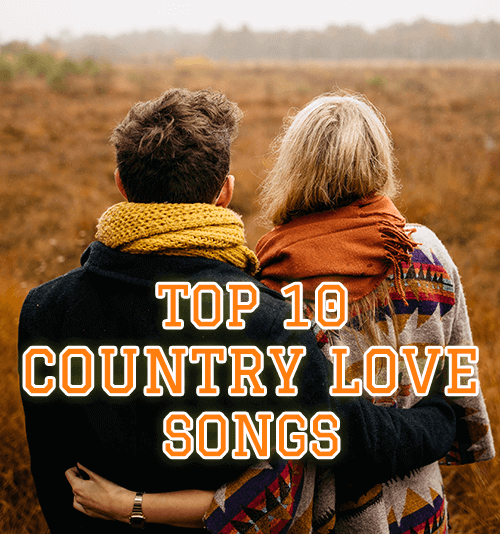 Love can be sweet.
Love can be bitter.
Love may make you sad.
Love may make you happy.
What do you feel when you are in love?
Have you ever used a love song to express your feeling to your lover?
Love comes in abundant supply in country music no matter old or new.
Songs about love and romance will never get old or trite because people never stop feeling love.
Also, you do need love songs, for example, in Valentine's Day and wedding.
What's your favorite love song?
What kind of romantic songs will touch you?
This time, I'm going to share 10 country love songs with you.
Let's begin!
1. Love Can't Ever Get Better Than This
"I made a lot of money but it didn't buy me dreams
Thought that I was rich but I was only in between
You were somethin' darling I just couldn't resist
Oh love can't ever get better than this"
This is a song written by Nancy Montgomery and Irene Kelley. It was recorded by Ricky Skaggs and Sharon White. It was released in 1987 as the 3rd single from the album Love's Gonna Get Ya!. It has reached No.10 on the Billboard Hot Country Singles chart.
We can make lots of money buy it can't buy us dreams. We can know many people but there is just a special person will touch our hearts. When you meet this one in your life, you will feel that love can't get better than this. Let's listen to this sweet song!
2. Need You Now
"It's a quarter after one, I'm all alone and I need you now
Said I wouldn't call, but I lost all control and I need you now
And I don't know how I can do without
I just need you now"
"Need You Now" was performed by country music trio Lady Antebellum and first released in the US on 11th, August, 2009. It spent 5 weeks at No.1 on the Billboard Hot Country Songs chart. Also, this song won Single of the Year and Song of the Year at the 2010 Academy of Country Music Awards.
Hillary Scott commented on this song, saying that "All three of us know what it's like to get to that point where you feel lonely enough that you make a late night phone call that you very well could regret the next day." Have you ever called someone in such condition?
3. Ring of Fire
"I fell into a burning ring of fire
I went down, down, down
And the flames went higher
And it burns, burns, burns"
June Carter Cash wrote this song with Merle Kilgore. This song was recorded in 1963 then became the biggest hit of Johnny Cash's career by staying at No.1 on the country chart for 7 weeks. The song was certified Gold on 21th, January, 2010, by the RIAA.
Although "Ring of Fire" sounds ominous, this term refers to falling in love, which was what June Carter was experiencing with Johnny Cash at that period. When you have a strong love for someone, it may be like the ring of fire. Listen to it and you would feel Cash's passion.
4. Breathe
"The slow and steady rush
Baby, isn't that the way that love's supposed to be
I can feel you breathe
Just breathe"
"Breathe" was written by Stephanie Bentley and Holly Lamar. The song was released in October, 1999, as the first single from Faith Hill's fourth album. This song spent 6 weeks at No.1 on the Billboard Hot Country Songs chart. At the 2001 Grammy Awards, it won for Best Female Country Vocal Performance.
Its music video was ranked No.4 on CMT's 100 Greatest Videos in 2008. The video was shot in the desert and featured scenes of Hill writhing in a bed on the sand, covered by a sheet only. Click the link below and enjoy the video!
5. I Will Always Love You
"Good-bye, oh, please don't cry
Because we both know that I'm not
What you need
I will always love you"
"I Will Always Love You" was originally written and recorded by Dolly Parton in 1973. Parton's country version of the track was released in 1974. The song reached No.1 on the Billboard Hot Country Songs chart twice. Whitney Houston recorded her version of the song for the film The Bodyguard, 1992.
People didn't always meet the right one. If you are not the one he/she need, you will have to leave. It's painful to stay far from people you love. But, in the bottom of your heart, you know you will love him/her forever. This is what the song about.
6. You're Still The One
"You're still the one I run to
The one that I belong to
You're still the one I want for life
You're still the one that I love"
This song was co-written and recorded by Shania Twain. The song was released in 1998 as the third country single from her album Come on Over. This single peaked at No.2 and became Twain's first top 10 hit on the Billboard Hot 100. It won Best Country Song and Best Female Country Vocal Performance of Grammy Awards.
In the mid-1990s, there was criticism of Shania's relationship with her husband, claims that the age difference was huge and that Twain was using him for her career. She disagreed with those criticisms and wanted to address them in public, this led to Twain's writing the song.
7. Lost In This Moment
"Sealing our love with a kiss
Waited my whole life for this
Watching all my dreams come true
Lost in this moment with you"
The song was released in February, 2007, as the first single from Big & Rich's album Between Raising Hell and Amazing Grace. The single became their first No.1 hit on the Billboard country charts in mid-2007.
Wedding day is a big day for everyone. Man can be as motional as woman. The people, the flowers and the memory show up and move all the guests. As a groom, he will be lost in this sweet moment, thinking about the lovely future with this perfect bride.
8. Your Man
"I've been thinking 'bout this all day long
Never felt a feeling quite this strong
I can't believe how much it turns me on
Just to be your man"
This song was released in August, 2005, as the lead-off single and title track from Josh Turner's album Your Man. It reached No.1 on the Billboard Hot Country Songs charts in 2006 and became the first No.1 hit of Josh's career.
The single won American Society of Composers, Authors and Publishers (ASCAP) awards for writers Chris Stapleton and Chris DuBois. Besides, it won a Broadcast Music Incorporated (BMI) award for writer Jace Everett. With the relaxing music and Josh's voice, you will have a wonderful journey in love.
9. Love Story
"Romeo, take me somewhere we can be alone
I'll be waiting, all there's left to do is run
You'll be the prince and I'll be the princess
It's a love story baby just say 'yes'"
The song was wrote and performed by Taylor Swift. It was released as the lead single from Swift's second studio album Fearless in 2008. In the United States, the song reached No.1 on the US Hot Country Songs (Billboard) and sold over 6 million paid digital downloads.
Taylor was inspired to write this song when she was going through a difficult situation with a boy she liked, whom she wasn't "officially" dating. The lyrics talk about Swift's father not approved of the relationship and her desire to go somewhere far away with him.
10. I'll Still Be Loving You
"When today is just a memory to me
I know I'll still be loving
I'll still be loving you
I'll still be loving you"
This song was written by Todd Cerney, Pam Rose, Mary Ann Kennedy and Pat Bunch. It was released in 1987, as the second single from Restless Heart's album, Wheels. The song was ranked No.1 on the US Hot Country Songs (Billboard) for 1 week and spent 25 weeks on the chart.
I will love until the sun doesn't shine, until time stands still, until the winds don't blow. The lyrics are pretty romantic and impressive. Sometimes I do hope time flies slower so I can spend more time with my lover and create our own sweet memory.
Conclusion
These are all the top 10 country love songs I would like to share.
Is your favorite song in the list?
Which song gave you an impression?
If you want to free download these songs, just click the links below them.
Feel free to leave me your suggestions in the comments.
You will get my reply soon.
Wish you a lovely day!