Top 10 Online Classic Music Radio Stations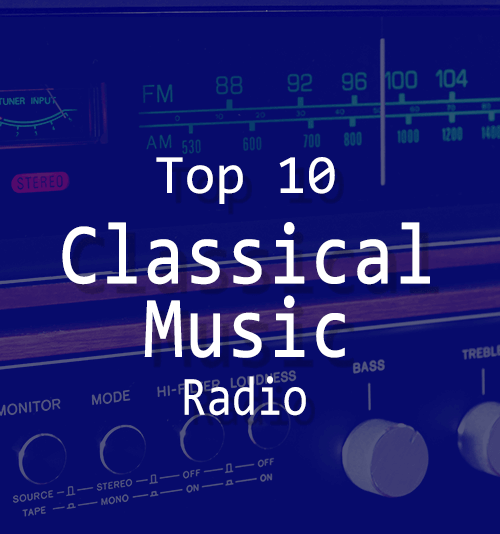 Are you a big fan of classic music?
Are you still looking for an online classic music radio station?
There're many people strive to make classic music a more important part in our lives.
They're still working on presenting best quality classic music programs for us.
Today, we listed 10 classic music sites to let you decide.
Wish you will find the one meet your demand.
By the way, you can FREE DOWNLOAD any songs with Free MP3 Finder!
Now, let's get started!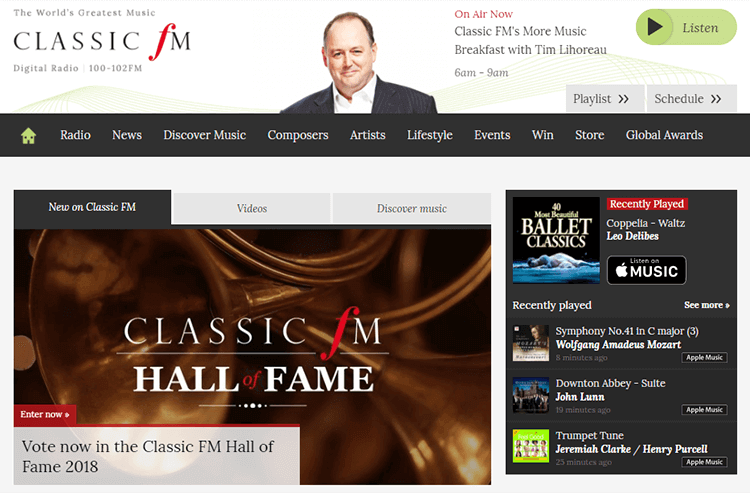 Classic FM claims that they are the UK's only 100% classical music radio station. They believe that classical music can and should be a part of everyone's lives. Classic FM starts to broadcast since September 1992 and has approximately 5.6 million daily listeners.
Classic FM provides convenience to listeners. Listeners can listen to Classic FM on DAB digital radio, FM radio, APP, online, or TV. Also, listeners can discover classic music by periods & genres, occasions, mood, instruments, composers, artists, and music theory. Besides, it also features events information. The upcoming Classic FM Live will be presented on 3 April, 2018. More information click HERE.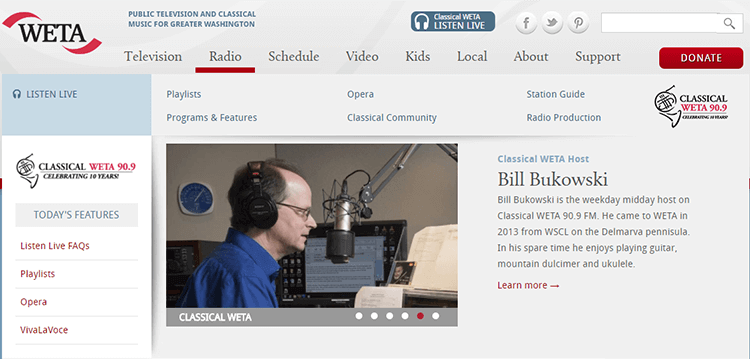 Classical WETA is a non-commercial public broadcasting station. Before 2007, WETA was a mixed radio. WETA was changed to a classical music format on January 22, 2007. It claims to be the best classical music in D.C. area.
Classical WETA has 6 major categories:
1) Daily Playlist provides users a daily guide to music broadcast on Classical WETA.
2) Users can find weekly schedules and host bios in Station Guide.
3) Programs & Features tells weekly highlights on-air and online.
4) Opera offers users with 15 full operas each week on the radio.
5) Classical Community connects the classical music fans with local arts groups.
6) Users can also download Classical WETA APP in the iOS APP Store and the Google Play Store.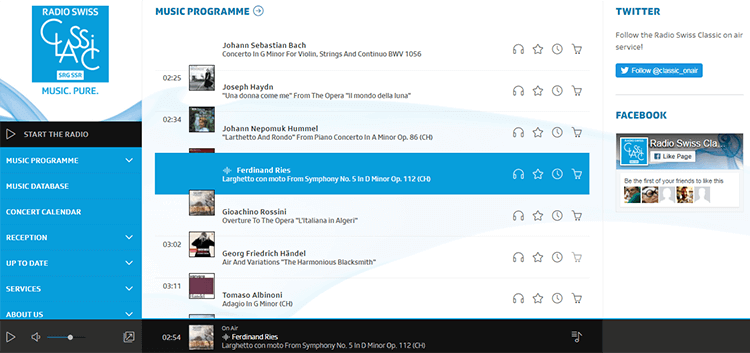 Radio Swiss Classic was founded on May 19, 2012. The music programme consists of 4,300 tracks, and they are still keeping updating songs and albums to its music programme.
Click on 'Programme Info' for details of which pieces of music have been chosen for inclusion in the Radio Swiss Classic schedule. Users can find tracks that have been played in the past 3 months, and those for 1 month in advance. By simply clicking on the day, users can hear the track easily.
Users can find out music by entering titles, albums, musicians, composers, orchestras in the search bar of Radio Swiss Classic.
There are many ways to listen to Radio Swiss Classic, including on the digital radio, web radio, mobile devices apps, cable or ipTV, or via satellite.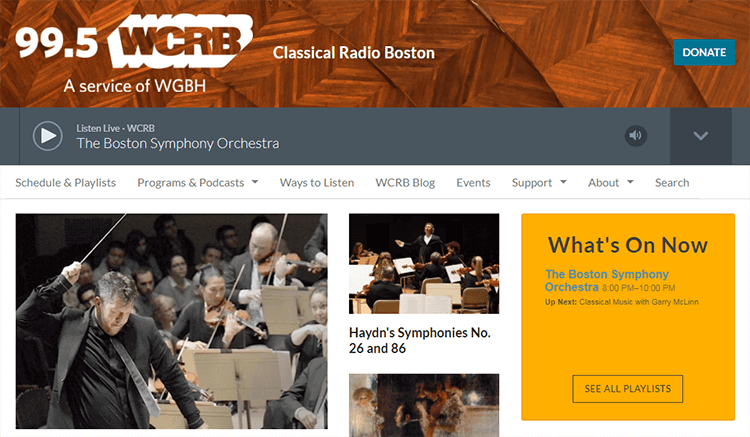 Classical Radio Boston is a non-commercial radio station, based in the Brighton area of Boston, Massachusetts. It was founded on October 6, 1951.
Full playlist information can be founded on 'Schedule & Playlists' page. Users can navigate to a specific day and expand the playlist for a particular show.
Users can listen to Classical Radio Boston on air, online, a smartphone or tablet, and a voice-controlled speaker. What's more, you can also online stream its alternative streams (The BSO Concert Channel, Boston Early Music Channel and Bach Channel within the same player.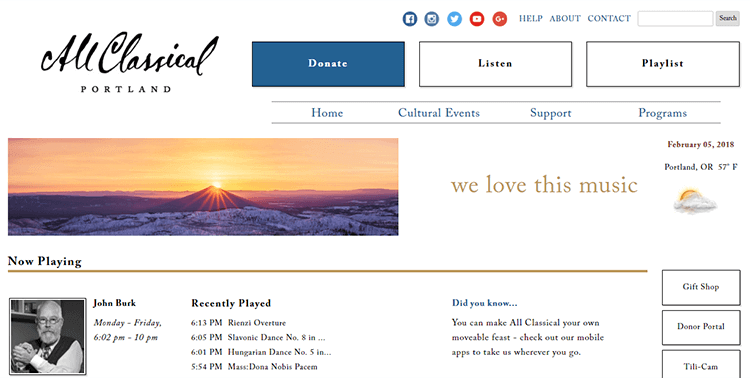 All Classical Portland is an American classical radio station, based in Portland, Oregon. It was established in 1983.
Users can find out what programs are scheduled to air on 'Program' page on the website. Also, users can find the name of any piece of music by checking out the 'Playlist' page.
All Classical Portland welcomes users to send them music. If it fits in their sound, they may add it to the playlist.
Users can stream live broadcast 24/7 on its website media player or launch a pop-up web player. You can also access the stream through streaming media players (Windows Media Player, iTunes, WinAmp, or VLC). By downloading All Classical Portland application, users can free stream on an iPhone, iPad, iPod Touch, Android device, and Amazon devices.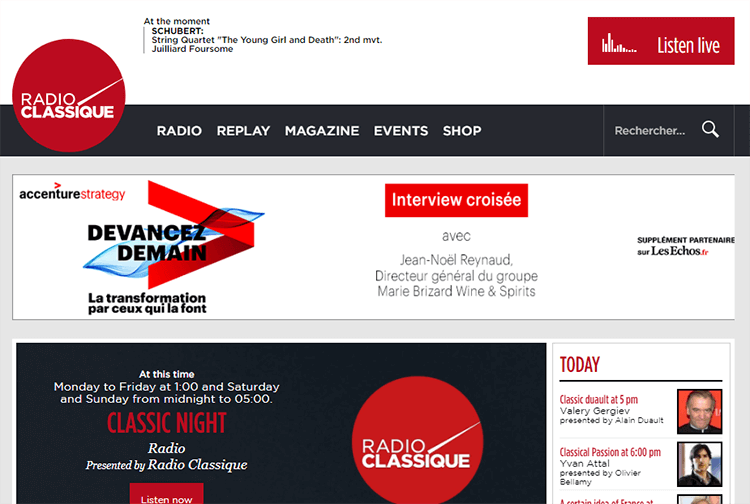 Radio Classique is a French commercial radio. It was launched in January 1983, and mainly broadcasts classical music. Since 2008, Radio Classique became a brand of the LVHM Group.
User can have weekly program schedule on 'Program Schedule' page. In addition, they don't need to worry about missing any program, because they can always find it out on 'Find a Piece' page.
Users can access Radio Classique via satellite, internet, phones and tablets. More information, click HERE.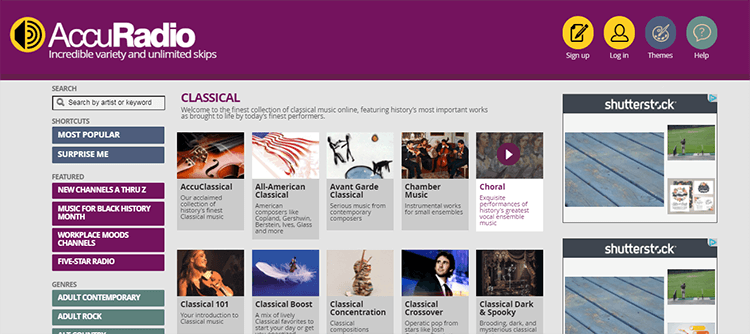 AccuRadio is an independent, multichannel Internet radio. It offers over 1,000 customizable radio channels of classical, rock, pop, jazz, country, and more. It was founded in 2000, based in Chicago.
Via AccuRadio, users can discover music by soloist, composer, period, mood, and more. In order to recommend the best individual streams for users, they encourage users to rate songs. When it comes to its limitation, I would say users can't skip or scan forward or back songs of a playlist.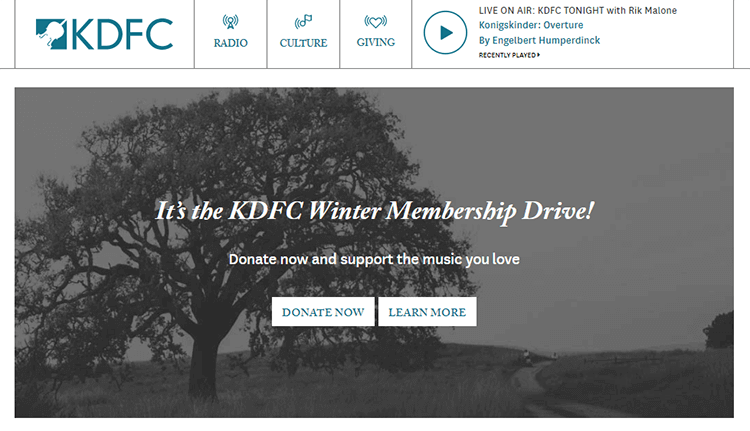 KDFC is a non-commercial radio station in San Francisco, California. It was established in 1948, and officially became a listener-supported non-profit radio station in 2011.
Click on 'Schdule' page, users will know its weekly program schedule. In addition, users are allowed to advanced search playlists on 'Playlist' page.
Besides, users can listen to KDFC on air, website, an internet radio, iOS and Android apps, other media players and more. More information, click HERE.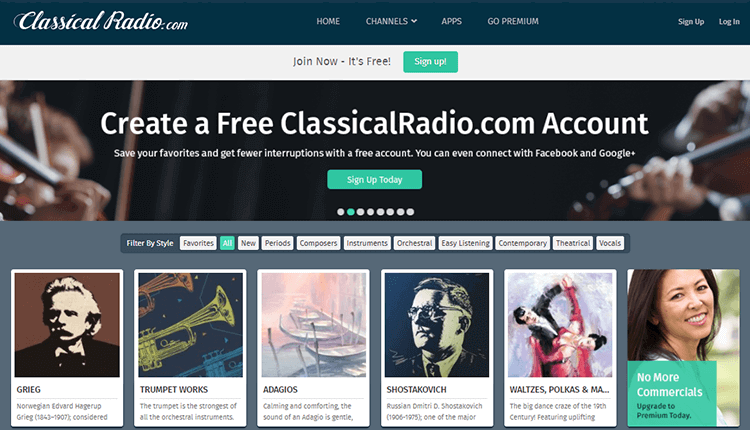 ClassicalRadio was launched in 2016. It offers 50 channels of curated classical music, ranging from the Medieval Period to contemporary performances. You can discover music by periods, composers, instruments, orchestral works, theatrical performances, and more.
Except for its online listening service, users can also download mobile applications for iPhone and Android devices. Besides, if you're looking for the best quality music and ad-free experience, they also offer ClassicalRadio.com Premium.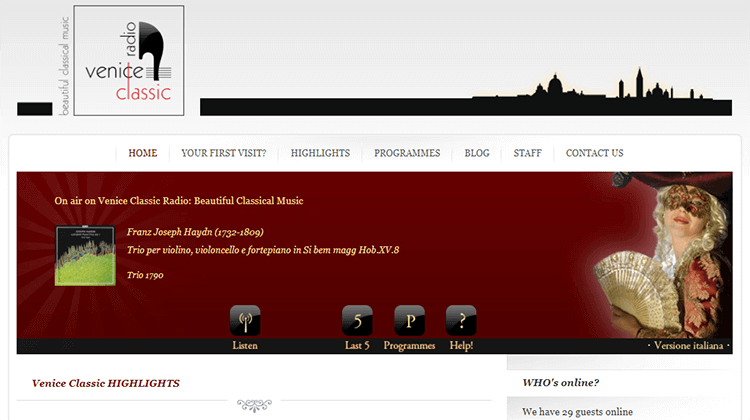 Venice Classic Radio is an Italian web radio, which was founded in July 2008. It offers daily a repertoire of early, baroque, chamber, symphonic, contemporary music and opera arias. It's very easy to listen to Venice Classic Radio. Users just need to click on the icon 'Listen' placed above the website.
In addition, 'Programmes' details the program information and the playlists of Venice Classic Radio. Also, you can find previews of programs as well as news about events, curiosities and publications on 'Blog' page.
Conclusion
That's all for today's sharing.
I hope you already found one fits your need.
If you would like to FREE download songs, you can paste its link or simply enter artists, albums to Free MP3 Finder. Then, you can enjoy offline listening.
Finally, thanks for your reading.
Have a good day.