Best Top 10 Chris Stapleton Songs Free Download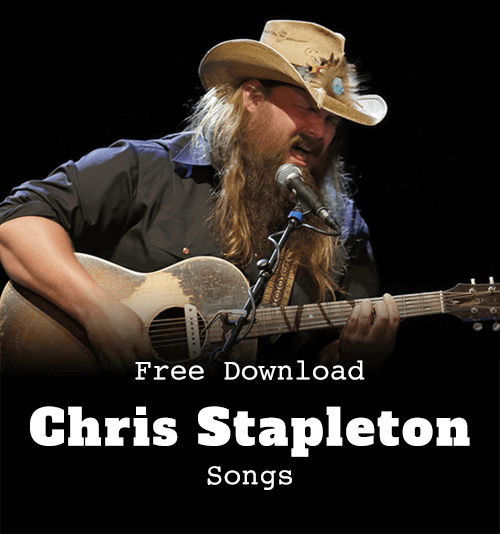 Chris Stapleton has received many awards:
5 Academy of Country Music Awards.
2 Grammy Awards and 2 Billboard Music Awards.
7 Country Music Association Awards.
Also, Stapleton won 9 ASCAP Country Music Awards, including the Vanguard Award.
Chris has been nominated 2 times for Top Country Artist of Billboard Music Awards.
He won 3 AMT Awards from 2015 to 2017.
He is a singer-songwriter and guitarist.
Stapleton is not that kind of cute young singer but he is still so popular.
Do you know anything about him?
Today, I would like to introduce you top 10 Chris Stapleton songs.
1. Tennessee Whiskey
"You're as smooth as Tennessee whiskey
You're as sweet as strawberry wine
You're as warm as a glass of brandy
And honey, I stay stoned on your love all the time"
This bluesy ballad was Chris Stapleton's breakout solo hit. It was originally recorded by David Allan Coe. Chris's version was certified platinum by the RIAA. It reached No.1 on Billboard's Country Songs chart after Stapleton performed it with Justin Timberlake at the 2015 CMA Awards
Love has an intoxicating power. It's smooth like Tennessee Whiskey. It's sweet like strawberry wine. Most of the time, it's warm like a glass of brandy. Chris said that this was always one of his favorite love songs. Try listen to it!
2. Fire Away
"Fire away
Take your best shot
Show me what you got
Honey, I'm not afraid"
The song was written by Chris Stapleton and Danny Green. It was released on 15th, May, 2015. "Fire Away" reached No.6 on the US Bubbling under Hot 100 Singles (Billboard). Its music video was released on 26th, February, 2016.
This song is about bracing for a fight with a sharp-tongued lover. "It's a song about the frustration of commitment to me", said Chris. The music video won the award for Music Video of the Year at the 2016 Country Music Association Awards. You can click the link below to watch the Chris Stapleton song on YouTube.
3. Whiskey and You
"But one's a liar that helps to hide me from my pain
And one's the long gone bitter truth
That's the difference between whiskey and you"
Chris Stapleton wrote the song with Lee Thomas Miller. The song was featured on Tim McGraw's 2007 Let It Go album. Contrasts between whiskey and woman are used to describe the lingering pain of their breakup.
The sound of guitar and the voice of Chris Stapleton will express the bitterness to you. "We went through several versions of recording this song until I finally decided it was best to present it in its original form: me, a guitar and one microphone", said Stapleton.
4. Traveller
"I'm just a traveller on this earth
Sure as my heart's behind the pocket of my shirt
I'll just keep rolling till I'm in the dirt
'Cause I'm a traveller, oh, I'm a traveler"
"Traveller" was released on 27th, April, 2015, as Stapleton's debut solo single from his debut album of the same name. The song of Chris Stapleton won the Best Country Solo Performance at the 58th Grammy Awards.
In 2013, Chris's wife bought him a Jeep Cherokee. They flew to Phoenix to pick it up and drive it home. He wrote this song in the quiet of the morning driving through the desert in New Mexico. We keep going like traveler in life. Do you feel the same way?
5. Broken Halos
"Seen my share of broken halos
Folded wings that used to fly
They've all gone wherever they go
Broken halos that used to shine"
The song was written by Stapleton and Mike Henderson. It was released on 14th, April, 2017. Besides, this song was nominated for Best Country Song at the Grammy Awards. It reached No.13 on the US Hot Country Songs (Billboard).
"Broken Halos" about people close to us who pass away. At Stapleton's concert at the Ryman Auditorium in 2017, he introduced this very song by noting that he wrote it on the day his childhood friend passed away, because of cancer, at the age of 37.
6. Either Way
"We can just go on like this
Say the word, we'll call it quits
Baby, you can go or you can stay
But I won't love you either way"
Chris wrote this song with Tim James and Kendall Marvel. Lee Ann Womack first released a version in 2008 with his performing back-up vocals. The song reached No.17 on the US Hot Country Songs (Billboard).
It is about the indifference of a man in the relationship. They faked a life that looks perfect and happy. However, whether this relationship continues or ends, he won't love her anymore. This hopeless feeling is really upsetting, isn't it?
7. Daddy Doesn't Pray Anymore
"Daddy doesn't pray anymore
I guess he's finished talking to the Lord
He used to fold his hands and bow his head down to the floor
But daddy doesn't pray anymore"
The song is about Stapleton's father. It was written while his father was living. Chris said his father was a very religious man who said grace at every meal. After he passed away, Stapleton made the decision to perform it.
"When my Dad passed away in October of 2013 this song came to mean a great deal more to me", Chris said. He misses his dad's voice and those words. We ought to spend more time accompanying our families and love them with all heart.
8. When The Stars Come Out
"And one of those LA nights
When the stars come out
Oh, the stars come out and shine"
Stapleton wrote this song with Dan Wilson. They were in LA. The night before they wrote Chris was looking up at the sky from his hotel room and noticing how the city lights drown out the stars.
People lighted up the city like stars. Everyone can be famous. Everyone can shine in the future. The relaxing melody and Stapleton's voice sounds perfect together. Imagine you are a star, and you would be glad when you light up the dark night.
9. Nobody To Blame
"I know right where I went wrong
I know just what got her gone
Turned my life into this country song
And I got nobody to blame but me"
Chris co-wrote this song with Barry Bales and Ronnie Bowman. It became his first top 10 single on the US Country Airplay chart. What's more, "Nobody to Blame" won Song of the Year of the ACM Awards.
The song is about a man getting what he deserves. He didn't do the things that he knew he should have done. He did things he knew he should have not instead. He needed to accept the punishment. We are trapped in this kind of situation sometimes, aren't we?
10. Parachute
"Sun comes up and goes back down
And falling feels like flying till you hit the ground
Say the word and I'll be there for you
Baby, I will be your parachute"
"Parachute" was written by Stapleton and Jim Beavers. The song is the third single from Chris Stapleton's debut album, Traveller, which released in 2015. It reached No.12 on the US Hot Country Songs (Billboard).
A man lost his lover and missed her a lot. So, he wanted to be with her again. This man was ready to protect and accompany her any time. With the up-tempo I have known that he was eager to be back in the relationship.
Conclusion
That's all about Chris Stapleton's top 10 songs.
Were you impressed by his special voice?
Is there song of Stapleton just became your favorite?
Don't forget to click the links below the songs to get them downloaded free.
Also, I would be glad to get any of your comment, please leave it below.
Good day to you!