Best Cardi B Songs – Top 10 Songs Free Download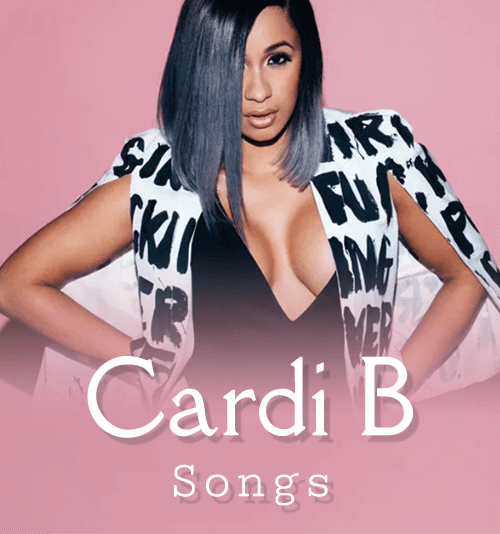 What?
Isn't Taylor Swift No.1 on the Billboard 100?
The newest championship song is a Hip-Pop single!
Cardi B's Bodak Yellow!
That's right. The new singer Cardi B came to the top of the list with the first single Bodak Yellow.
Cardi B became the 5th female rapper to ever lead the Billboard chart.
What kind of music does she have that makes so many people like it?
Today, I'm going to share Top10 list of Cardi B songs on YouTube.
Now, let's get started!
1. Bodak Yellow
"If I see you and I don't speak
That means I don't f**k with you
I'm a boss you a worker bitch
I make bloody moves"
In 2017, Cardi B debut single "Bodak Yellow", reached No.1 on the US Billboard Hot100 chart for 3 consecutive weeks. The song won Single of the Year at the 2017 Best Hip Hop Awards. It is nominated for Best Rap Performance and Best Rap Song at the 60th Grammy Awards.
Listen to this song, Cardi sounds so sure of herself; if you like Hip-Pop then you can't miss this unique sound.
2. No Limit
"If I hit it one time I'ma pipe her
If I hit it two times then I like her
If I fuck three times I'ma wife her
It ain't safe for the black or the white girls"
"No Limit" is a song by American rapper G-Eazy, featuring American rappers ASAP Rocky and Cardi B. it ranked No.11 on the US Billboard Hot100.
G-Eazy has a high degree of admiration for Cardi B. In an interview with Uproxx before the show, he explained the reason behind collaborating with Cardi B: "I'm a super fan of her and everything she's doing right now is incredible. I think she represents where music is today."
Cardi B has a good command of the song. Her tone is sharp and accurate, giving us another strong turn.
3. Motor Sport
"Motorsport, yeah, put that thing in sports (skrrt, skrrt)
Shawty bad (bad), pop her like a cork (pop it)
You a dork, never been a sport (dork, yeah)"
"Motor Sport" is a song recorded by American hip hop group Migos, in collaboration with fellow American rappers Nicki Minaj and Cardi B. The song reached No.14 on the US Billboard Hot100 and No.6 on the Hot R&B/Hip-Hop Songs.
The lyrics to this song are a bright spot. It references celebrities such as Criss Angel, Bill Belichick, Lil Boosie, and Lil Uzi Vert; and brands such as Bugatti, Chanel, Givenchy, Lamborghini, McDonald's, Percocet, Porsche, among others.
If you're interested in lyrics, you might want to download this song.
4.Red Barz
"I swear to God, they ain't wanna see me leave the club
Got up on my shit and now they scared to show me love
They'd rather see me on the pole twerkin' it for dubs
I guess I really gotta show them what the fuck is up"
"Red Barz" was released on April, 5, 2017. It's not long after the launch, but there's a good lick-through rate on the web.
The song shows Cardi's personality once again. Loud lyrics, unique voice, she's leading us into a different Hip-Pop world.
This song made a lot of resonance with fans. In this song, Cardi expresses what they want to say with Hip-hop. Some fans said that they liked "Red Barz" more than "Bodak Yellow".
5. Lick
"Lookin' like I caught a lick (lick, hey!)
Run up on me, you get hit
And all my bitches with the shits (yeah!)
Bronx, New York, gangsta bitch (woo, woo)"
"Lick" is a song recorded by Cardi B and Offset. They have been the internet's favorite would-be couple ever since the duo was spotted together multiple times in New York City earlier this year.
Cardi has explained the meaning of "Lick" during an interview at The FADER FORT in March, "When you just make something that weren't expecting to do, but it goes to your benefit. And that's what happened with my life - I caught a lick."
If you're a fan of her, you can't miss their chorus.
6. Foreva
"Ran down on that bitch twice
Ran down on that bitch twice
You know me I be with whatever
If a bitch beef with me we gon' beef foreva"
"Foreva" is from Gangsta Bitch Music, Vol.1 shows just how far she's willing to take things.
Unlike other Cardi's music videos, there's a 1 minute conversation at the beginning of the video. As the drama was made, the music was more powerful and the story was clearer. If you're curious about this song, click the link below.
7. Pull Up
"Hella fake, you better pull up on me
I hope you feel the same when you see my face; you better pull up on me
Ain't no backin' down, prepared to shake, you better pull up on me"
"Pull up" is a track from Cardi's Gansta Bitch Music, Vol.2 project. The track is an aggressive call-out to her detractors, and the Bronx native is an imposing presence in her latest visual.
Surrounded by a large crew, she raps, "I used to kill their poles, now I kill them shows/ they don't like my growth, well fuck ya hoes"
Want to enjoy more? Just watch the video below.
8. Washpoppin
"I need all my money makers bring that cash out
I need all my D boys to bring that cash out
I need all my scammer niggas bring that cash out
Don't you see these big ass titties and this ass out"
"Washpoppin" is from her debut Gamgsta Bitch Music, Vol.1 music project. It's a song that lets people appreciate her unique voice and rebel lyrics.
The video is still the perfect balance of Cardi's hot fingure and comedic talent. After listening to the song, you're going to say: "That's what Cardi B supposed to be."
If you're big fan of her, how could you miss this song?
9. Gimme Head Too
"Bend over, let me see, I just want some head bitch
Skip the draws, I can't get involved, give me head bitch
I'ma pass, you can keep the ass, give me head bitch
Ain't no simp, you know I'ma a pimp, that's how I play it bitch"
"Gimme Head Too" is a song recorded by Cardi B and J.R. This song has been presented as a new single hit in Hip-Hop music releases in 2016.
Through the song, we cannot deny that Cardi and J.R. make an amazing team. And their radio is an evidence of their chemistry. The male voice in front allows us to enjoy rhythmic hip-hop, and suddenly Cardi's voice deepens the song's layered feelings and gives the listeners better enjoyment.
If you want to get to know her, enjoy her song.
10. Cheap Ass Weave
"Cheap ass weave, Cheap ass weave
How everything on fleek when you got some cheap ass weave
Cheap ass weave, Cheap ass weave
Don't even step to me if you got some cheap ass weave"
"Cheap Ass Weave" was released in 2015. By listening to this song, it's not hard to find out that she has developed her own characteristics in early music works. In the music video, she sings her hip-hop with exaggerated costumes.
In the album after that, it's no hard to find her getting better and better.
If you just know about her recently, listen to her this old song, and it will give you a different kind of surprise.
Conclusion
This is a list of top 10 Cardi B songs.
It doesn't matter whether you're a fan or not.
It's about whether you're impressed by the song.
If you do like the song then just download it by clicking the MP3 link.
Also, welcome to share your own Cardi B Top10 Songs list.
You can tell us by leaving a comment below and your any suggestion and question.
Thank you for your reading!