Best 5 Bruno Mars Music Videos You Should Have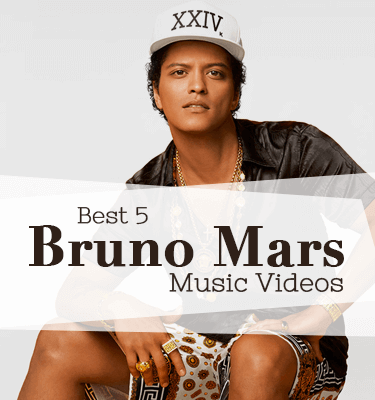 When it comes to music video, Bruno Mars should be mentioned.
As a gifted dancer and singer, he conducts both live shows and music videos.
Also, some of his music videos stand high in fans and music industry.
I guess a flood of his videos might come to your mind, right?
What will you benefit from this article?
Good question!
Here is a throwback to the best Bruno Mars music videos you should know first.
Besides, master an effective way to download your favorite videos is equally important.
Now, let's see what you can get.
#1 A Review of Bruno Mars Best Music Videos
1. "Just the Way You Are"
"Just the Way You Are " won Popular International Music Video at the 2011 Channel [V] Thailand Music Video Awards, favorite International video at the 2011 MYX Music Awards and an MTV Video Music Award Japan for Best Male Video in 2011.
2. "It Will Rain"
The video of "It Will Rain" intercuts with footage of the film The Twilight: Breaking Dawn – Part 1 with Bella and Edward. It was awarded Best Male Video at the 2012 MTV Video Music Awards Japan.
3. "Locked out of Heaven"
"Locked out of Heaven" was directed by Phil Pinto and Bruno Mars. It won in the category of Best Male Video at the 2013 MTV Video Music Awards.
4. "Treasure"
The music video is a recreation of Mars' 2013 Billboard Music Awards performance, with 80's effects. "Treasure" won an MTV Video Music Award for Best Choreography at the 2013 ceremony.
5. "Uptown Funk"
The Mark Ronson's collaboration "Uptown Funk" won Video of the Year at the 2015 Soul Train Music Awards. The video has over 2.6 billion views on video sharing website YouTube as of August 2017, making it the fifth most viewed YouTube video of all time.
We might know nothing but that these music videos meet with great favor before.
But now, you have exactly learned about how successful they are!
Have an urge to download them immediately?
Just take it easy, Olivia.
Because the next part is something you are looking for.
#2 How to Get Bruno Mars Music Video Download?
After appreciating all the above great music videos, it would be a pity if you just let them go.
Therefore, the first thing you should do is to download them to your devices.
There are a lot of video downloaders, including Savefrom.net , Keepvid and Video-Download. Online.
While today my special recommendation is AnyMusic – Best Music & HD Video Downloader.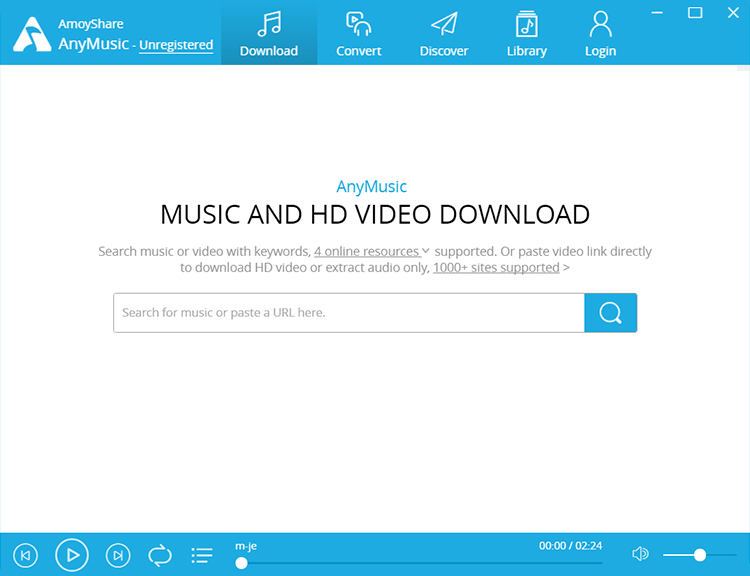 Why AnyMusic?
Well, just have a look at the following features of AnyMusic.
Powerful search algorithm (keywords/URL)
Various Channels (1000+ sites supported)
Support playlist download
Preview with inner player
Different file formats
No ads & virus
Now that you have an initial understanding of AnyMusic, I'll show you how to run it.
Step 1. Enter the name, artists, album or URL of each desired songs into the search bar and click the search icon.
Then you will see…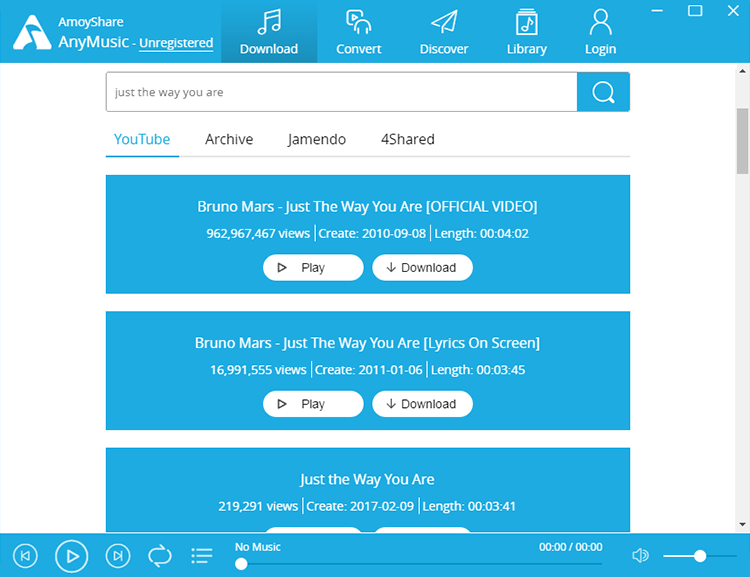 Step 2. You can click on "Play" before downloading. As we mentioned, preview the videos with the built-in music player to make sure it is the right one.
Here you can see…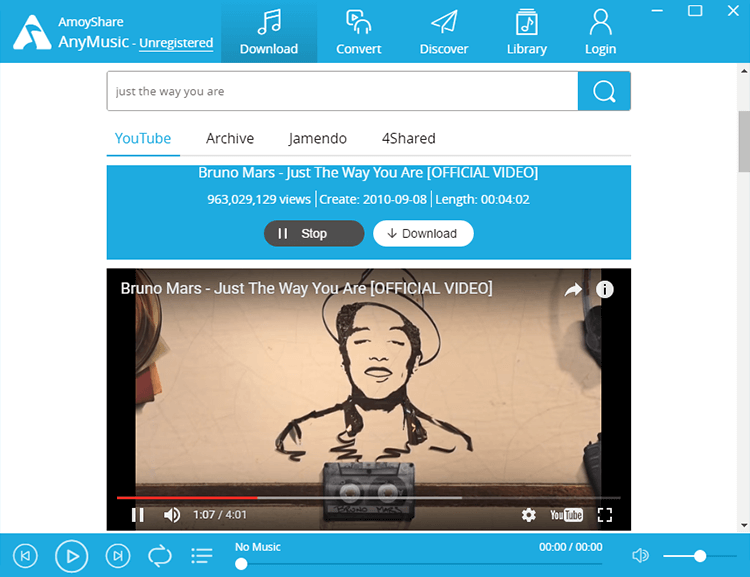 Step 3. You can decide which format to download after checking out. By the way, you can see the downloading process in Library.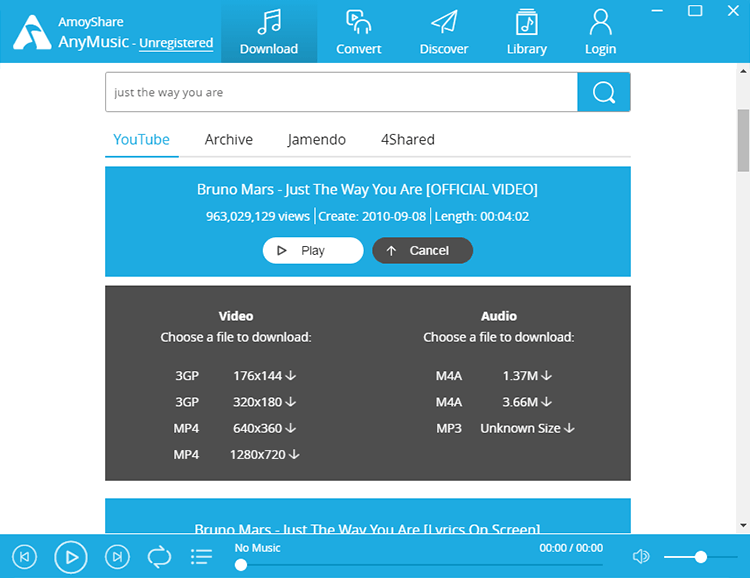 Done!
You have just successfully saved one of Bruno Mars best music videos!
What's the bottom line?
That means you can enjoy them offline whenever you want.
Tips:If you want to transfer the videos to your mobile phone, AnyMusic can also help you to achieve it. Go to Library → Change saved Directory (downloaded) / Open saved Directory (to download) → iTunes Media.
In this way, you can transfer songs to iTunes directly.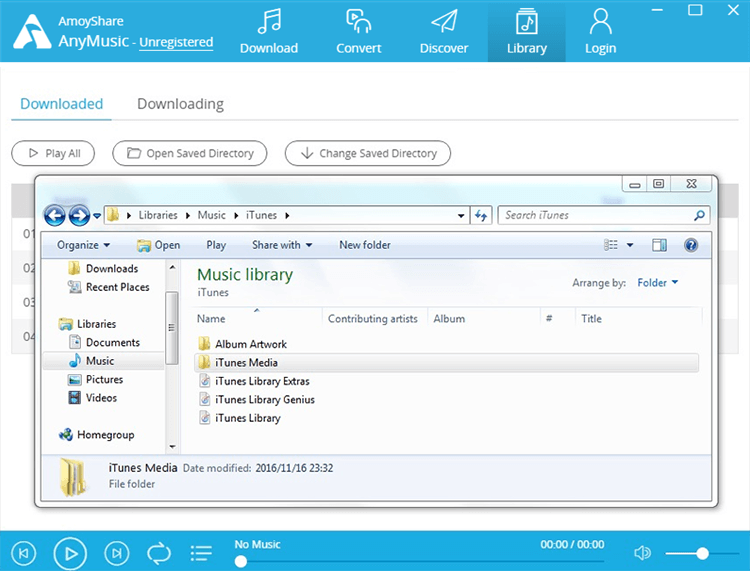 This is the end of my sharing of best Bruno Mars music videos.
Come on!
Move your finger to get them!
Based on all above downloading process, you can decide if AnyMusic meets your needs.
Alright!
If you have any suggestion or question, please let me know in the comments below.