Top 10 Bollywood Romantic Movies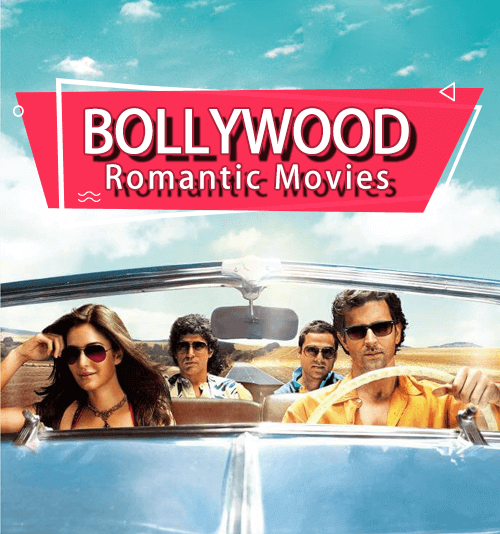 What will you do with your beloved if you won't hang out in Valentine's Day?
How about watching a romantic movie at home with some pop-corns and wine?
More laugh and happiness will come with a Bollywood romantic movie.
Why Bollywood movies?
Bollywood, as the largest film producer of Indian Cinema, it has produced 364 Hindi films annually as of 2017.
The peculiar songs and dance of movie will cheer you up in this special day.
Indian movie will bring you a total different feeling.
This time, I will introduce a list of Bollywood romantic films to you.
Let's get started.
1. Zindagi Na Milegi Dobara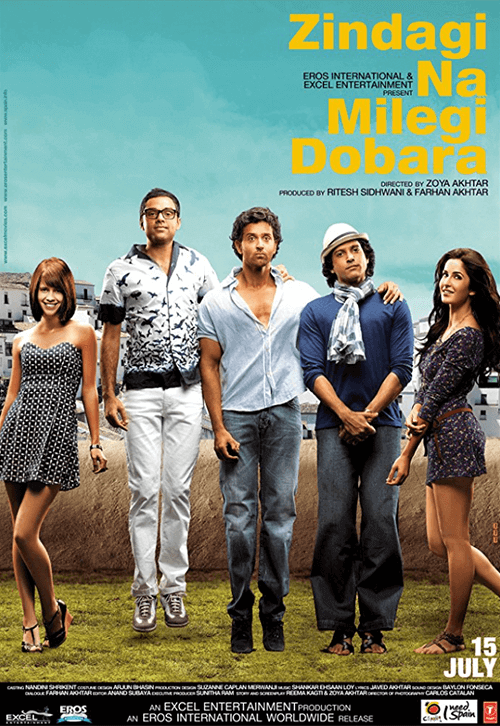 Zindagi Na Milegi Dobara (English: You Won't Get This Life Again) is a 2011 Indian coming of age comedy-drama road film, which directed by Zoya Akhtar. The movie was produced by Farhan Akhtar and Ritesh Sidhwani of Excel Entertainment.
The story was about three friends, Arjun, Kabir, and Imraan who have been inseparable since childhood. They set off to Spain on a bachelor trip. They met Laila, who fell in love with Arjun and helped him overcome his problem of workaholism.
Kabir and his fiancée experienced significant misunderstanding, in the meanwhile. Luckily, they soon overcame. As part of the trip, each friend chose a dangerous sport for this group to partake.
The movie grossed ₹1.53 billion (US$24 million) worldwide and became the No.9 highest worldwide grosser of all time for a Bollywood film, as of October, 2011.
2. Toilet: Ek Prem Katha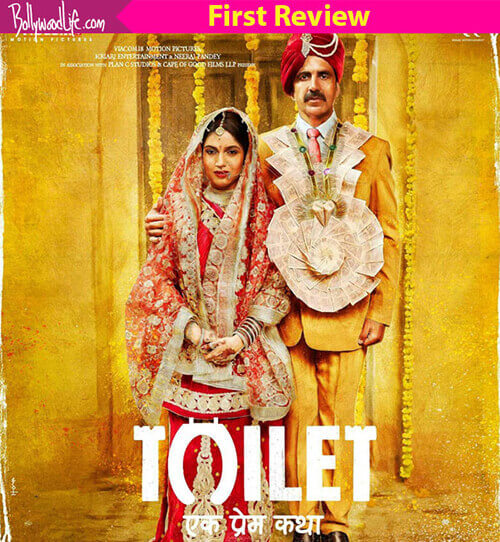 Toilet: Ek Prem Katha (English: Toilet: A Love Story) is a 2017 Indian Hindi-language comedy-drama film, directed by Shree Narayan Singh and co-produced by Akshay Kumar and Neeraj Pandey.
The film starts in a village where a group of women go to a field. Keshav has to marry a black buffalo because his father, a religious and superstitious priest. He believes that his son's marriage to a black buffalo will help improve Keshav's fortune.
Keshav meets Jaya, falling in love, he eventually convinces her to marry him. But Keshav's father is of the view that Keshav's horoscope is such that he should only marry a girl who has got two thumbs on one of her hands. Because Jaya does not fulfill this requirement, Keshav gets an artificial thumb made and gives it to Jaya who wears it as a ring on her thumb.
Keshav's unsuspecting father agrees to this marriage. They married but Keshav didn't tell her that his house doesn't have a toilet. This then became the grounds for Jaya to file for a divorce.
This Bollywood movie has grossed more than ₹216 crore (US$34 million) worldwide.
3. Dear Zindagi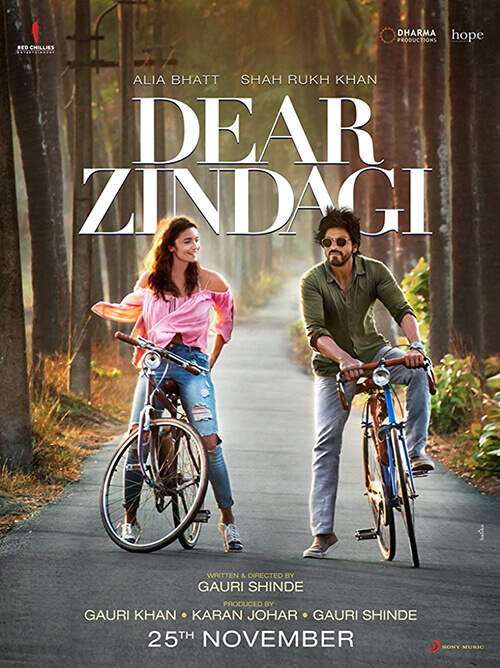 Dear Zindagi (English: Dear Life) is a 2016 Indian Hindi-language coming-of-age drama film written and directed by Gauri Shinde. It was produced by Gauri Khan, Karan Johar, and Shinde under the banners of Red Chillies Entertainment, Dharma Productions.
In Mumbai and Goa, Kaira is a promising cinematographer who wishes to direct her own films. Her life takes a downturn when Raghuvendra, a film producer for whom she breaks up with her childhood sweetheart, gets engaged to someone else. Besides, her landlord turns her out of the apartment because the building association wants to rent apartments to married couples only.
All these and dissatisfaction with her prospects at work serves as a catalyst for her shift to Goa, where she now has to live with her parents with whom she has several issues. Kaira ends up spending many sleepless nights in unhappiness and uncertainty.
A chance encounter with Jug, an unconventional thinker, helps Kaira gain new perspective about life. She discovers that happiness is all about finding comfort in life's imperfections.
The movie earned a total of ₹94.67 crore (US$15 million) in India, grossing ₹139.29 crore (US$21.7 million) worldwide.
4. Lootera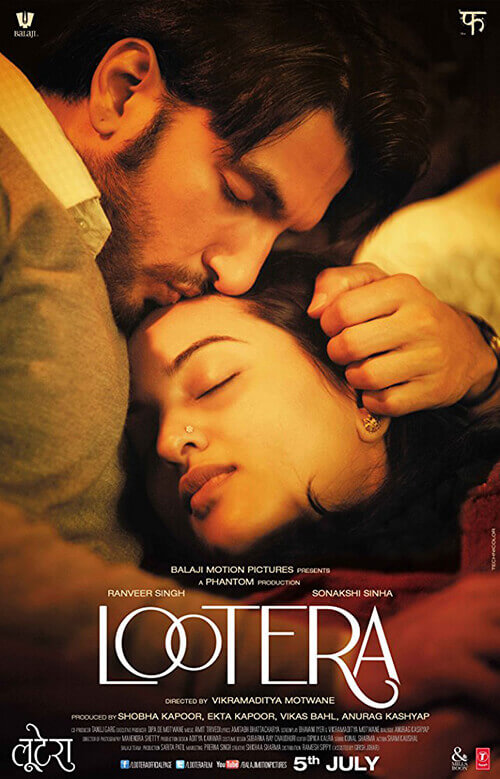 Lootera, (English: Robber), is a 2013 Indian period romance film directed by Vikramaditya Motwane. It is partly based on author O. Henry's 1907 short story The Last Leaf.
In 1953, a fellow named Varun Shrivastav comes to the village of Manikpur in West Bengal with a fake identity of archaeologist along with his team to steal the ancient idol of the temple grounds.
With knowledge and experience beyond his young demeanor, Varun greatly impresses the Zamindar and his family. Pakhi, Zamindar's only daughter, who finds herself irrevocably drawn towards him. Day before their marriage, Varun and his team disappear with idol.
The next morning when Pakhi's father discovers, he could not stand the pain and died. Pakhi struggles to move on with her life and determined to forget him. She comes to the Shimla, where they have another home until one day, Varun and his team comes there for another task and returns to Pakhi's life under the most special circumstance.
This Bollywood film amassed a total of almost ₹188 million (US$2.9 million) over its opening weekend.
5. Badrinath Ki Dulhania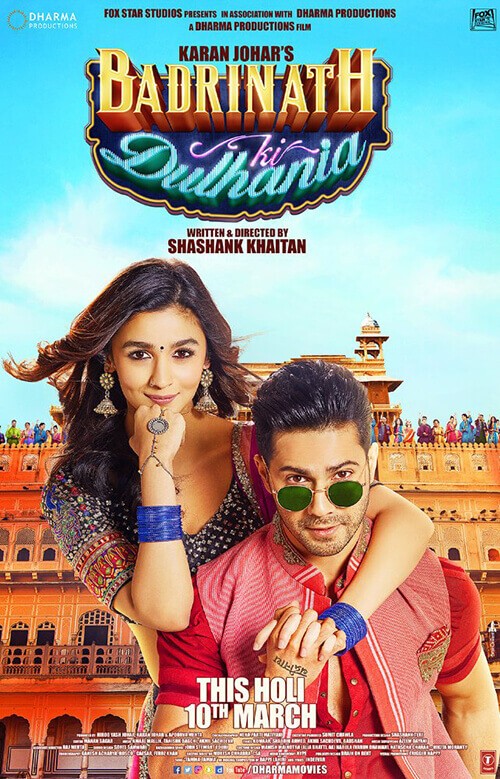 Badrinath Ki Dulhania (English: Badrinath's Bride) is a 2017 Indian romantic comedy movie, directed by Shashank Khaitan. It was produced by Karan Johar under the Dharma Productions banner.
Badrinath Bansal is the younger son of a wealthy family in Jhansi. Badri's older brother, Alok, was in love with a girl and was going to leave the family for her because their father disapproved.
But he decided to stop staying against it after their father's first heart attack. Now Alok is married to Urmila through an arranged marriage and she is not allowed to work despite she's very intelligent and professionally trained. Alok is also depressed at having to leave his love and be forced into a marriage, so he spends a lot of time drinking.
Badri fears the same fate for himself so when he sees Vaidehi Trivedi at a wedding, he becomes obsessed with her and makes it his mission to marry her with his father's approval.
The movie was No.3 highest domestic opener. It became No.4 highest Indian first week collecting film of 2017
6. Tamasha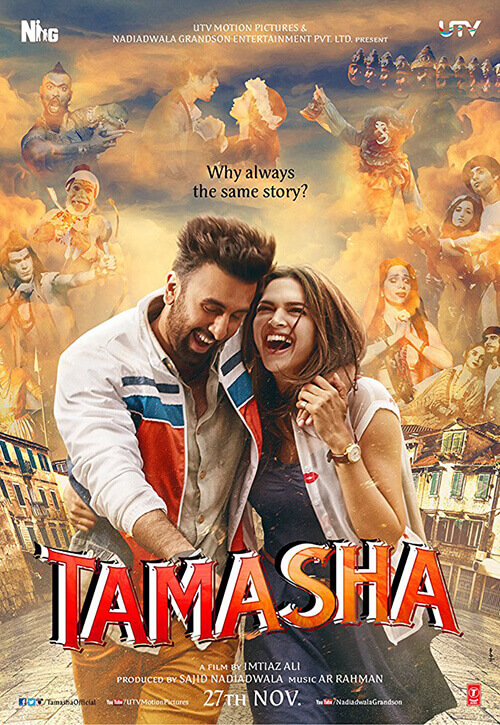 Tamasha (English: A spectacle) is a 2015 Indian romantic film written and directed by Imtiaz Ali. It is produced by Sajid Nadiadwala under his banner, Nadiadwala Grandson Entertainment.
It's been four years since Tanu and Manu's eventful wedding. Settled in London, their relationship is now cold. While Tanu expected her husband to be as flamboyant and star-like as Shahrukh Khan, Manu wanted a docile wife.
While Manu was regretting his marriage, his old friend Pappi was excited about it. Tanu and Manu decide to give their marriage one last chance on their trip to India for Pappi's wedding.
After reaching Kanpur, Tanu immediately transitions to her old self. Her new neighbour Chintu becomes her partner-in-crime. Her actions had managed to give Kanpur a taste of America.
The situation becomes worse when Manu, in Delhi, starts falling for a Delhi University student who looks exactly like Tanu. What will happen in their life?
By end of December, 2015, this very film earned ₹14.88 crore (US$2.3 million) gross in USA and Canada, ₹5.13 crore (US$800,000) gross in United Kingdom.
7. Tanu Weds Manu Returns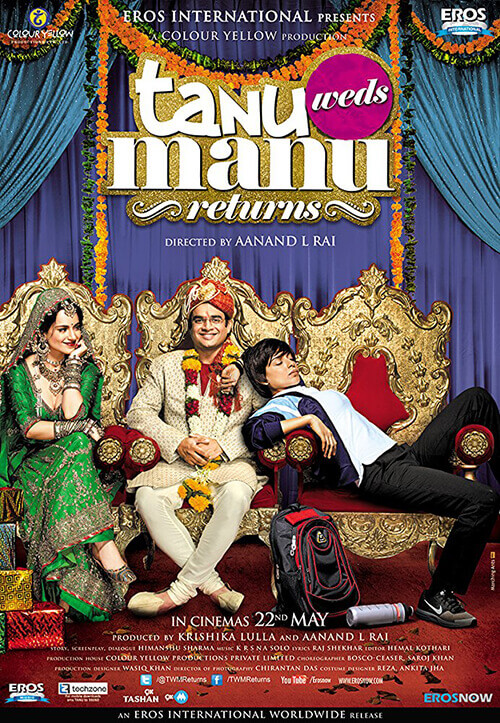 Tanu Weds Manu Returns is an Indian romantic drama movie directed by Anand L. Rai.
In London, four years later in their marriage, Tanu and Manu visit a mental rehabilitation center, where they start bickering at each other. Because of Tanu's various allegations, Manu gets enraged.
Manu is later taken by the doctors into custody suspecting his mental health. Tanu's friend Payal calls her from India and tells Tanu that she gave birth to a baby girl. Being alone at city, Tanu decides to return to her hometown, Kanpur. While leaving London, Tanu rings Manu's friend Pappi in Delhi and tells him to come to London.
In her parents' home, Tanu finds a law student called Chintu became a lodger and refuses to pay or leave. Chintu slowly develops a crush on her, being confused by her antics.
Tanu also comes to know that her ex-boyfriend is getting engaged to another girl. Pappi reaches London then gets Manu out. They reach India, where Manu sends a notice to Tanu to make her apologize, but she does not respond.
This movie earned ₹380 million (US$5.9 million) in its opening weekend in India. For a worldwide gross, it earned ₹650 million (US$10 million).
8. 2 States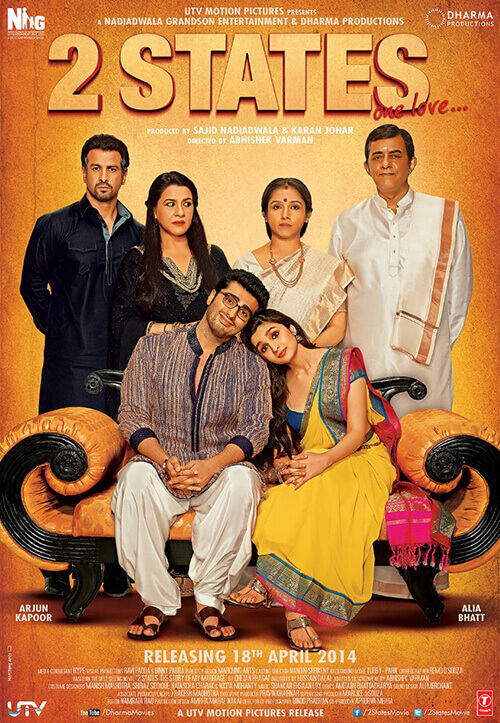 This is an Indian romantic drama film, 2014, co-written and directed by Abhishek Varman based on the 2009 same name novel, which is written by Chetan Bhagat.
2 States is a story about a romantic journey of a culturally opposite couple, Krish Malhotra and Ananya Swaminathan. They meet at the IIM-Ahmedabad College and fall in love. Complications show up after the program comes to an end and they decide to get married.
Krish and Ananya belong to two different states of India. Krish comes from Delhi, and Ananya, from Chennai. They make a decision that they won't get married until their parents say yes. Everything goes down when the parents meet. There is a cultural conflict and they oppose the wedding.
To convert their love story into a marriage, the couple faces a battle. It is really hard for them to convince. Will they manage to convince their parents and make it to their wedding?
2 States grossed US$5.85 million internationally, and was the No.2 highest overseas grosser of 2014 in Bollywood. The movie had a domestic net of ₹1.01 billion (US$16 million).
9. Hasee Toh Phasee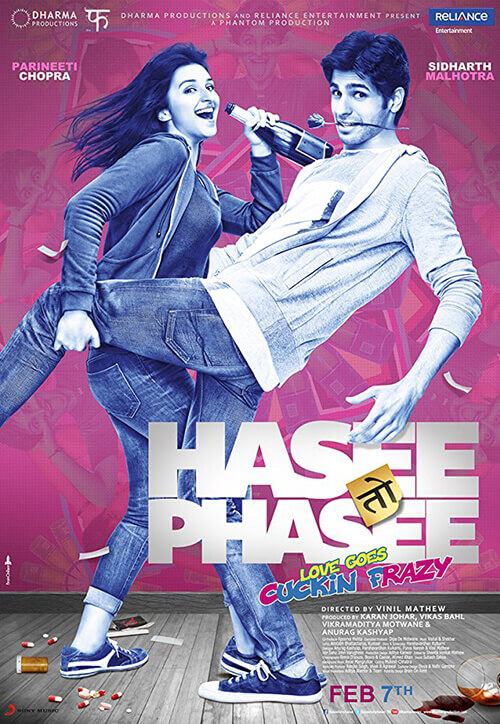 Hasee Toh Phasee (English: She Smiles, She's Snared!) is an Indian romantic comedy-drama film, 2014, directed by Vinil Mathew. It was produced by Karan Johar and Anurag Kashyap.
Spread across Mumbai over 10 years, the film is about the relationship between the quirky, rebellious Meeta, and the mischievous Nikhil, who is struggling with their respective families to fit in. Nikhil meets Meeta on the occasion of her sister's wedding while Meeta is on the run.
He falls in love with Meeta's sister Karishma the same day. Then, the movie jumps to the eve of Nikhil and Karishma's engagement. Karishma's wealthy father, Devesh Solanki, does not approve of Nikhil. On the day of his engagement, Nikhil promises Karishma that he will prove himself and become worthy of her in the next 7 days.
Nikhil is re-introduced to Meeta by Karishma and is instructed to put her up in a hotel. Nikhil recognizes Meeta. In an attempt to please Karishma he decides to keep Meeta in the flat above his house. During Meeta's stay at Nikhil's house, they come close to each other and open up.
The opening weekend gross of the film was about ₹ 64.1 million ($1.027 million).
10. Yeh Jawaani Hai Deewani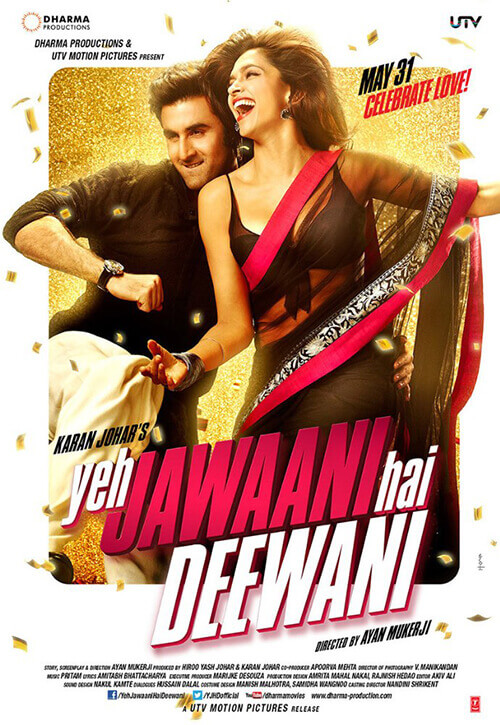 Yeh Jawaani Hai Deewani (English: This Youth Is Crazy), is an Indian romantic drama film, 2013. It was directed by Ayan Mukerji and written by Mukerji and Hussain Dalal. The film was produced by Karan Johar.
Naina Talwar is a shy and nerdy medical student. She always tops her classes, but she feels like an outcast due to introverted nature. An encounter with an old classmate, Aditi Mehra, makes her realize that she wants more from life than marks. Thus, she makes an impulsive decision, which is to follow Aditi on a hiking trip into the Himalayas without telling anyone.
During the hike, she renews her friendship with other former classmates, Kabir Thapar and Avinash Arora. Kabir is a handsome boy who wants to discover this world. He does not plan to marry or settle down. He lives with his supporting father and his step-mother.
During their trip, seeing Aditi's silent reactions to Avi's constant flirting with other girls, Kabir and Naina realize that she is secretly in love with Avi.
Yeh Jawaani Hai Deewani collected around $4 million on its international opening weekend and was ranked No. 2 in 2013.
Conclusion
These 10 movies constitute the list of Bollywood romantic films.
Is there one movie that you like most?
What about choosing one as romantic movies for Valentine's Day?
I believe that the film will make your Valentine's Day more special.
Don't forget to click the links below the movies to download theme songs.
Feel free to share your feeling in the comments.
Wish you a perfect Valentine's Day!