Best Beyonce Songs | List of 10 Biggest Hits (Newly Updated)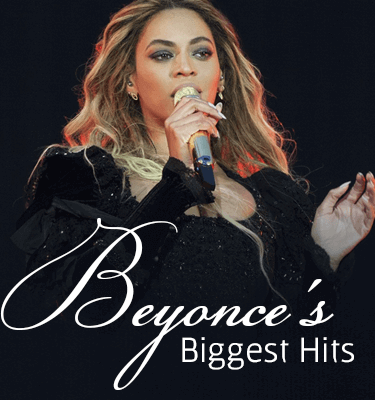 The sex queen, Beyoncé just finished her 36 years old birthday party days before.
In June, she gave birth to twins.
Can you imagine that?
Beyonce still keeps the sex and slim figure after that.
Until now, Beyonce has released 6 albums and hundreds of songs.
You can see her story behind every single song.
Let's get into her musical world with the top 10 Beyonce songs.
1. Halo
"Halo" was released in 2009 from Beyonce's third album "I am... Sasha Fierce", this year, the song won the "best single" award from the MTV European music awards.
It touched my heart when I heard if, for the first time, it can show your love and thanksgiving to the other one. Beyonce had ever sung this song in the hospital to inspire patients in torture. The rhythm has a magic to make you full of energy. How about you?
2. If I Were a Boy
Inspired by the difficult break-up of a romantic relationship, "If I Were a Boy" was initially recorded by Jean, whose record company rejected it. Beyonce then recorded her own version.
When I heard the song for the first time, I can only see "wow, so nice to be a boy, I can drink beer with the guys and chase after girls, do whatever I want." But after I listen to the song again and again, it is not a song about how desired to be a boy for a girl, the song is a commentary on the double standards that often exist between men and women and a story of role reversal.
3. Love on Top
Beyonce wrote the song alongside Terius Nash and Shea Taylor inspired from her state of mind while playing Etta James in the 2008 musical biopic Cadillac Records.
This song shows how crazy a girl could be when she falls in love. You can feel her happiness when you hear the brilliant melody, and I think Beyonce was just immersed in happy marriage life at that time.
4. Single Ladies
"Single Ladies" showcases the contrast between Beyonce and her aggressive onstage alter ego Sasha Fierce. It explores man's unwillingness to propose or commit. In the song, the female protagonist is in a club to celebrate her single status.
Beyonce and Jay Z got married in 2008 - but didn't tell anybody. "Single Ladies" was seen as the couple's announcement - even though it's about being on your own.
I think this song tells us "if you have an affair with a man, you need to let him give you a promise".
5. Crazy in Love
It is an R&B and pop love song that incorporates elements of hip-hop, soul, and 1970s-style funk music. Its lyrics describe a romantic obsession that causes the protagonist to act out of character.
This song just shows Beyonce's attitude to love, so crazy, full of passion and no regret. What is your attitude to love?
6. Listen
"Listen" was a new song written for the film adaptation of the hit Broadway musical Dreamgirls.
In the film, Beyonce plays the character of Deena Jones, who sings the song to her husband/manager Curtis Taylor as an ultimatum: "I have had enough of your shit and I will leave you if you keep this crap up".
Do not like the strong melody of "Halo", "Single Ladies", "Listen" sounds softer, no crazy and brutal lyrics, Beyonce in the film shows a painful wife who cannot bear with her husband, and she decides to fight. I think this is what an independent female should do.
7. Run the World
The song was motivated by the fact that Beyonce wanted something different: a mixture of different cultures and eras, a new sound, and a message which would give women strength.
The song's title and lyrics comprise an aggressive message about promoting female empowerment. Beyonce in the video plays an invasive female role which got 2 different evaluations, so which role do you like more?
8. Best Thing I Never Had
A pop and R&B ballad, the subjects of "Best Thing I Never Had" are revenge and karma.
Not wanting to feel brokenhearted, the female protagonist sings that she feels happy to have left her lover, who did not recognize the potential for a happy life with her.
It shows Beyonce is getting ready for her wedding, while she recalls her ex-lover, who never gave her the attention she deserved. Maybe she has finally decided to give all her love to another man, but she will also remember the best thing he gave to her.
When you break up with your lover, what is still left in your heart? Is there any love or only hatred?
9. I Was Here
"I Was Here" is a reflective R&B ballad, in which Beyonce vulnerably reviews her past, wanting to leave an impact on the world before her life comes to an end. Described as a "career song" by Warren, this song was motivated by the September 11 attacks in the United States.
What difference do you want to make in the world?
For most people, maybe we don't have that much influence like Beyonce, but we can still try to make a positive difference in every single day.
10. Drunk in Love
"Drunk in Love" peaked at No.2 on the US Billboard Hot 100 chart, spending eight weeks in the top ten. It becomes so hot maybe due to the barefaced lyrics with rapture melody.
What do you think of the lyrics and melody? Is it sexy enough? For me, it is enough.
Do you like the above top 10 Beyonce songs?
Is there any song that touch your heart? Perhaps remind of something or somebody?
Welcome to share your feeling with us.
If you like other songs of Beyonce, please feel free to leave your comments below.
Beyonce songs free download: