Best 10 Country Songs Catch Your Picky Ear (Updated 2017)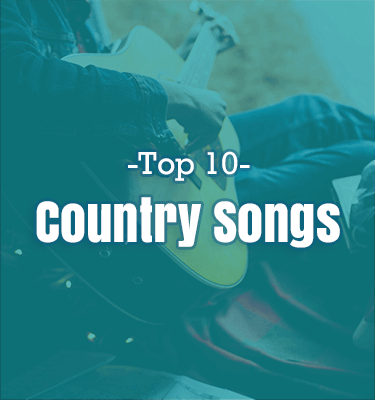 "Country roads, take me home
To the place I belong,
West Virginia, mountain momma
Take me home, country roads"

This is the first country song that I listen to when I was young.
I would not say it is the best country song in my heart.
But it actually covers many beautiful images of the American country life.
I think a good song will evoke vivid memories of yours.
If you still have not got your fancy country song, well, I'll show you an amazing song list of 2017 for you.
Rolling your sleeve, bring your heart and a peaceful soul.
Let's be country style!
1. "Unapologetically" - Kelsea Ballerini
"Unapologetically", the song, was co-written by Kelsea Ballerini, Forest Glen Whitehead, and Hillary Lindsey.
Many of her fans said that this is her best country song ever. People will love this song when they start to hear that.
When I listen to the first tune of this song, I know it's my type. I just can't help replaying it over and over again. I am sure you guys will love it too.
2. "Adiós" - Glen Campbell
Adiós is the 64th and final studio album by American singer-songwriter Glen Campbell.
Recorded in Nashville between 2012 and 2013, the album was released on June 9, 2017. Campbell died on August 8, 2017, two months after the album was released. His last voice was left in this world forever.
I think he is a legendary singer. When I listened to this song for the first time, I was touched deeply by its tune and lyrics.
I am always moved by some wise lyrics and slow pitch of a song. This kind of song often brings something worthy to learn.
Maybe it just has a sentence or certain phrase that makes you ponder the life on the earth. All these songs need to be remembered.
Alright!
Let's keep moving.
3. "Roller Coaster" - Luke Bryan
This famous country song is in my playlist for a long time. Country music blog Taste of Country reviewed the song positively.
The review contrasted it with "Til Summer Comes Around" by Keith Urban in saying that it was more "positive" than that song, also saying that "The roller coaster metaphor is creative — it's what separates this song from others that rely on an increasingly used country trope." I think you will love it!
4. "Love Story" - Taylor Swift
When it comes to best country music, how can we not mention the most popular female country singer Taylor Swift?
I still remember how Taylor style goes viral in my college. We always can hear her popular song from my school radio, especially girls love her so much.
Here is what Taylor said about the song, "It's about a love that you've got to hide because for whatever reason it wouldn't go over well. I spun it in the direction of Romeo and Juliet. Our parents are fighting. I relate to it more as a love that you cannot really elaborate on - a love that maybe society wouldn't accept or maybe your friends wouldn't accept."
5. "When You Say Nothing at All" - Keith Whitley
"When You Say Nothing at All" is a country song written by Paul Overstreet and Don Schlitz. It is among the best-known hit songs for three different performers: Keith Whitley, who took it to the top of the Billboard Hot Country Singles chart on December 24, 1988.
For me, it is an old country song. When I heard this song for the first time, it was sung by a female singer. The rhythm is really beautiful, so many famous singers covered this classic country song.
6. "Crying in the Rain" - Don Williams
Don Williams (born May 27, 1939) is an American country singer, songwriter, and 2010 inductee to the Country Music Hall of Fame. He began his solo career in 1971, singing popular ballads and amassing 17 number one country hits.
His straightforward yet smooth bass-baritone voice, soft tones, and imposing build earned him the nickname: "Gentle Giant" of country music.
I've never listened to his song before, but I was appealed by his nickname of "Gentle Giant". And that's right, his voice has a magic to catch your heart, and makes your heart calm down. I think for people who want to seek for peaceful vocal would like him and his songs.
7. "Top of the World" - The Carpenters
The Carpenters are my favorite country singer. I started to listen to their songs when I was in junior school. I love the lead voice which always makes me feel comfy and want to repeat it again and again.
The song was a Billboard Hot 100 No. 1 hit for two consecutive weeks in 1973.
As I say that classic is always classic for good, it would never be out of the time.
8. "Legends" - Kelsea Ballerini
Hey! Here is another song from Kelsea Ballerini. She has released several new country songs recently.
Today we are lucky to meet two of them. "Legends" has reached 41 and 32 on the Billboard Country Airplay and Hot Country Songs charts.
So you can have a try to find whether it is good not. I think you must have a unique taste to appreciate it.
9. "You are My Sunshine" - Elizabeth Mitchell
This song has a soft tune and it's suitable to listen on a warm afternoon with a cup of coffee and be with your family or your lover. I think that would be a harmonious picture, maybe you will fall asleep soon.
10. "Our Song" - Taylor Swift
"Our Song" was met with highly positive reviews from contemporary critics, some who deemed it one of Swift's best singles, and commercial success.
The song charted within the top 30 and top 20 on the Canadian Hot 100 and Billboard Hot 100, respectively.
I think my readers who like Taylor will be happy, because their idol's song appeared twice!
Now enjoy it!
Alright!
That's all for today's sharing of the best country songs.
Not enough?
Don't worry. We will keep updating our playlist for all kinds of music.
If you want a peculiar different type of music, just leave a comment below.
We will deliver you with the best choice!
Good day!