Best Chainsmokers Songs: 5 Top Hits You Can't Miss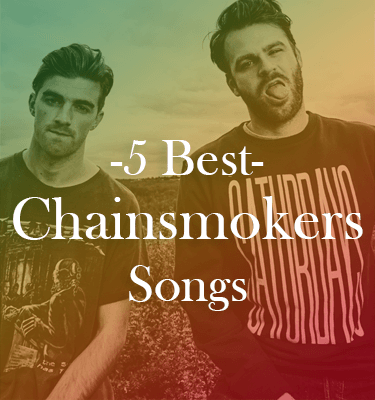 The Chainsmokers were formed as an EDM DJ duo in 2012, they started out by making remixes of indie bands.
The first song that makes me get to know them is CLOSER.
Since then, I'm crazy about their music.
It's really difficult to choose the best Chainsmokers song, cause every song is special for me.
Recently, their songs are frequently got the first place in many music rankings.
So I'd like to share The Chainsmokers' 5 Biggest Hits with you.
Maybe you are not an EDM fan yet, but you might fall in love with it after reading this article.
Are you ready to dance with the beats with me?
You will love these amazing songs!
#5 Roses
"Oh, I'll be your daydream, I'll wear your favorite things
We could be beautiful
Get drunk on the good life, I'll take you to paradise
Say you'll never let me go"
STORY BEHIND ROSES
You would never think that Taylor Swift had joined this song's production. The Chainsmokers said: This song is special. It has a Chainsmokers feel to this song. "It's catchy and accessible. I think it's refreshing." He never thought it would be a hit, but the truth was evident. ROSES is a hot song in many major rankings. And it got the NO.1 in US Hot Dance/Electronic Songs (Billboard).
#4 Paris
"Out on the terrace
I don't know if it's fair
But I thought: "How could I let you fall by yourself
While I'm wasted with someone else?"
STORY BEHIND PARIS
The Chainsmokers worked this song together with Warren. But she wasn't credited on the song. She explained: They wanted it to be a Chainsmokers thing and not featuring anyone.
It reached the top 10 on the US Billboard Hot 100. The single became the duo's fourth number one on the Billboard Dance/Mix Show Airplay chart in its February 25, 2017, issue.
And their fifth number one on the magazine's Dance/Electronic Songs chart in its March 11, 2017, issue.
#3 Don't Let Me Down
"It's in my head, darling, I hope
That you'll be here when I need you the most
So don't let me, don't let me, don't let me down
D-don't let me down"
STORY BEHIND DON'T LET ME DOWN
The song features the vocals of American singer Daya. "Don't Let Me Down" became both The Chainsmokers' and Daya's first top five single on the US Billboard Hot 100, peaking at number three.
Also, the song won a Grammy Award for Best Dance Recording. As for that, this is the first song I listened to, but I don't know it was The Chainsmoker's song at that time. I just thought that the beats and the rhythm are awesome.
This song is also popular among the dancers, so many choreographers use it as the pop dance music. And several cover versions, like Usher and Joy Williams. Even some YouTube hot singers are covering this song. Personally, I listen to this for at least a 100 times!
#2 Something Just Like This
"Hercules, and his gifts
Spiderman's control
And Batman with his fists
And clearly I don't see myself upon that list"
STORY BEHIND SOMETHING JUST LIKE THIS
"Something just like this" is about a relationship that doesn't need to be superhumanly perfect. An ordinary love, a love everyone deserves like the boy on the cover art whose childhood memories are now boxed up.
Coldplay is one of the biggest inspirations and this song was an absolute dream come true to make.
The song has since peaked at number three on the Billboard Hot 100. The song has sold 988,000 copies in the US as of July 2017.
#1 Closer
"So, baby, pull me closer
In the back seat of your Rover
That I know you can't afford
Bite that tattoo on your shoulder"
STORY BEHIND CLOSER
In the United States, "Closer" became both The Chainsmokers' and Halsey's first number one single on the Billboard Hot 100.
The song stayed at the top spot for 12 consecutive weeks. The Chainsmokers became the first act to have four songs ("Closer" being the fourth) that top the Dance/Electronic Songs chart.
In the United States, "Closer" became both The Chainsmokers' and Halsey's first number one single on the Billboard Hot 100. The song stayed at the top spot for 12 consecutive weeks.
If I have to answer the question which are the best songs by The Chainsmokers, I'd choose "Closer".
Why?
You'll figure out after listening to the song. By the way, its music video has 1,774,020,757 views on YouTube.
Just have a look at it.
Pretty cool! Right?
While reading here, perhaps you're already a fan of The Chinsmokers!
Now you must have an urge to share the best Chainsmokers songs with your friend!
So what are you waiting for?
Just enjoy them with your buddy!
You may also notice that there's a download link under every music video.
If you want to download other popular songs of Chainsmokers, just leave a comment below. I will help you to dig up more stunning music.