Top 20 Ariana Grande Best Songs Download Free
---
Ariana Grande breaks the music world quite a bit thanks to her fifth album Thank U, Next.
Grande's new singles have made big moves, with "7 Rings," "Break Up With Your Girlfriend, I'm Bored" and "Thank U, Next" peak the top 3 positions on the Billboard Hot 100 respectively.
Read my previous post Thank U, Next: Everything to Know about Ariana Grande's New Album, and you can learn more details about why it repeats at No.1.
Actually, Grande has a lot of popular songs being well-known for a time and even till now.
Today's post will share with you how to get Ariana Grande best songs download for listening and sharing.
For your convenience, I've already made a playlist of Ariana Grande top hits on YouTube for your loop playback. Meanwhile, you can directly click the play button below and enjoy the auditory feast.
How to download the Ariana Grande songs list?
---
For you guys who want to save the playlist for offline listening, I've got the solution right for you. With a few easy steps and you can download all the Ariana Grande hit songs on your phone or computer.
Step 1: Copy the playlist URL below
https://www.youtube.com/watch?v=FPjrlqqWals&list=PLf1o4Qr6cs3BZ3U8z2P4p537HLIFu2TzW
Step 2: Paste the URL in Free MP3 Finder search bar

Step 3: Tap on "MP3" to download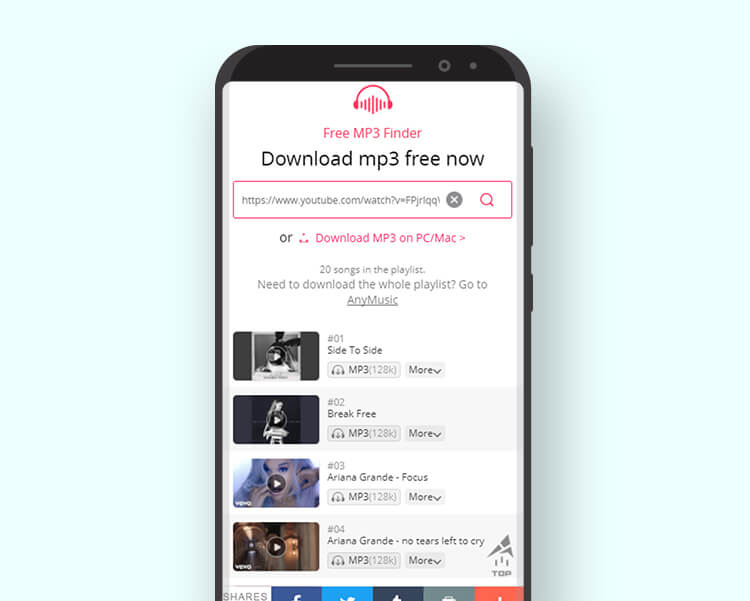 Besides downloading the above playlist, you can explore and discover more popular songs by yourself.
Searching the keywords "Ariana Grande" in Free MP3 Finder is an easy way to find all songs by Ariana Grande.
Let's see, the results will be shown as follow.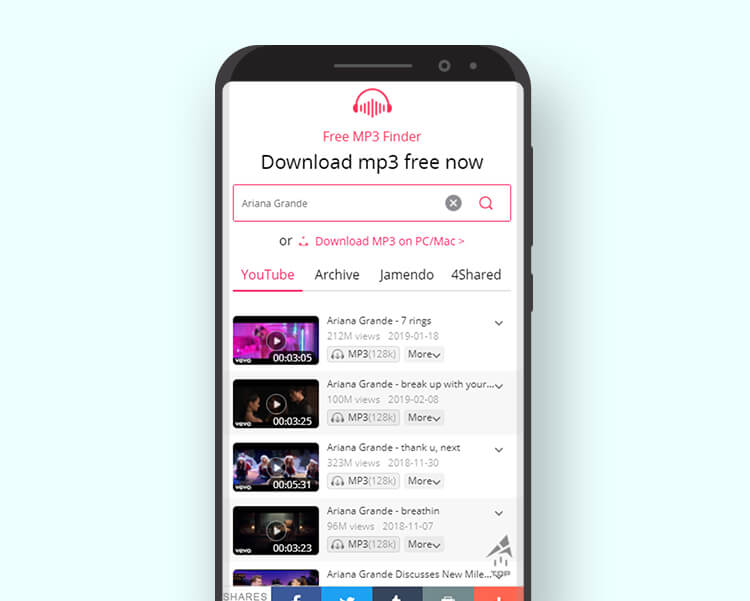 If you want to learn how to download this playlist in batch, further read this article: How to Download Entire YouTube Playlist to MP3/MP4?
I'm sure you already mastered how to get Ariana Grande best songs download.
How about the list of best 20 popular Ariana Grande songs above? Is your top one Ariana Grande song in it?
Never mind, basically you can find any Ariana Grande song on Free MP3 Finder, right?
If you still have questions, please let me know by leaving comments below.
Have a nice day!
Ella Wilson is a music writer and reviewer from Washington, DC. She loves sharing everything about music, such as music apps, popular songs, and music culture.