anyutube
It is very easy to post a video on Instagram, but how to post YouTube video to Instagram?
There is no way to upload YouTube video to Instagram directly.
You have to download YouTube videos beforehand.
I guess this is the most tricky part.
Therefore, I have long been looking for some quick and easy way to download YouTube videos on my mobile and online.
To my great delight, I found, in the end, 2 incredibly easy-to-use YouTube video downloaders, AnyUTube (for Android) and Free YouTube Downloader (Online), respectively.
From this guide, you will know how easy it is to share YouTube video to Instagram!
Let's get started right away!
Part 1. How to Get YouTube Videos on Mobile
AnyUTube is a lightweight and powerful YouTube video downloader.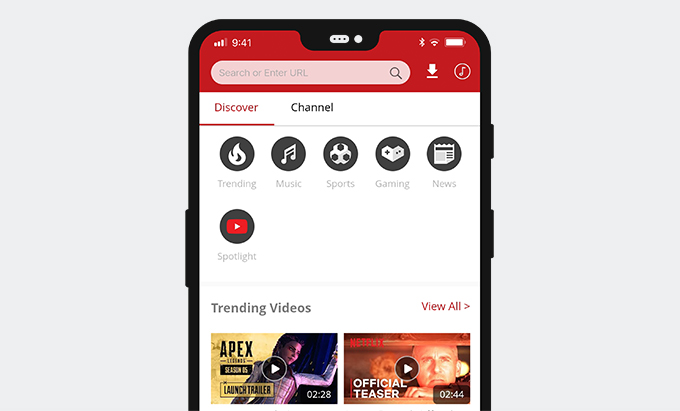 After installing it to your mobile, you get the freedom to download your preferred YouTube videos and choose whatever qualities and sizes.
It works well on Mobile, Windows and Mac.
AnyUTube
All-in-one YouTube downloader & converter
Here, I will show you how to download YouTube videos on Android.
If you are interested in downloading YouTube videos on iPhone, please read this article "How to Download YouTube videos on iPhone."
Without further ado, let's go straight to the downloading process of YouTube videos you want to post on Instagram.
Copy YouTube video URL and paste it in the search bar of AnyUTube.
Click the "Search" icon to find search results.
Click the default formats "MP3" or "MP4" to download; or choose "More" to see more options.
Have you found it easy to download YouTube videos to your Android with AnyUTube?
Next I will introduce to you another online YouTube video downloader, Free YouTube Downloader.
Part 2. How to Get YouTube Videos Online
Free YouTube Downloader is an online downloading tool, popular among YouTube video enthusiasts. It is far from complicated to get YouTube videos with Free YouTube Downloader. It only takes 4 simple steps!
Paste the YouTube video link you copied into the search bar of Free YouTube Downloader.
Click search icon to see search results.
Preview the video you want to download.
Click "Download" icon and choose your favorite format.
Now, you have learned how to easily download YouTube videos online and to mobile.
Next, I will show you how to post the downloaded videos on Instagram from YouTube.
Before getting started, you should know the best Instagram video format.
Part 3. Instagram Video Upload Requirements
Videos posted to Instagram can be either vertical or horizontal. It is totally up to you.
Let's take horizontal videos for example,
• Maximum uploaded video length: 15 minutes (for videos from a mobile device)
• Maximum file size: 650 MB (for videos ≤ 10 minutes)
• Recommended Instagram video formats: .MP4
• Aspect ratio ( ratio of the width to the height) is 16:9
• Minimum frame rate: 30 FPS (Frames Per Second)
• Minimum resolution: 720 pixels
Note: If you upload a YouTube video from the web, the maximum video length can be 60 minutes. If the YouTube video is up to 60 minutes, the maximum file size can be 3.6 GB. For further details, please visit Instagram Help Center.
It is very easy to post videos to Instagram. But before adding a YouTube video to Instagram, please first make sure that your videos conform to the best Instagram video format.
YouTube to Instagram, So Easy!
Do you find this guide useful?
Are you ready to use AnyUTube or Free YouTube Downloader to help you post YouTube video to Instagram?
Both tools are suitable for those seeking for the easiest ways to download YouTube videos to watch offline.
In addition, with these two, you are allowed to download videos either from YouTube channel or from YouTube playlist to MP3.
If you get used to using phone, AnyUTube is best for you.
If you are inclined to save YouTube videos online, Free YuTube Downloader is your first choice.
Why still waiting?
Give it a shot!
AnyUTube
All-in-one YouTube downloader & converter
You May Also Be Interested in These Topics