AnyUTube
- YouTube to MP3 Playlist Downloader
Download entire YouTube playlist at a time
Download YouTube playlist MP3 320kbps
Inbuilt player
Windows 64-bit
Windows 32-bit
macOS 10.9 and later
Android
YouTube Playlist to MP3 Download (320kbps)
---
If you ask how to enjoy YouTube playlist songs uninterruptedly wherever you go, here is the solution at hand – AnyUTube.
AnyUTube is a tool for you to convert an entire YouTube playlist to MP3 – no matter how many songs included in the playlist, you can batch download the whole YouTube playlist to MP3 with one click.
Windows 64-bit
Windows 32-bit
macOS 10.9 and later
Android
As AnyUTube is compatible with the computer (Windows & Mac) and Android device, you've got much to do with the downloaded YouTube playlists.
Listen to YouTube music on the go
Import downloaded YouTube playlist to iTunes
Play any downloaded track without an extra media player
The followings are the instructions on how to download a playlist from YouTube to MP3 on the computer, and the steps are completely the same on mobile.
Firstly, copy and paste the URL of the YouTube playlist to the search bar. Once you click the search icon, AnyUTube will fetch all tracks of the playlist as follows.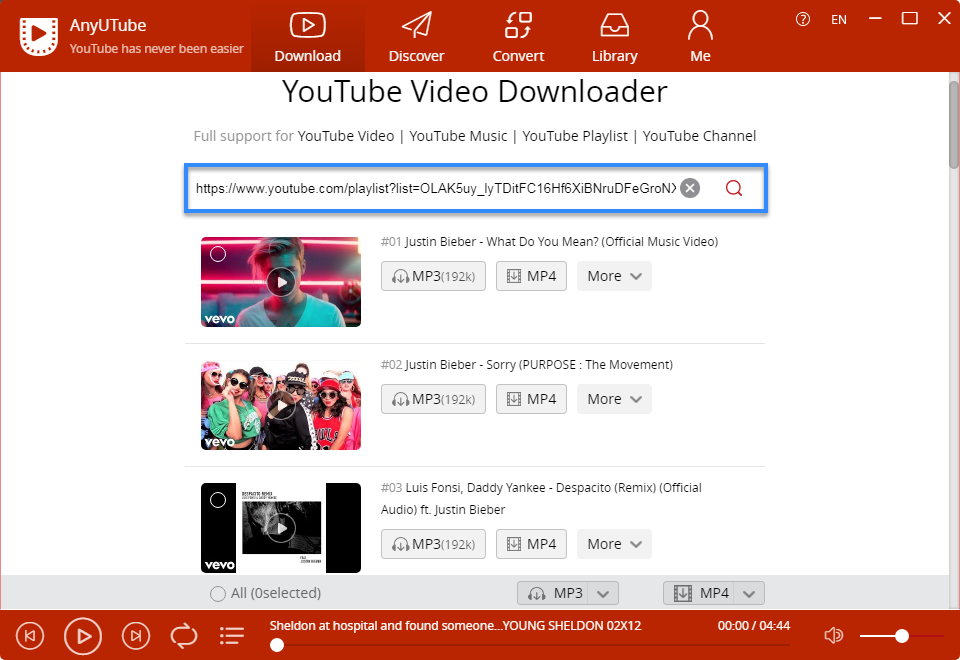 Secondly, select "All" and click on the "MP3" at the bottom, and you just download the entire YouTube playlist to MP3 in high quality.
For other audio quality, expand the up arrow menu for the options of Medium or Low sound quality.
(P.S. You have probably found that you can use AnyUTube to convert the entire YouTube playlist to MP4. You are right, just hit the MP4 button.)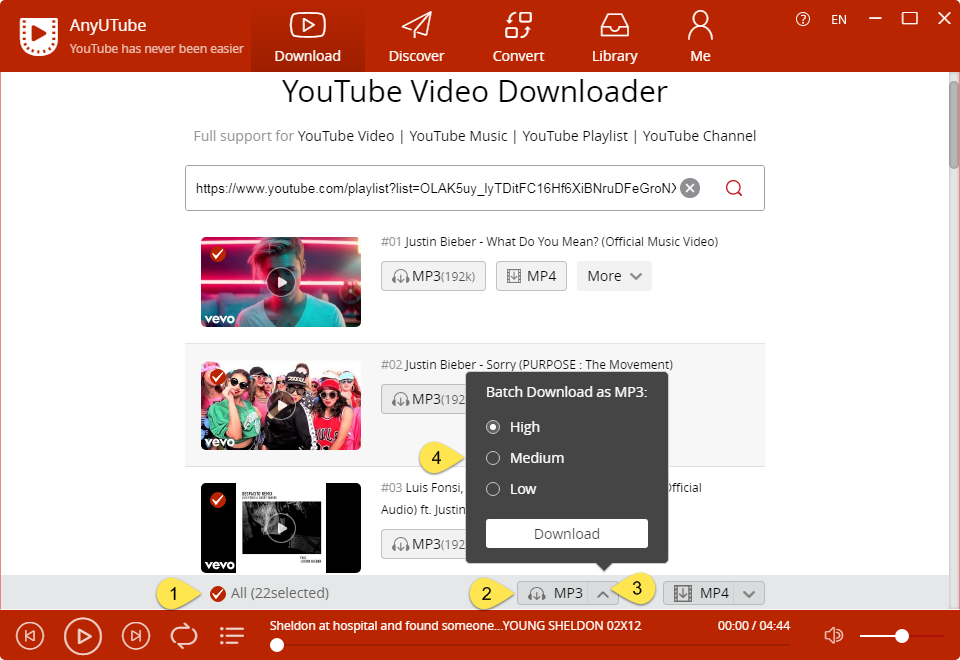 Downloading selectively a few of the tracks in the playlist is also supported. Instead of ticking "All", you only need to tick the desired tracks. The rest operations are the same.
The download is lightning fast. All that's left is to check the songs in the Library, which is the service for managing the downloaded files.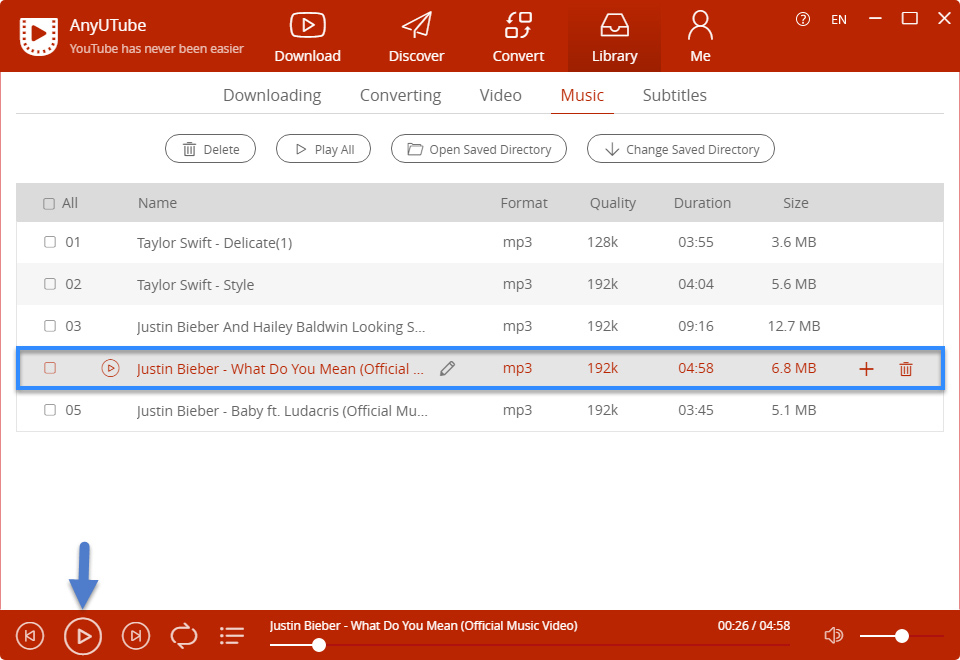 AnyUTube is not merely a YouTube to MP3 playlist converter, but an MP3 player itself. You don't bother to install a media player to listen to the songs.
Tip: If you want to sync music from YouTube playlist to iTunes, you only need to find the downloaded YouTube songs with the button "Open Saved Directory" and copy them to the music folder of iTunes.
As a YouTube to MP3 playlist downloader, AnyUTube is also available for Android. For a detailed guide, please refer to our previously covered article YouTube Playlist Downloader – Download Full YouTube Playlist (2 Steps).
It's time for you to use AnyUTube to download YouTube playlist to MP3 by yourself. You will discover many tricks up its sleeve.
Dale Moore is a senior blogger who has a passion for exploring and sharing anything about YouTube over a decade. He is keen on helping users to discover the best YouTube videos and channels.