Convert YouTube music to MP3 320k
Batch download YouTube playlist
Inbuilt music player
Windows 64-bit
Windows 32-bit
macOS 10.9 and later
Android
AnyUTube YouTube music converter
---
There are tons of YouTube songs. You can enjoy the songs or watch music videos on YouTube for free, even if you are a non-paying member. What's disappointing is that converting YouTube music is not available.
What if you want to download YouTube songs and save them to the smartphone, computer or cloud storage?
If only there is a YouTube music converter for you to rip music off YouTube offline. AnyUTube is the option. It is a YouTube converter that enables you to convert YouTube music, save files to your computer, and import them to a media player.
To experience its powerful features, install AnyUTube to your Win/Mac computer. The instructions are easy with only two steps.
Windows 64-bit
Windows 32-bit
macOS 10.9 and later
Android
Step 1: Search for YouTube songs
Either keyword or URL is supported for search. The keyword can be anything about the song. For example, enter "Adele" in the search box, and the results will show all of Adele's songs.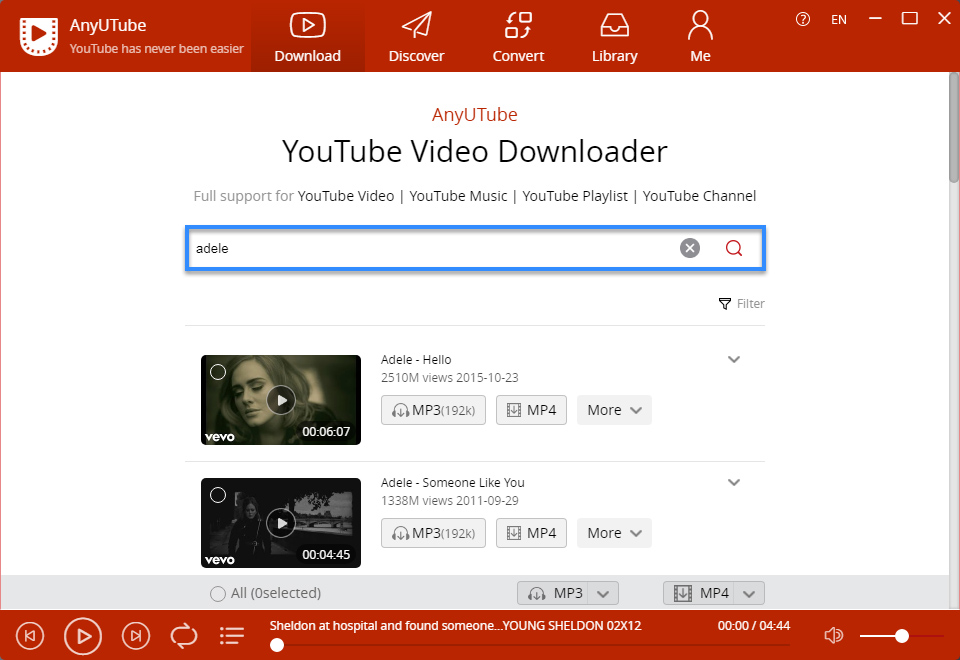 If you want to narrow down the search results, simply click the "Filter" icon for the filter criteria. Click the icon again to hide. This function is ONLY available for a keyword search.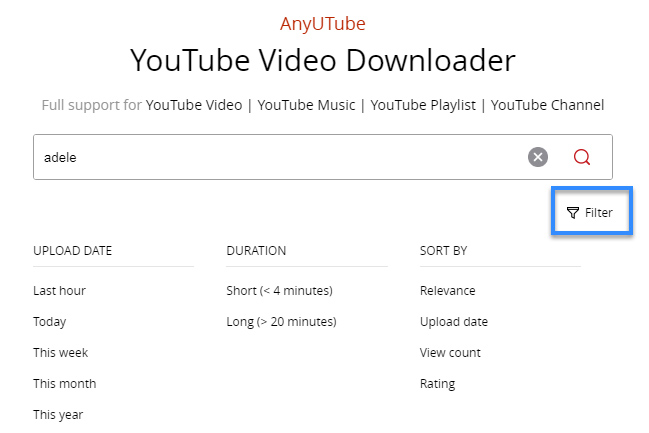 The URL refers to the YouTube link of a song, playlist or channel.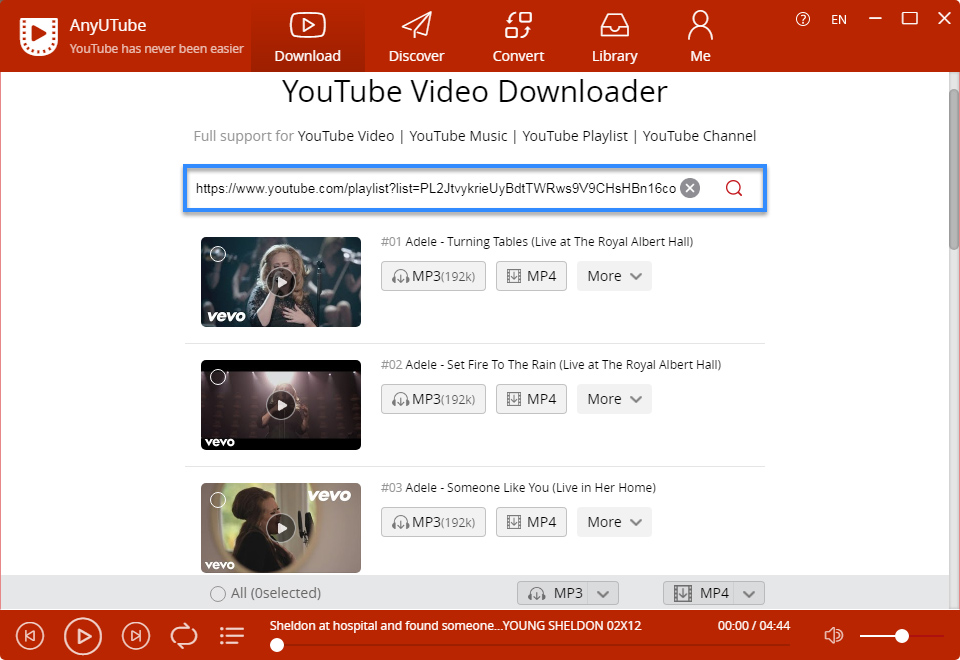 Step 2: Convert music from YouTube
Choose the song you want to convert. Click "MP3", and you will get the MP3 file of the best quality.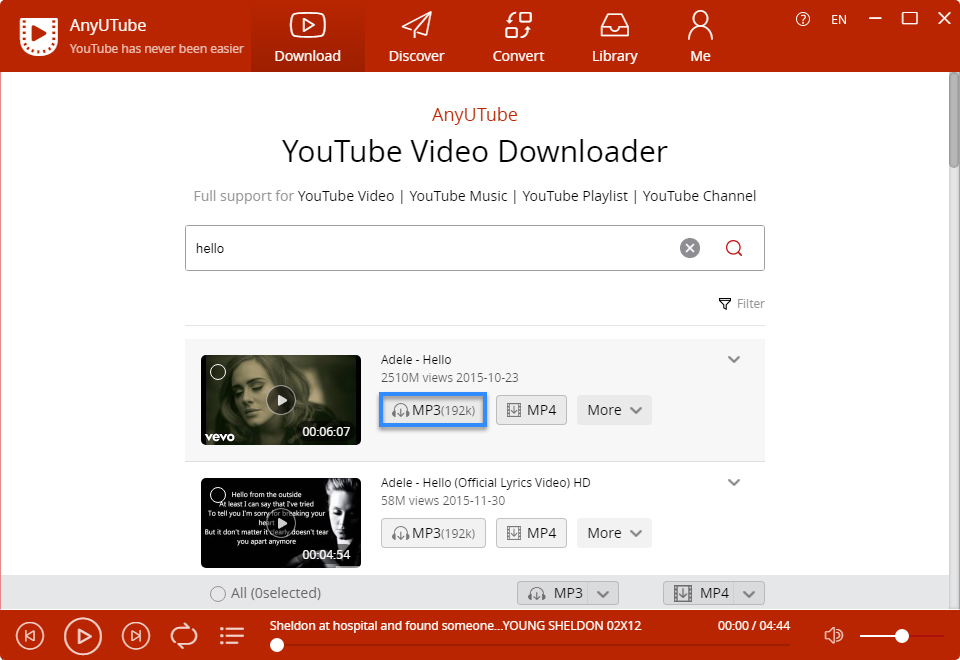 If you want more quality and format options, click "More". You can choose among MP3 WebM and M4A. The quality options include 192k, 160k, 128k, and 96k.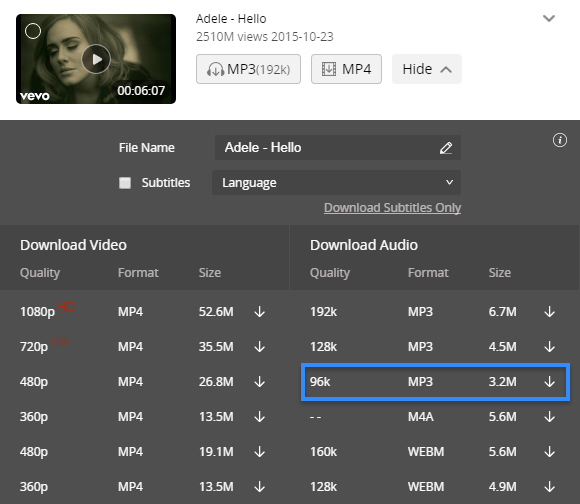 The most impressive feature of AnyUTube is that batch download is supported. You can download multiple songs at a time.
Tick "All", and click "MP3" on the bottom. You will get the MP3 files of the highest quality. Besides, expand the up arrow menu to choose among high, medium and low quality.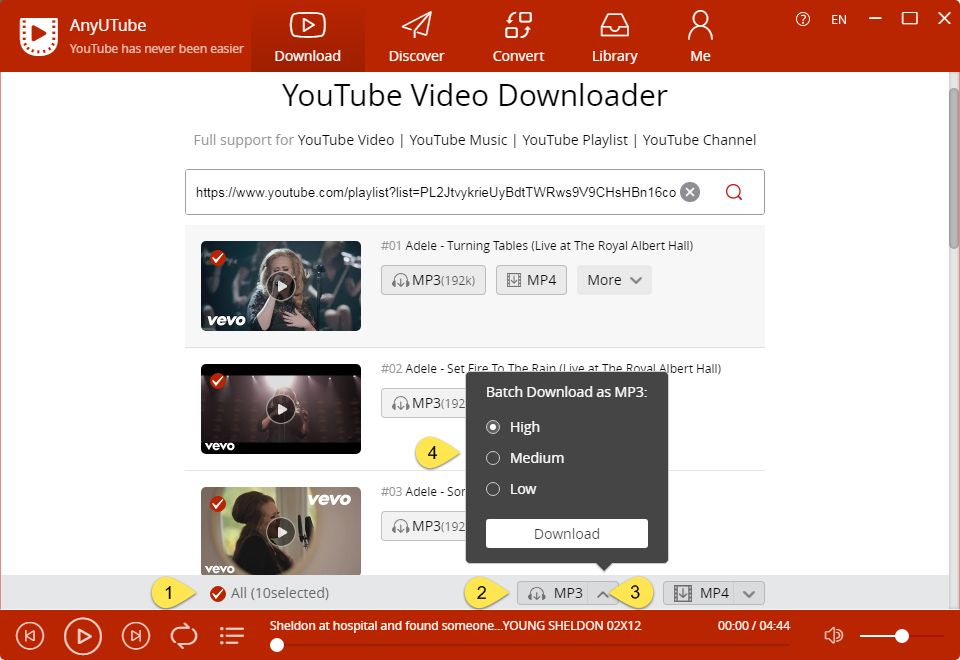 Alternatively, you can download several songs selectively. To do this, simply tick the circle of the songs you need. The rest operations are similar to those mentioned above.
So you've got how to convert YouTube music to MP3. Following are some quick tips for you.
Tip 1: Download YouTube music videos
Sometimes, you may want to download YouTube music videos. Don't rush to other YouTube converters. AnyUTube also enables you to convert YouTube music videos to MP4, 3GP, WebM, and more.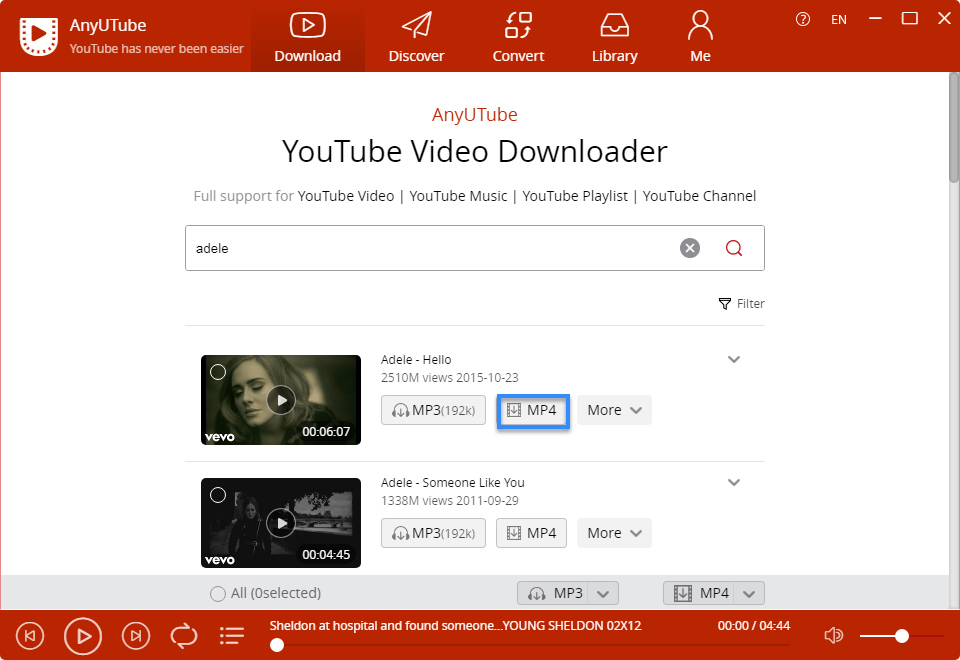 Tip 2: Download YouTube music videos with subtitles
You can download YouTube music with subtitles. It is particularly useful for users who want to learn a second language while enjoying music.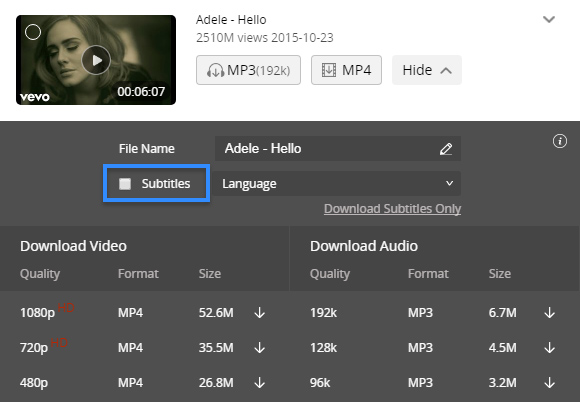 Tip 3: Convert music from YouTube while streaming
AnyUTuber is not only a YouTube converter for MP3 music download but also a replica of YouTube Music (music.youtube.com), which is an independent service provided by YouTube that focuses on music streaming only. In this way, you don't need to visit music.youtube.com on a browser.
Go to "Discover" to explore YouTube music. You can also search for YouTube songs, the same as you do on the YouTube website.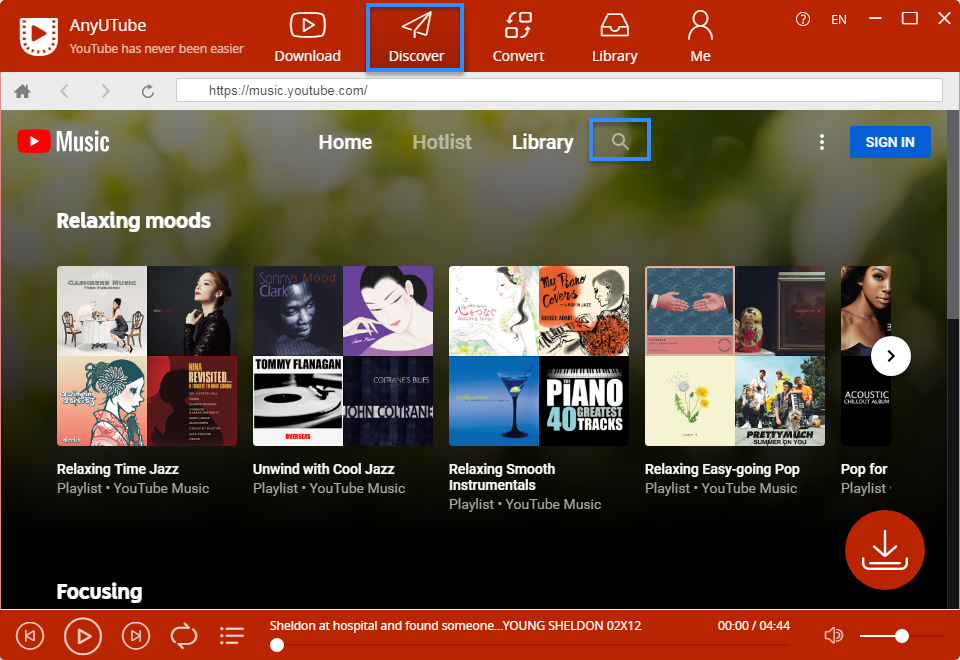 Similarly, you can download a video or batch download a playlist with one click. For example, open the link of a playlist, and click the download button on the bottom right. You will see a pop-up request asking you whether to batch download the playlist. You can accept or reject the request.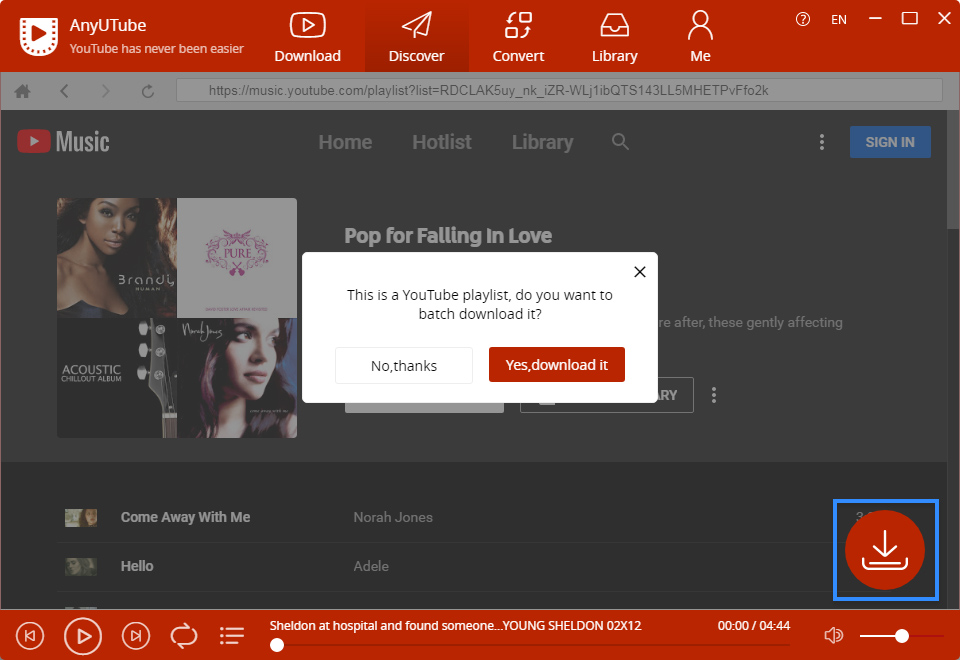 All in all, AnyUTube is a YouTube music converter with which you can convert YouTube music to MP3 or MP4.
AnyUTube is also compatible with the Android system. If you spend more time on your Android smartphone or mobile device, install it and enjoy YouTube music on the go.
Windows 64-bit
Windows 32-bit
macOS 10.9 and later
Android
Dale Moore is a senior blogger who has a passion for exploring and sharing anything about YouTube over a decade. He is keen on helping users to discover the best YouTube videos and channels.