YouTube HD movies download 1080p
Download YouTube movies with subtitles
Batch download YouTube movies
Windows 64-bit
Windows 32-bit
macOS 10.9 and later
Android
YouTube Movie Downloader - HD YouTube Movies Free Download
---
Watching YouTube movies is a way of leisure for YouTube users. People spend hours watching movies on YouTube every day. However, it is not always convenient for everyone to watch movies anytime, anywhere.
For example, it sucks if you do not have a stable connection outdoors. Wondering how to download movies from YouTube to watch offline?
There will be no problems at all if you have a YouTube movie downloader.
AnyUTube is such a YouTube free movie downloader app that enables you to download YouTube movies on different devices.
You can get to know AnyUTube from its main features as below:
HD YouTube free movie download
Batch download 600+ YouTube videos at one go
YouTube full movie download with subtitles
Compatible with PC, Mac, and Android
Next, let me show you how to download movies from YouTube with AnyUTube.
For only 2 steps, you can easily get the YouTube HD movie download. First, make sure you've installed AnyUTube on your device.
Windows 64-bit
Windows 32-bit
macOS 10.9 and later
Android
(The Following guide will be demonstrated on the computer, but you can follow the same steps to download YouTube free movies on a smartphone.)
Step 1: Search YouTube movies
You have two ways to search YouTube videos – a keyword or URL link.
On the one hand, you can type a keyword about the YouTube movie in the search bar. For instance, I entered "La La Land" to the input field, clicked on the search icon, and then the movie showed up like below.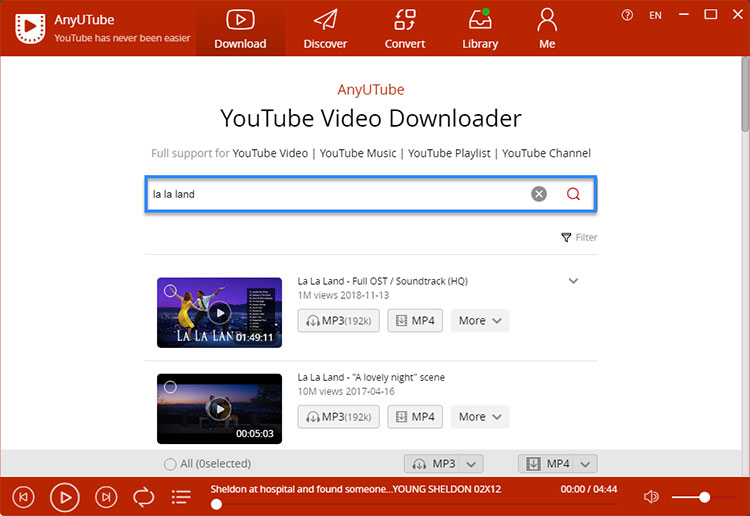 On the other hand, you can paste a URL link of a YouTube movie.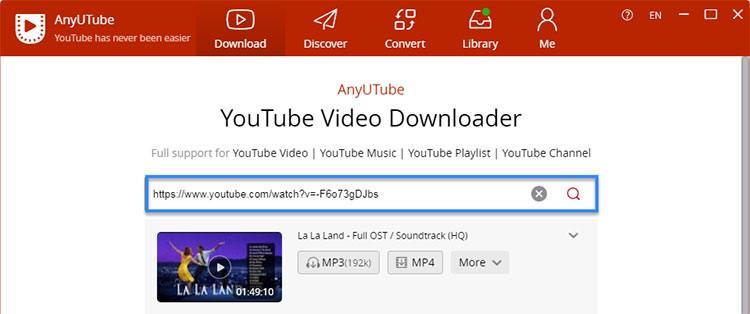 Step 2: Download YouTube movies
Click the "MP4" button, and you will get the MP4 file of the best quality by default. (It is worth mentioning that you can download YouTube movies to audio formats – that's what the "MP3" button for.)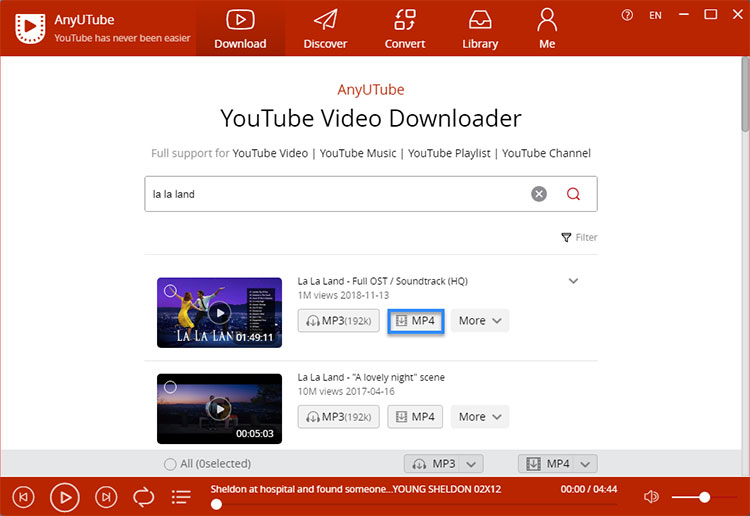 If you want a video file of lower quality or a video without audio, click "More" for more options.
Choosing quality is not the only feature. The "More" menu also allows you to edit the file name and download YouTube movies with subtitles. You can also download YouTube movies with subtitles - there is a wide selection of languages. Moreover, you can download YouTube movies without audio.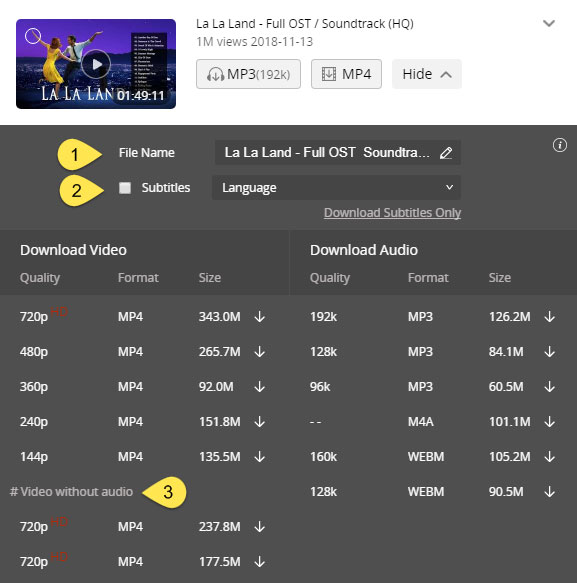 You can batch download several videos, or all the videos on that page to the audio or video formats. Choose the videos, and click the arrow to set quality.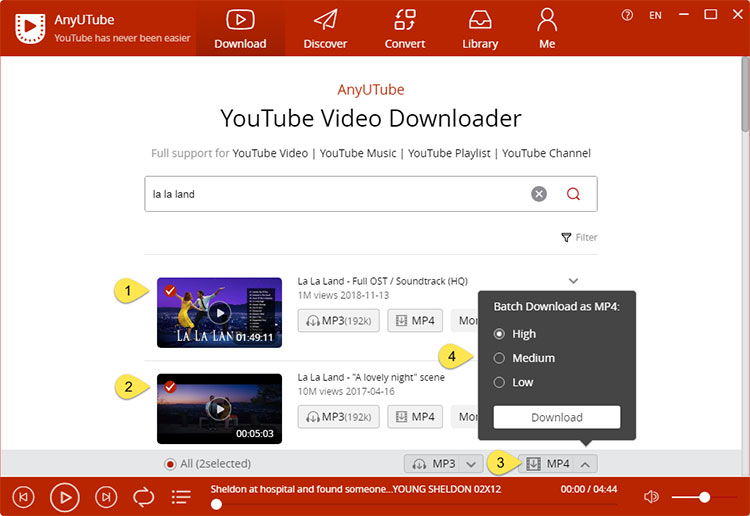 The operations for batch downloading YouTube videos to MP3 are the same.
After downloads are finished, go to the "Library" to check files, both downloaded and processing. You can delete or rename a file, add it to the playlist, open the saved directory, and change saved directory.
Well, you've got how to download movies from YouTube to computer.
AnyUTube is also compatible with any Android device. There are minor differences between the versions for Windows/Mac and Android, but most of the features are the same. Still, you can use the YouTube movie downloader on your smartphone. Take a shot now.
Windows 64-bit
Windows 32-bit
macOS 10.9 and later
Android
Dale Moore is a senior blogger who has a passion for exploring and sharing anything about YouTube over a decade. He is keen on helping users to discover the best YouTube videos and channels.