AnyUTube Downloader
Quickly download YouTube videos mp4 with advanced features.
HD YouTube video download 1080p
Batch download YouTube playlist to mp4
Blazing fast download speed
Windows 64-bit
Windows 32-bit
macOS 10.9 and later
Android
3 Steps to Download YouTube Videos MP4
---
Compared with reading texts, watching videos brings more laughter. DMR business statistics shows that YouTube users spend an average of 1 billion hours watching YouTube videos each day, and more than 50% of them watch videos on mobile devices.
However, you may inevitably come across the following situations:
Can't watch YouTube videos offline without paying $11.99/mo for YouTube Premium
Sick of being reminded to pay for skipping YouTube ads
Run out of smartphone data for watching too many YouTube videos online
If you say "yes" to any of the item listed above, you need the YouTube video downloader – AnyUTube, which helps you to download YouTube videos MP4 to watch offline without being interrupted.
In this article, you will learn how to download YouTube videos to MP4 with AnyUTube. To begin with, install AnyUTube on your device.
Windows 64-bit
Windows 32-bit
macOS 10.9 and later
Android
AnyUTube is available for Android, Windows, and Mac. So you can use it on both smartphone and computer. This guide is demonstrated on a computer, but you can follow the same steps to get YouTube MP4 video download for a mobile device.
Now, let's see how to download HD YouTube videos in MP4 format.
Step 1: Launch AnyUTube on your computer (Win/Mac).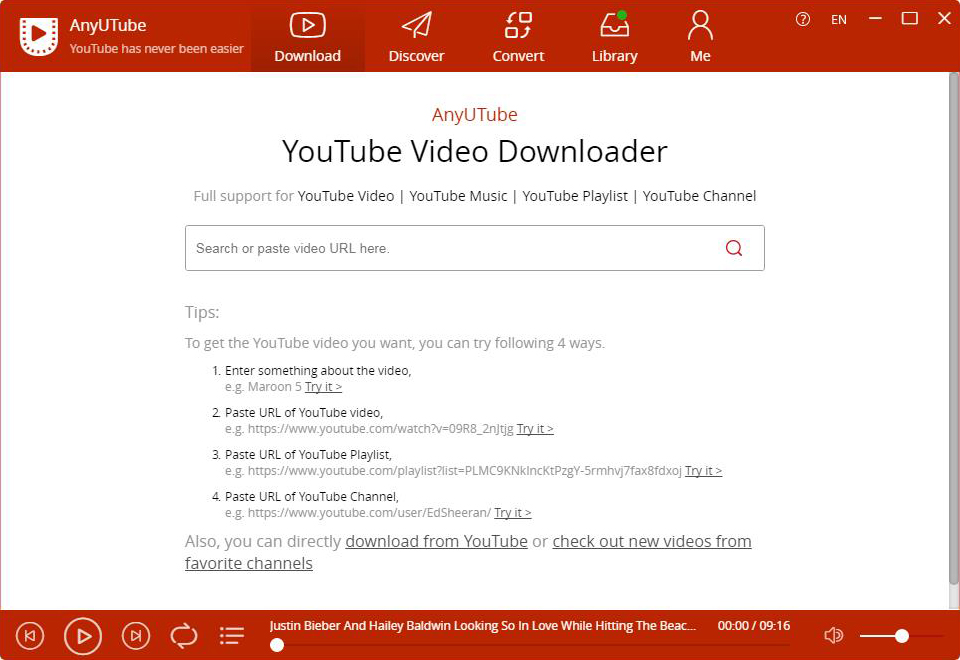 Step 2: Search the video you want to download.
First, you can enter keywords about a movie, show, program, news, funny videos, song, singer, lyrics, etc. For example, if you enter "Justin Bieber" in the search bar, the result will be as follows.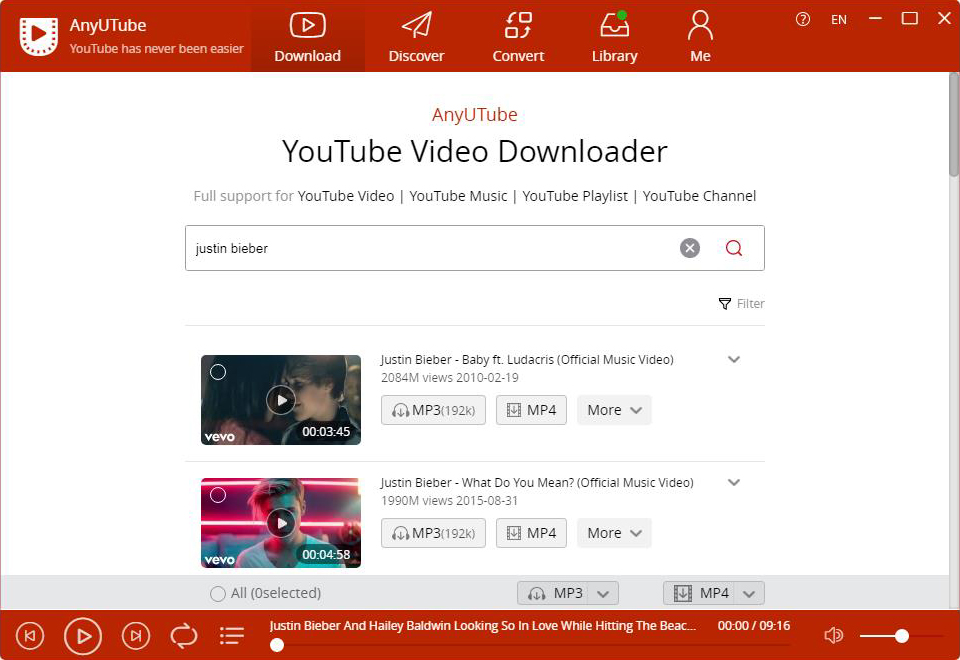 You can click the "Filter" button to narrow the search results by relevance, upload date, duration, view count and so on.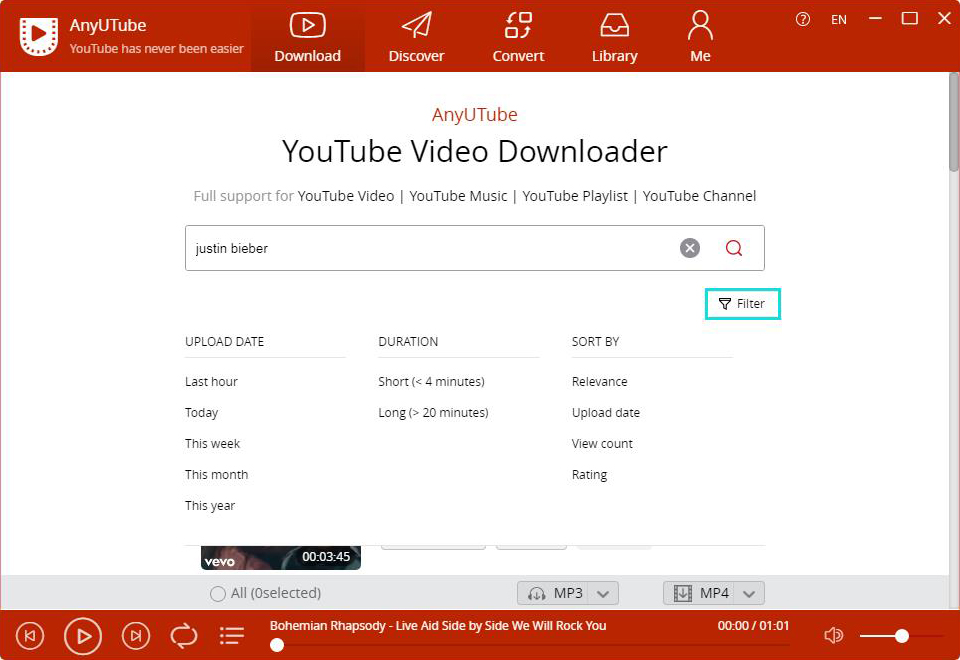 Also, you can search by pasting a URL of a YouTube video, playlist, or channel.
Step 3: Click on the download button.
Hit the "MP4" button to download the desired video of high definition. It's done! You just download the YouTube video to MP4.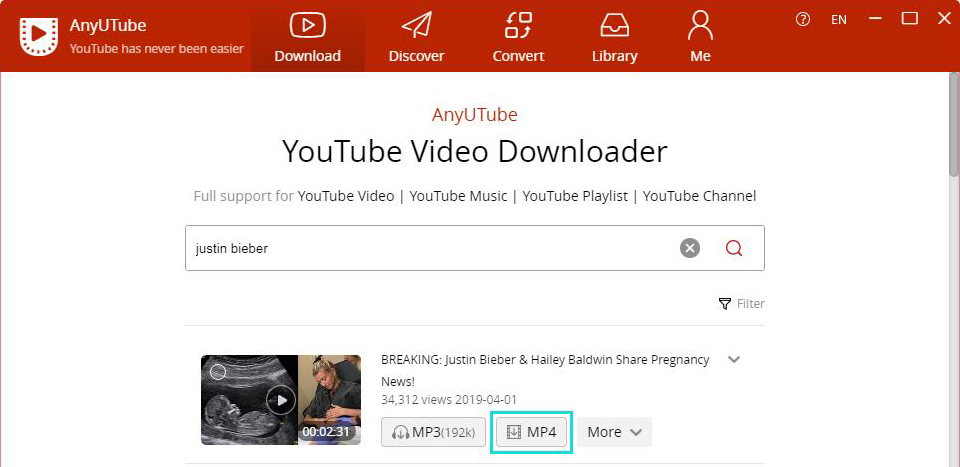 If you want a video of lower definition, expand the drop-down menu at the right of the "MP4" button for more options.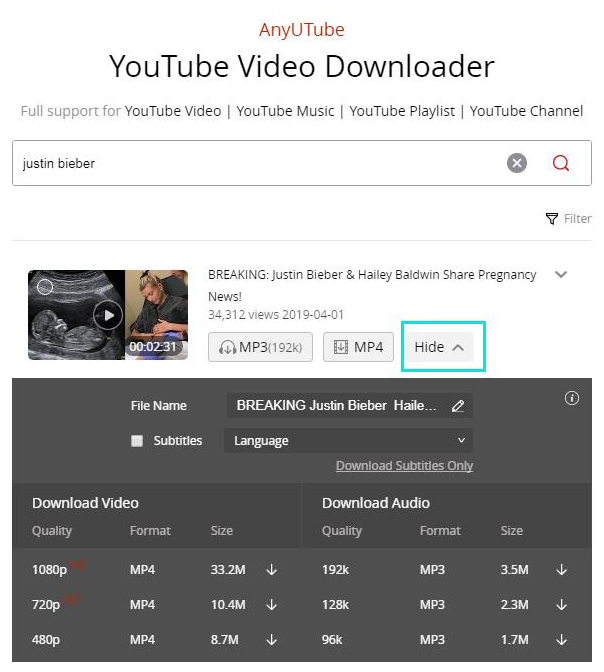 You can download several videos at one go. Tick the circle of the desired videos, and click the "MP4" button to download.
Also, you can click "All" on the left bottom to batch download all videos shown on the first page. Click "Next" to move to the next page. Similarly, you can click "All" to batch download all videos on that page. The number of videos shown on each page may vary. The downloaded video has no subtitles by default.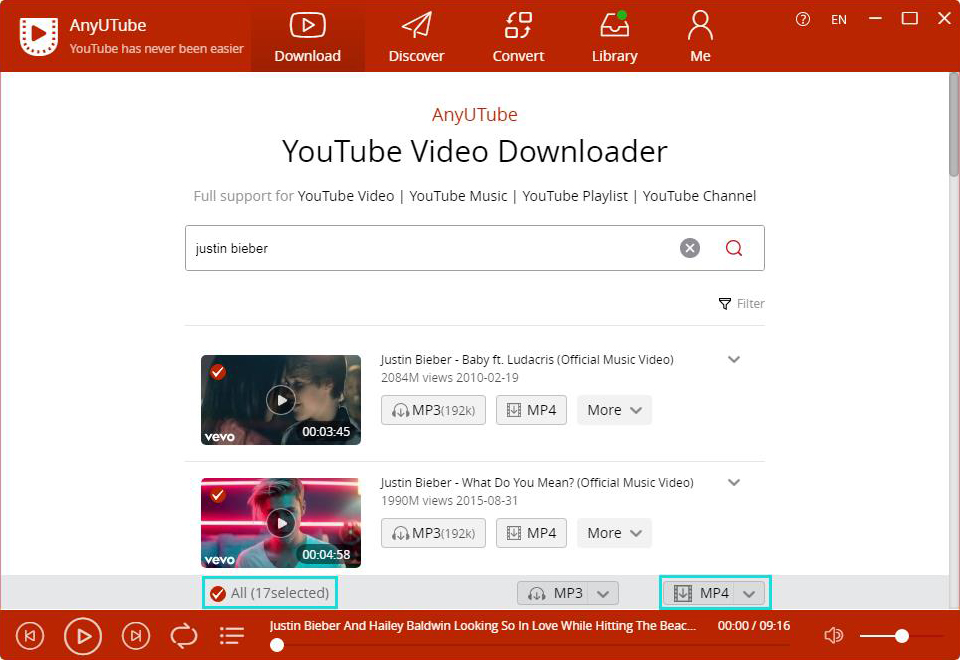 If you need subtitles to learn a foreign language or practice a speech, click "More" of the desired video, tick the box on the left of "Subtitles" and click the quality of video to download. You can also choose the target language.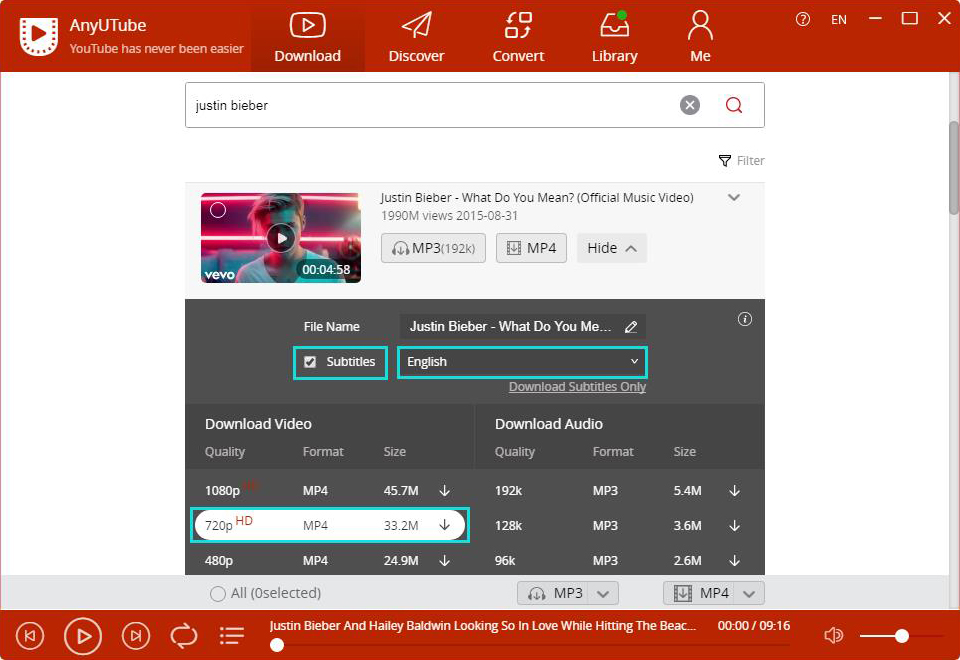 After you complete downloading, click "Library" to check the downloaded and processing videos. Click the "Play" button on the right to watch the video with an installed player.

Here, you can rename the file and open/change the saved directory. If you want to remove a video, simply delete a video by clicking the "Trash Bin" icon on the right.

In sum, AnyUTube is a great app to download YouTube videos MP4. Don't forget that the downloading process is completely the same on both computer and smartphone. If you prefer to watch YouTube video on mobile, just download the AnyMusic for Android on your smartphone.
Windows 64-bit
Windows 32-bit
macOS 10.9 and later
Android
Dale Moore is a senior blogger who has a passion for exploring and sharing anything about YouTube over a decade. He is keen on helping users to discover the best YouTube videos and channels.