AnyUTube Review – Best App to Download YouTube Video to MP3 & MP4
---
AnyUTube is an application that helps you download YouTube video to MP3, MP4, and more the latest formats. Paste a YouTube URL link or enter a keyword, and you will search for a song or video, and choose the best one.
| What I like | What I don't like |
| --- | --- |
| Fast speed | The UI design needs to be improved |
| Built-in player | The word size is a little small |
| HD YouTube music&video download | |
| Batch download YouTube playlist | |
| Safe – no virus or ads | |
Windows 64-bit
Windows 32-bit
macOS 10.9 and later
Android
Why Trust Me?
---
I am Ian Ross, and I have been working as an App and software tester for three years. My job is to test and use newly developed Apps and software before they officially come into the market. Through exploring the Apps, I enjoy acting as a pioneer. The job is significant in that I can share usage experience based on my repeated test, helping users jump over pitfalls before choosing the right app from dozens of similar options.
What Is AnyUTube?
---
If you use YouTube a lot, you must have ever asked where you can get an App to download music and videos, or convert videos so that you can simply listen to the music or watch videos on the smartphone or PC offline, ad-free and in the background.
AnyUTube is such a tool to solve the problems. You can watch a movie in the subway, on the commuting bus, in the bathroom… anywhere, anytime. The most attractive benefit of using this App is that you can batch download an entire YouTube playlist at one go.
Other key features of the App are as follows:
Searching videos and music with a keyword or URL link
Downloading and converting in audio/video formats
Listening to the downloaded music with built-in player
Why AnyUTube?
---
There are dozens of similar Apps, and a few of them have gained millions of users. Why should you choose AnyUTube? Based on my repeated trials, the reasons below will be surely convincing.
Firstly, it is completely clean. The App is ad-free and virus-free.
Secondly, you can download a playlist in batch. Paste the URL of the YouTube Playlist. Simply click "All" to batch download the playlist in the target format.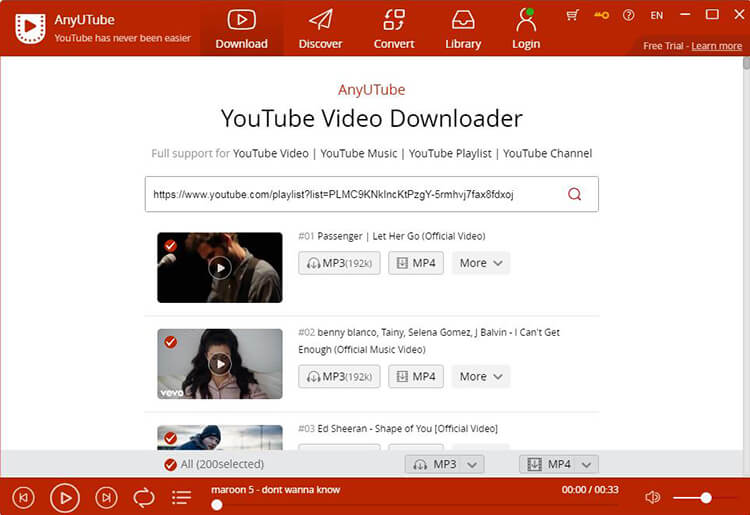 Thirdly, once downloaded, the music in the "Library" can be played with a click, without installing a third-party player. You can also edit the playlist and play mode at the left bottom of the App.
Besides, conversion and downloading process smoothly and fast, at the speed of 320kbps. Both the Android and desktop (win/mac) versions are stable and user-friendly. The built-in player allows you to listen to the music without installing a third-party player.
Who Is AnyUTube For?
---
Are you a music lover?
Are you a video lover?
Are you a YouTuber?
Do you regard music as an important relaxation way?
Do you spend more than one hour watching YouTube movies or listening to YouTube music when commuting between your home and workplace?
Do you like enjoying YouTube offline, ad-free and in the background?
Then, AnyUTube is tailored for you.
How to use it?
---
1. Search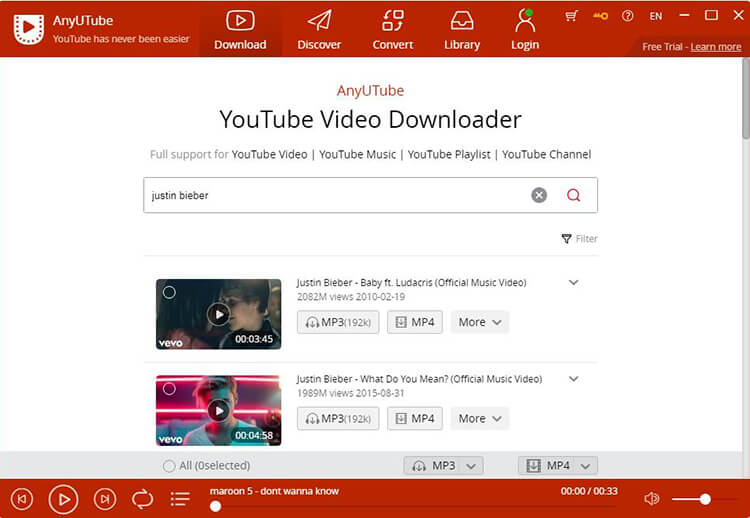 Paste a URL link of the video or music from any source, YouTube Playlist, YouTube Channel, or simply enter a keyword to search.
2. Download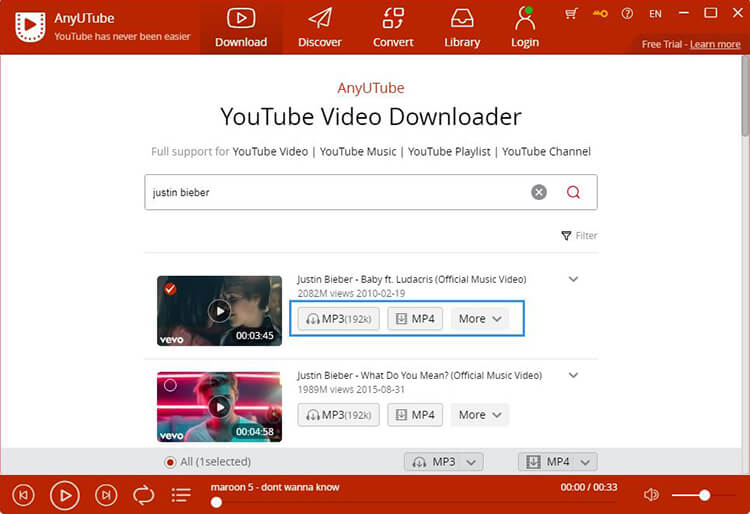 When the results come out, you can choose the video you need. Click the "MP3" or "MP4" button to download. Also, you can click "More" for more video or audio formats. You can download a single item or several items as needed.
3. Batch Download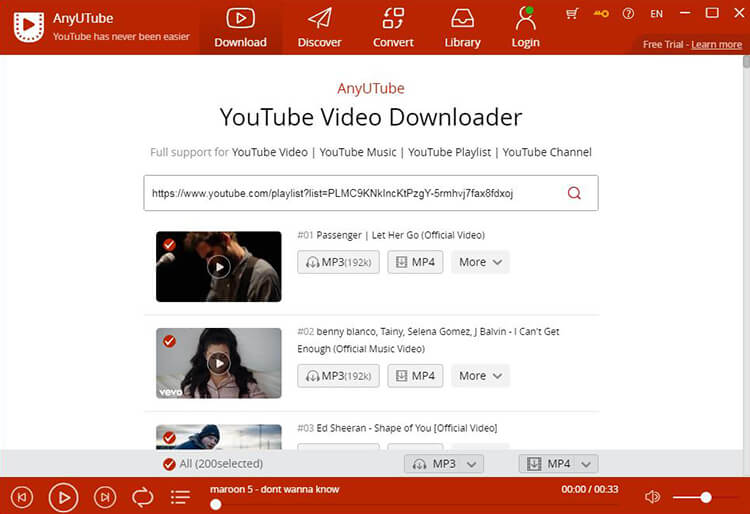 Paste the URL link of YouTube playlist, and click "All" to download in batch.
4. Discover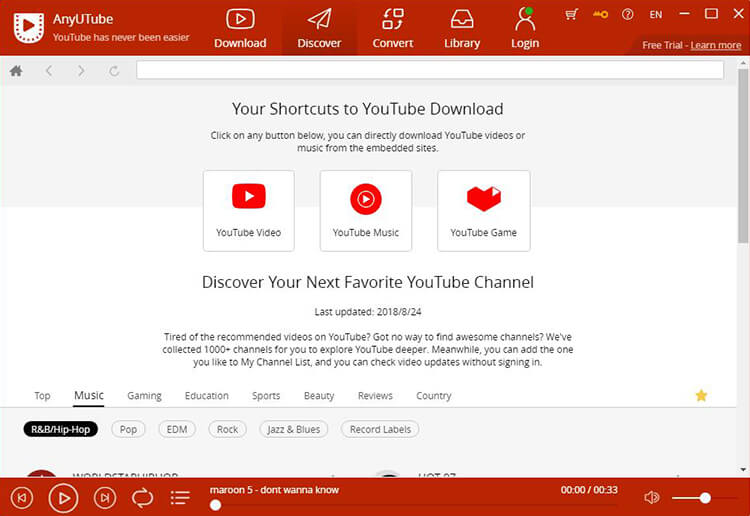 Click on YouTube Video, YouTube Music or YouTube Game to enter the page. For example,click the "YouTube Video" button, and you will get all YouTube videos. Choose any video and click the icon at the right button to download it.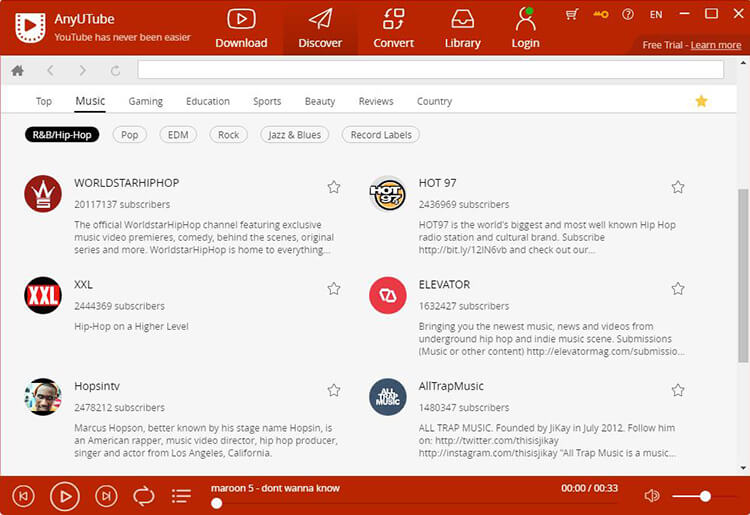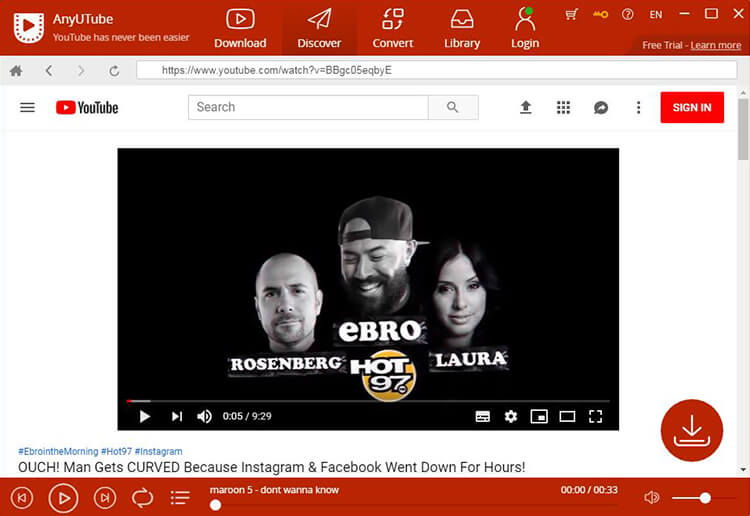 Also, there are eight sorted YouTube channels to explore. Similarly, choose a channel, click the specific video, and download it with the button.
5. Convert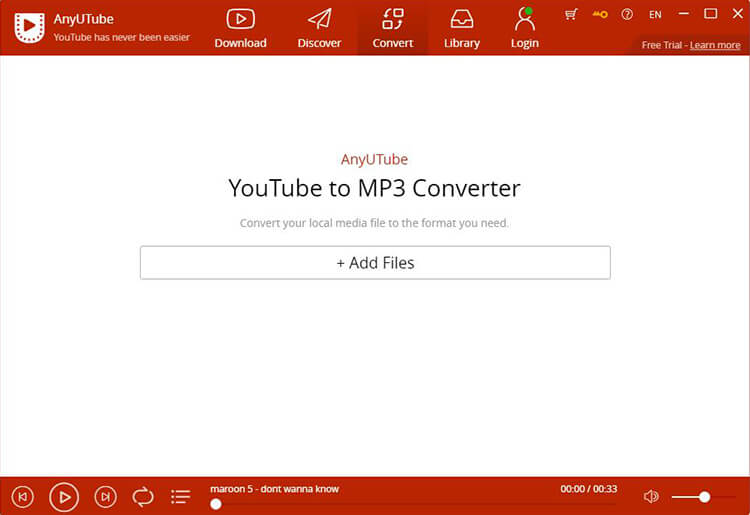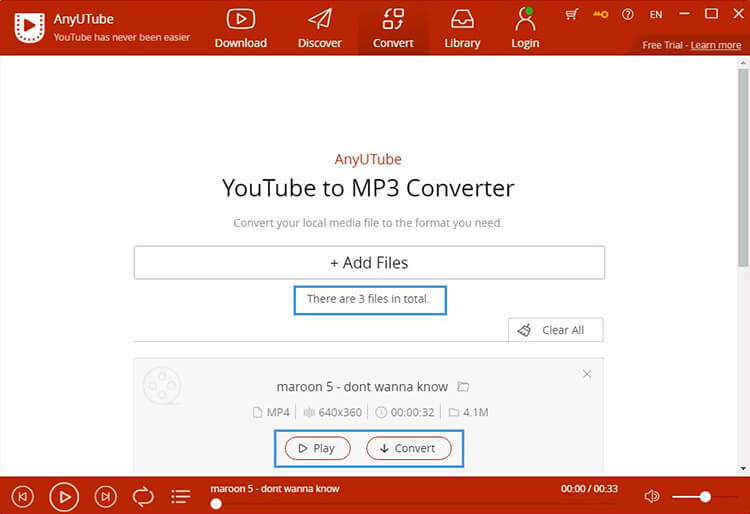 You can upload a local music or movie file and convert it into the target format. The "Play" button is for you to preview the video with a local player on your PC.
6. Library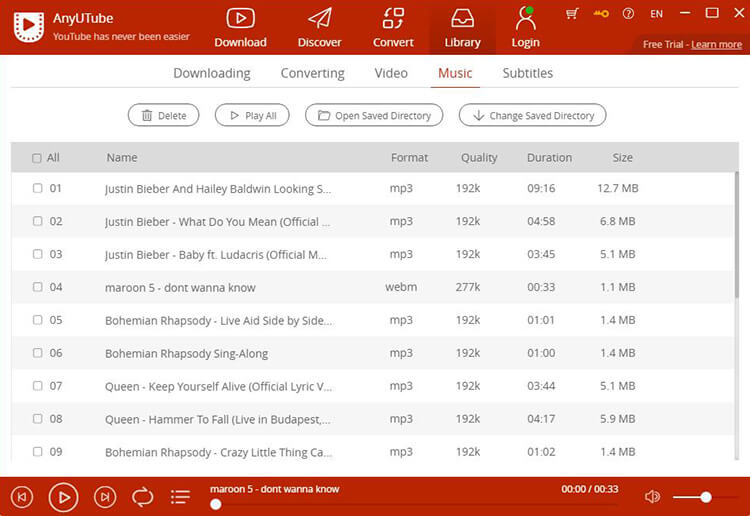 Once the download or conversion is completed, click "Library" to check the list and other details.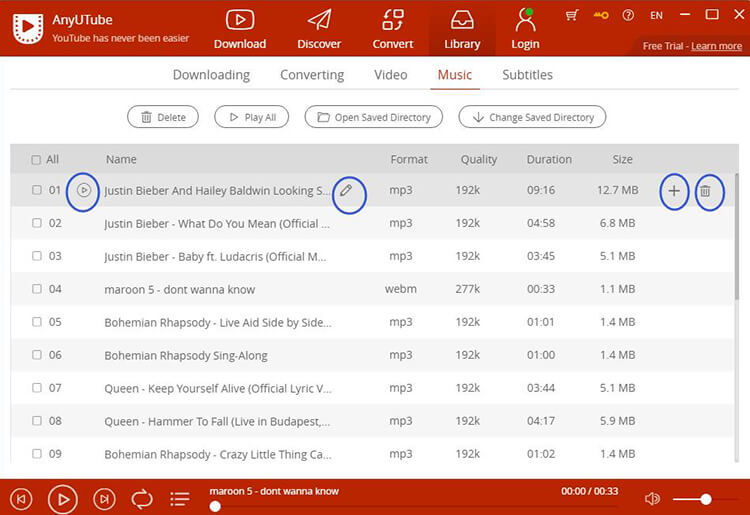 Besides, you can play the music, rename it, add it to the playlist or delete it.
How Much Does It Cost?
---
The price policy includes $4.99 for Monthly Subscription, $19.99 for Annual Subscription and $29.99-59.99 for Lifetime Subscription. There are three options for Lifetime Subscription, $29.99 for 1PC, $39.99 for 5PCs and $59.99 for 10PCs.
Conclusion
---
AnyUTube is a clean, user-friendly and powerful YouTube music and video downloader.
I tested the desktop, Android and online version. Surprisingly, the system is stable, without error or breakdown.
Windows 64-bit
Windows 32-bit
macOS 10.9 and later
Android
The feature I like best is that an entire YouTube playlist can be downloaded at one go. That is to say, more than 600 videos can be downloaded with a click.
Try AnyUTube to download YouTube video to MP3 or MP4, and share your feeling with me in the comments!
Dale Moore is a senior blogger who has a passion for exploring and sharing anything about YouTube over a decade. He is keen on helping users to discover the best YouTube videos and channels.