AnyMusic Review - Best Software to Download Music (2019)
Last updated: Mar 15, 2019
---
Written by Robert Princeton
He has worked in tech industry for more than 15 years, and his career has included stints as a journalist, blogger, and reviewer.
Review of: AnyMusic Downloader
Summary: For me, AnyMusic is the best music downloader that providing 320kbps mp3 downloads. What's impressed me the most is that more than 1,000 sites available for music download on AnyMusic. That is to say, basically, you can easily get any music with the downloader.
Hi-Fi music

High quality option of 320 kbps mp3

Download speed

3X faster with multithreading download

Music resource

Download music from 1,000+ popular sites

Compatibility

Available for Windows, Mac, and Android
Windows 64-bit
Windows 32-bit
macOS 10.9 and later
Android
Before you jump into using something like AnyMusic, you need to ask yourself: What's your expectation for music download?
If you download more than 5 songs per week
If you're crazy about the so called Hi-Fi music
If you want the blazing fast download speed
……
If you agree with the expectation above, then you'd better know more about AnyMusic. If not, I would recommend you opt for some online downloader, such as Free MP3 Finder or U2B Music Downloader.
Why I choose AnyMusic?
---
While reading here, I believe you must have gone through the brief review at the beginning. As for the reason that I pick AnyMusic as my No.1 music downloader, it gives positive answers to all my questions below.
The above are the questions that may also occur to you right now, you can skip to the question that you're interested in or go through with me in details.
I'm not sure about the name of the song, how can I get it downloaded?
On AnyMusic, there's a big music database for you to search any music. No matter song, artist, band, and album, just type it to the search bar and you can always get the music you want. Even if you don't remember the song name, just enter lyrics will do.
Let me try with "I just wanna be deep in your love," which is one of the lyrics from my favorite song Sugar. Once I enter the lyrics, click on the search icon, and this song will be displayed as follows.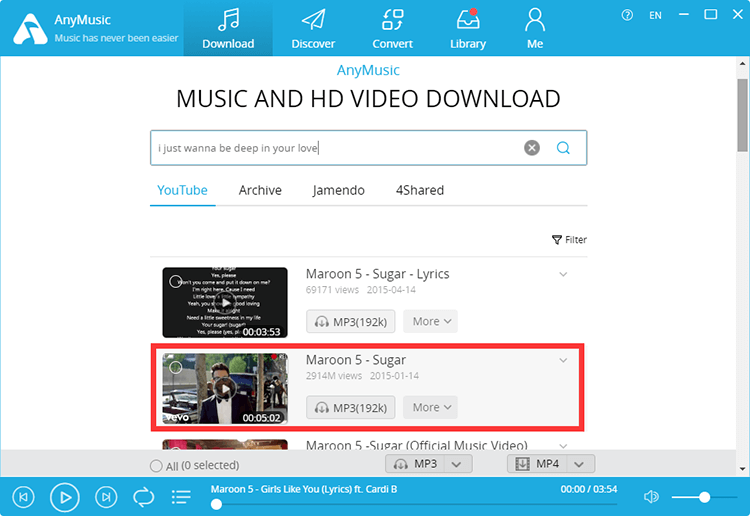 Can I download 320k mp3 song?
Yes, you've got a wide selection of audio qualities ranged from 96k to 320k. The default audio quality is 192k, which is a perfect choice for all devices which balances the sound quality and device storage. For other sound qualities, just click on the More button and you can see more options.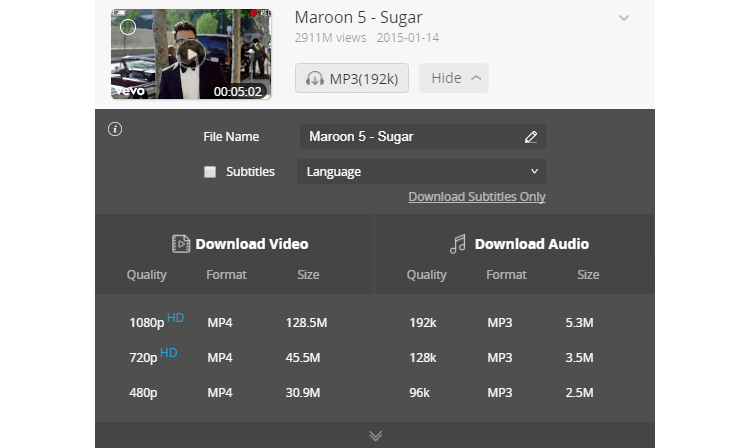 Can I download music from a YouTube video?
Yes, you only need to copy the YouTube video URL to the search bar, and then you can see it like below.

Except for YouTube, you're able to download music from Facebook, Dailymotion, Vimeo, Tiktok, and over 1,000 popular sites.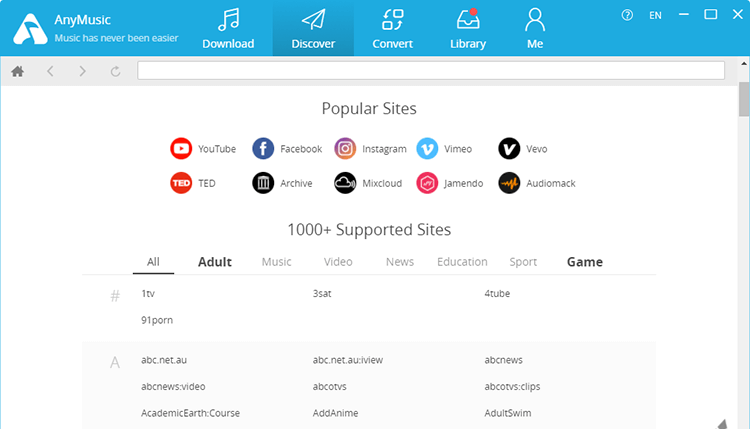 Can I download the playlist? How many songs can I download at a time?
Yes, the batch download feature enables you to download the entire playlist with one click, and up to 500 songs can be downloaded at the same time.
There're 2 ways to download the playlist.
Method 1: Batch download the tracks in the search result.
Scroll down the search result, there're a bunch of Maroon 5 songs. You can either select some of the tracks, or select all the tracks for batch download. Both MP3 and MP4 formats are available, and there're 3 options for audio and video qualities.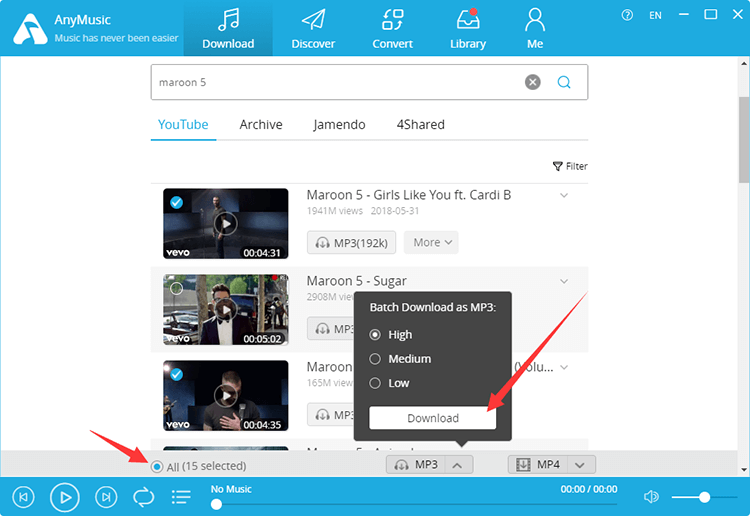 Method 2: Batch download the YouTube playlist.
There're lots of ready-made playlists on YouTube, and it's easy to download them with AnyMusic.
First, copy the playlist URL.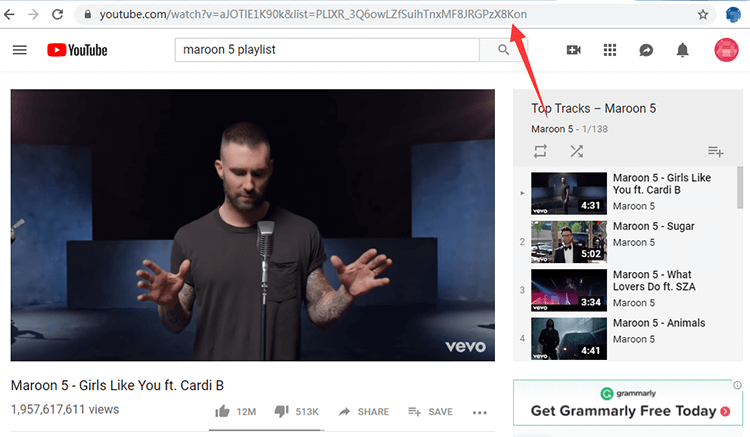 Second, paste the link of the playlist to the search box of AnyMusic.
Next, you can download the whole YouTube playlist by selecting all the tracks.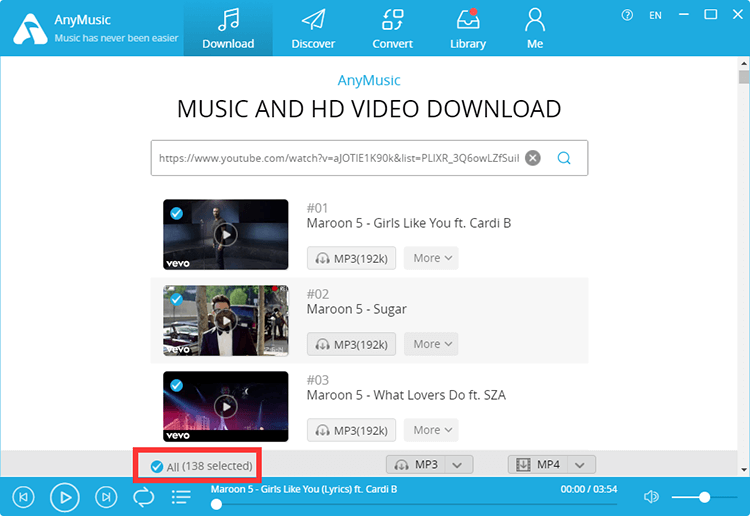 Can I play the downloaded tracks with my music player?
Yes. As long as you find the local folder, you can add all the download tracks to your music player.
How to find the local folder?
There's a shortcut for you - click on the button "Open Saved Directory."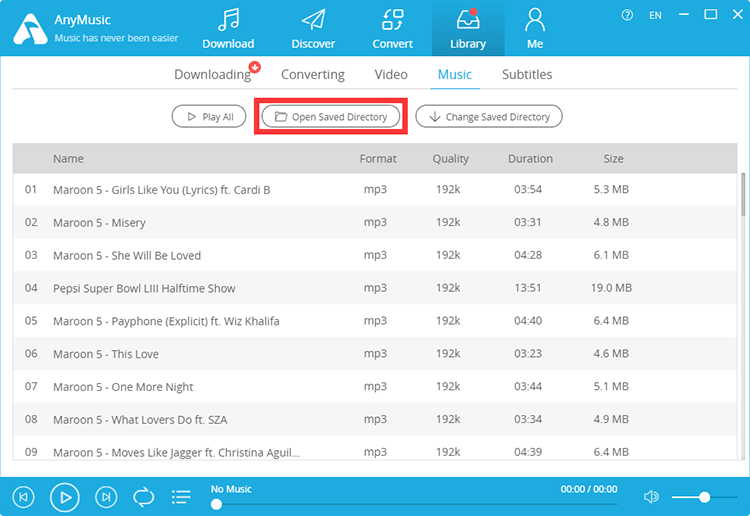 Then you'll be taken to all the files that you've ever downloaded. Now, you can play the songs via your music player.
But I have to say that AnyMusic is also a music player.
When the download finishes, double-click on the track, and the music will be played immediately. Moreover, you can add some of the tracks to the playlist, or simply hit the "Play All" button.
Then you can find the newly added songs in the playlist. Meanwhile, you can customize the playlist as needed.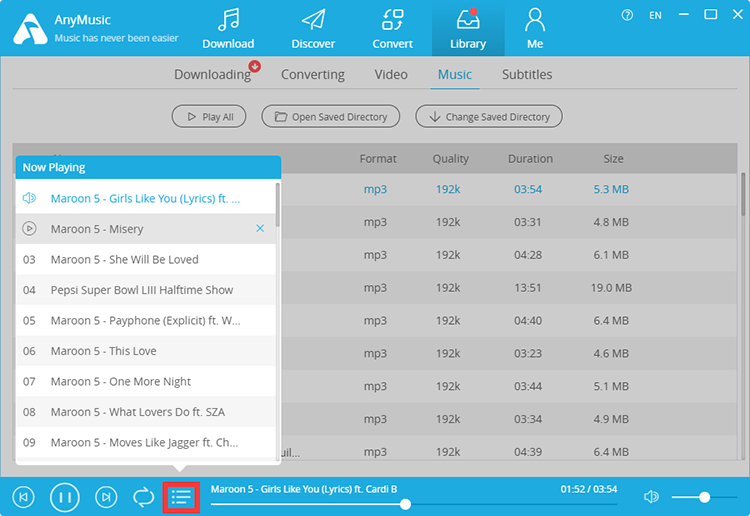 In this way, you can listen to the downloaded music within the application rather than using a third-party music player.
Anyway, if you don't bother to use an independent music player, you can find the download files on your computer via the "Open Saved Directory" button mentioned above.
How is the download speed?
I've compared AnyMusic with other trendy music downloaders, and it's 3X faster with multi-threading download. Why? When using multiple threads, we get multiple streams for downloading of data packet from various servers. Hence if we use multiple threads, data transfer is more efficient.
Can I use AnyMusic on my smartphone?
---
Yes, AnyMusic works well on both computer and smartphone. Right now, it's available for Windows, Mac, and Android. As for iPhone users, the iOS version is coming soon.
Windows 64-bit
Windows 32-bit
macOS 10.9 and later
Android
Is AnyMusic safe to use?
---
Yes. I download AnyMusic on my PC, and everything just runs out well. I did not encounter any plugin while installing the AnyMusic, neither any ad while downloading songs. Also, the downloaded files are virus-free, since my security program never complains anything.
Furthermore, I found the 100% clean awards from sites like software.informer.com, softpedia.com. download.hr, and so on. These certifications guarantee that there's no spyware, no adware, and no viruses on AnyMusic.
Is it legal to download music like this?
---
Well, I guess what you actually concern is the legality of music download with AnyMusic.
First, this needs to be mentioned as laws in some countries forbid these downloads.
Second, it depends more on the music. You can certainly convert and download public domain and royalty-free music, just search for "public domain," "royalty-free," and "non-copyrighted" content.
Last but not least, you can download music for personal use only. Please bear in mind that any of the downloaded files cannot be used for commercial purpose.
Is AnyMusic free?
---
I'm afraid not, but don't be disappointed yet.
Though AnyMusic isn't a freeware, you can start with the free trial which allows you to experience the full features. So you won't rush to make the decision buying something you don't like at all.
I know that there're many free music downloaders, but most of them make profit through advertising. That is to say, pop-up ad is inevitable. Well, nobody likes ads! Meanwhile, your device security cannot be guaranteed, you never know when you'll be attacked by unknown virus from the downloaded files. That's why I prefer premium software, because you can get promise from the publisher.
Now, take a look at the 3 pricing plans of AnyMusic. The Monthly Subscription is best for new beginners who only want to take a shot, while the Annual Subscription is a good choice for heavy users. As for the Lifetime Subscription, it might be the most favorable one for you only need to pay once and access unlimited download without renewal worries.
Take your time, and get the chance to free download music with AnyMusic. If you think AnyMusic works out as well as said, you can make the right decision then.
Windows 64-bit
Windows 32-bit
macOS 10.9 and later
Android